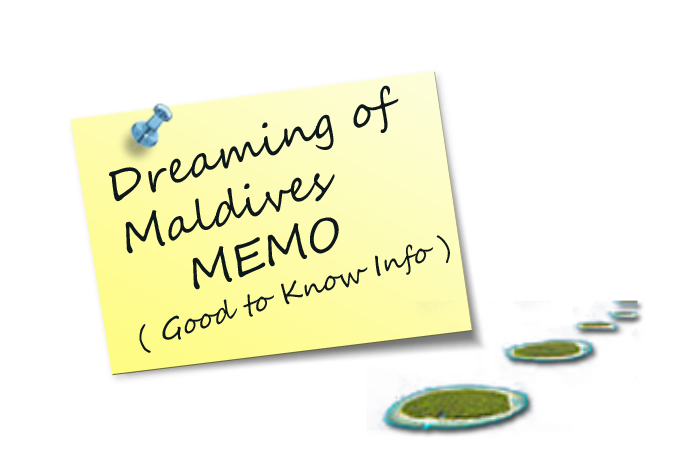 NUMBER OF ISLANDS AND ATOLLS
Approximately 1200 Islands. 26 Atolls. The word Atoll ( Atolhu in Dhivehi ) means circular groups of coral islets.
SMALLEST ATOLL
"Fuvamulha" : only 4.5 km width
LARGEST ATOLL
"Gaafu" 3152 km². It's also one of the largest Atoll in the World.
MALDIVES CURRENCY
The Maldives currency is the Maldivian Rufiyaa (MVR).
Approximate main exchange rates :
1 GBP = 20.9057 MVR.
1 EUR = 19.53773 MVR.
1 USD = 12.850 MVR
Customs & Airport regulations
It is prohibited to import Religious materials offensive to Islam, idols (for worship), pornographic material, narcotics and psychotropic substances.
TERRITORY SUPERFICY
Superficy : 90,000 square kilometres.
Length and Width :
- North to South : app. 820 km (512 mi)
- East to West : between 80 km and 120 km ( 50 to 75 mi)
TIME DIFFERENCE / JET LAG
UK - Maldives : Plus 4 hours in Summer time / Plus 5 hours in Winter time
NYC. USA - Maldives : Plus 9 hours in Summer time / Plus 10 hours in Winter time
LA. USA - Maldives : Plus 12 hours in Summer time / Plus 13 hours in Winter time
Did You Know?
Passport & Visa
Generally, tourists benefit from a 30 days free tourist visa to stay in Maldives. A passport of a minimum of 6 months is obligatory. Note that regulations vary according to countries of origins. All information are available with your travel agent and / or Maldives immigration authorities.
DRESS CODE
In Resorts : Summer Casual. General trend is quite relaxed...but Island Chic style is welcome and even required in some Resorts, mostly in the evenings. No swim wear allowed in restaurants.
In Male and Maldivian local Islands : Women and men should keep their thighs and shoulders covered. No transparent clothes.
AREA CODE / CELL PHONES :
The area code for Maldives is 00 960 +. Cell phone coverage is today available in most places of the archipelago.
INTERNET ACCESS
Available today in all Hotels and Resorts and almost everywhere from North to South. This service is chargeable or free according to the Resorts.
TIPPING
A minimum of 1US$ / 0.63GBP£ / 0.80€ / per day for the room boy + the same amount for waiters is advised. The same amount to your luggage porter at arrival.
Butler services in luxury Resorts are generally more rewarded.
LOCATION
Indian Ocean.
Maldives are located astride the Equator, in both the Northern and Southern hemispheres.
700 Km (435 mi) South-West of Sri Lanka and 400 Km (250 mi) South-West of India. Coordinates : 3°15 N 73°00 E.
POPULATION
Approximately 380 000 inhabitants living on about 200 Islands.
RELIGION
100% Sunni Muslims
OFFICIAL LANGUAGE
Dhivehi. English is widely spread and learnt as second language at a young age. See here to learn basic words before your holidays !
Weather
SUNRISE AND SUNSET TIMES
According to the period of the year : Sunrise : From 05.45 am to 06.15 am. Sunset : From 05.45 pm a 06.15 pm.
CLIMATE
Tropical equatorial. Average temperatures : 25.9 to 31 °C ( 78.62˚-88˚ F ).
Maldives have 2 seasons called Monsoons :
- The Southwest monsoon from May to October also called the rainy season.
- The North-East monsoon, the dry season, from October to April.
See here to learn everything about Maldives Climate