All Inclusive fans, get a closer look at this short review of VARU by Atmosphere, one of Maldives best All Inclusive Resort and property of Atmosphere Hotels & Resorts, a hotel group known for its excellent all-round carefree concept.
Varu by Atmosphere is a premium All Inclusive Deluxe Resort with five star accommodation. Discover the resort with a short Review and Photos
Varu by Atmosphere All Inclusive Deluxe Resort Maldives
Like all Atmosphere Hotels & Resorts in Maldives, VARU promises a hassle-free holiday experience in the Maldives with its All Inclusive Plan called THE VARU PLAN which encompasses ALL elements for a Dreamy Holidays.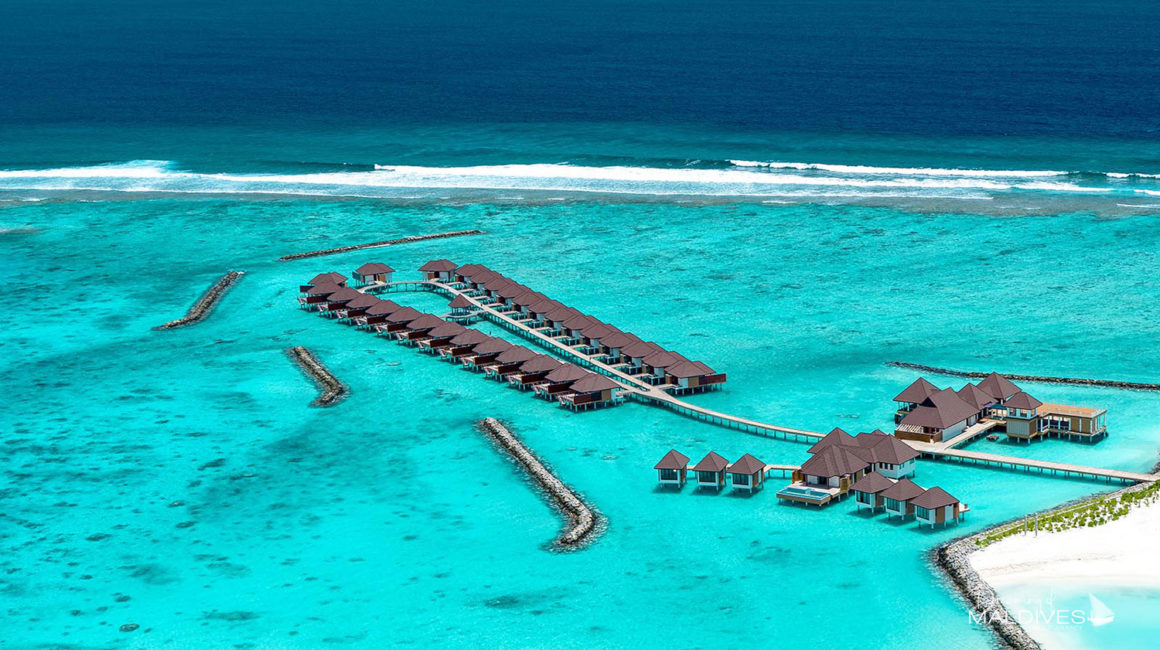 VARU by Atmosphere – Premium All Inclusive with Free Transfers
VARU by Atmosphere offers a fantastic Value for Money.
Its generous All-inclusive Plan makes it one of the most economical All Inclusive Luxury Resort in Maldives with a price as low as 330 USD per night.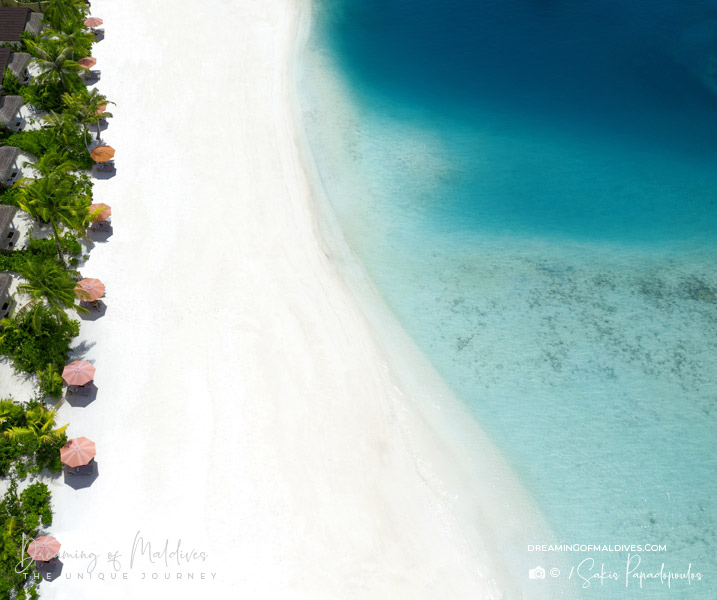 From 600 USD per night
in All Inclusive.
Transfers offered !
This price includes all inclusions within the Serenity Plan – villa accommodation, food and beverages, speciality dining experiences, non-motorized water sports, selected excursions, selected spa treatment and transfers according to the season.
powered by booking.com


Varu by ATMOSPHERE in Review and Photos
Varu All Inclusive. The Resort at a Glance
The resort is located in North Male atoll at 40-minute by speedboat or 10 minutes by seaplane from Male International Airport.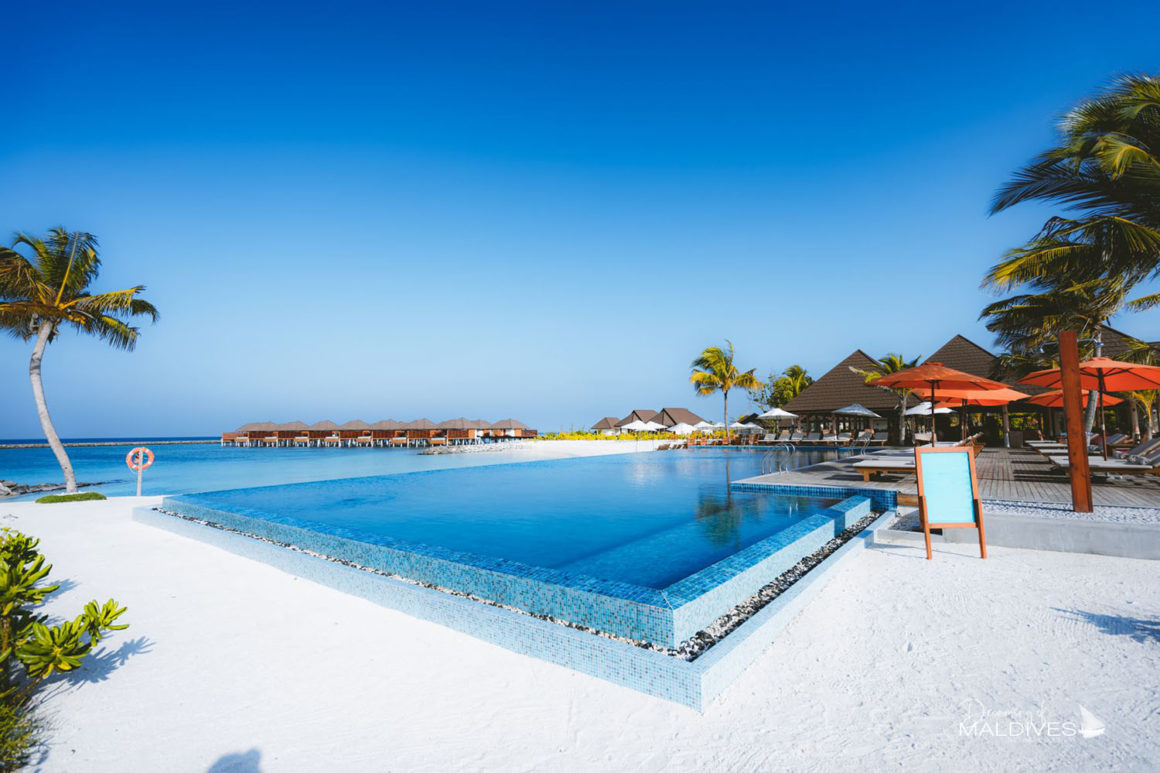 VARU by Atmosphere blends contemporary architecture and tropical vibes. The resort is one of Atmosphere ( the brand behind OZEN at Maadhoo, OBLU Select at Sangeli and Atmosphere Kanifushi ) latest property. The resort offers one of the most extraordinary All Inclusive Plan in Maldives with excellent services and amenities for its price.
At VARU, food and beverages are included in the room price. The resort offers a rich drinks menu, including local cocktails and a full wine list including organic wine from Chile and Austria. The VARU Plan goes beyond the typical All-Inclusive concept, and includes villa accommodation, all food and beverages, special dining experiences, in-villa services, excursions, spa treatments, and more.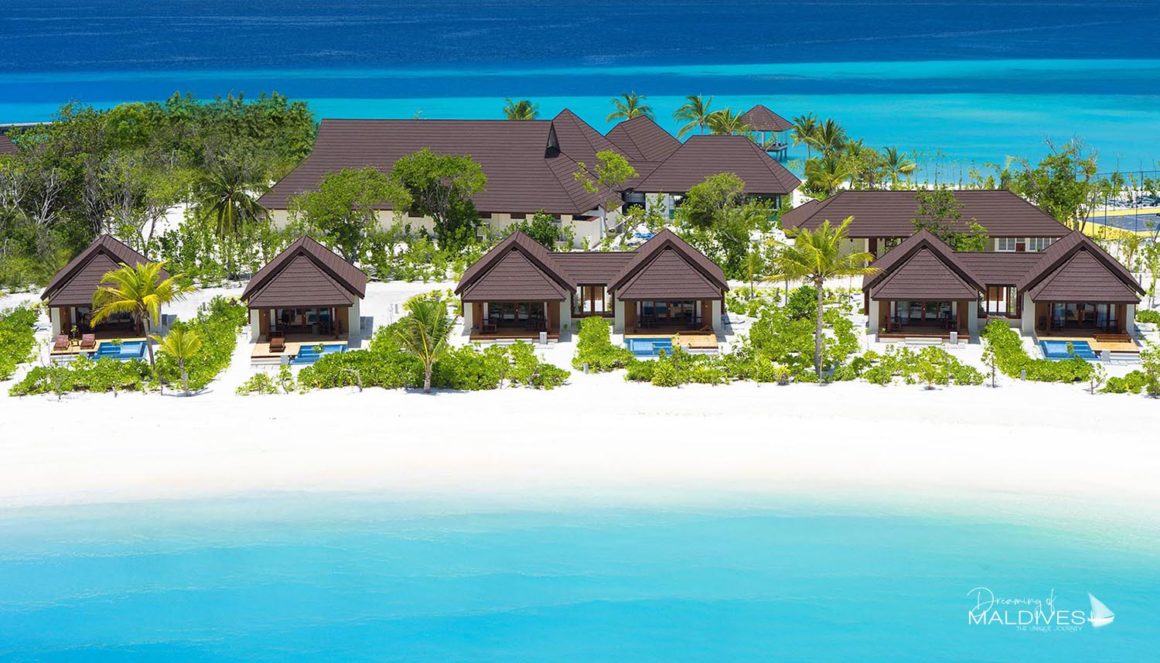 Varu by Atmosphere. The Island
The Resort is located on an island called Madivaru which is surrounded by a big lagoon..
Unfortunately, The island doesn't have any house-reef, so you won't find any snorkeling around.

A paradise for watersports
If you're a watersport lover you will absolutely love its huge blue lagoon which turns out to be a fantastic playground for sailing.
VARU by Atmosphere is built on an artificial island. Its vegetation is very young and needs some time before it gives a tropical feeling ( coconut trees were planted ).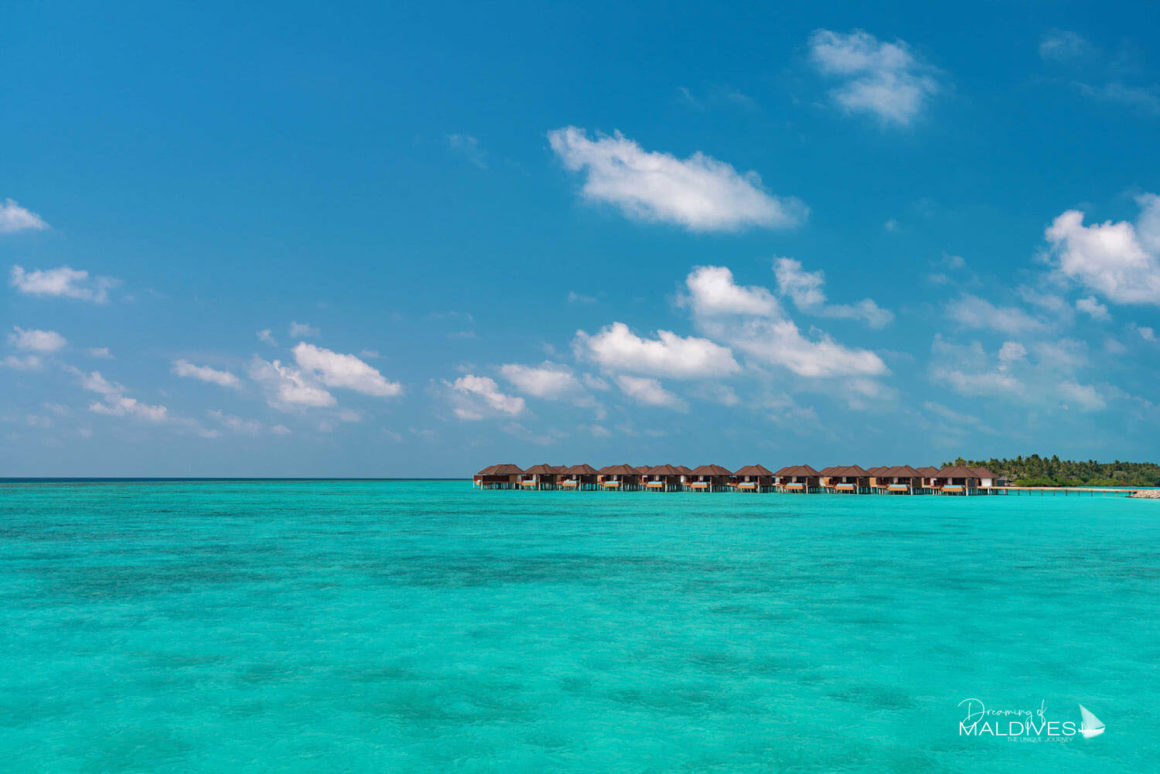 Varu by Atmosphere ALL Inclusive Plan. What does it Include ?
Varu by Atmosphere All Inclusive Plan includes varied, high-quality, luxury delights in the morning, noon and evening in the main restaurant LIME & CHILI with buffets, live cooking and themed culinary evenings, as well as a selection of snacks and drinks.
See VARU ALL INCLUSIVE PLAN FULL DETAILS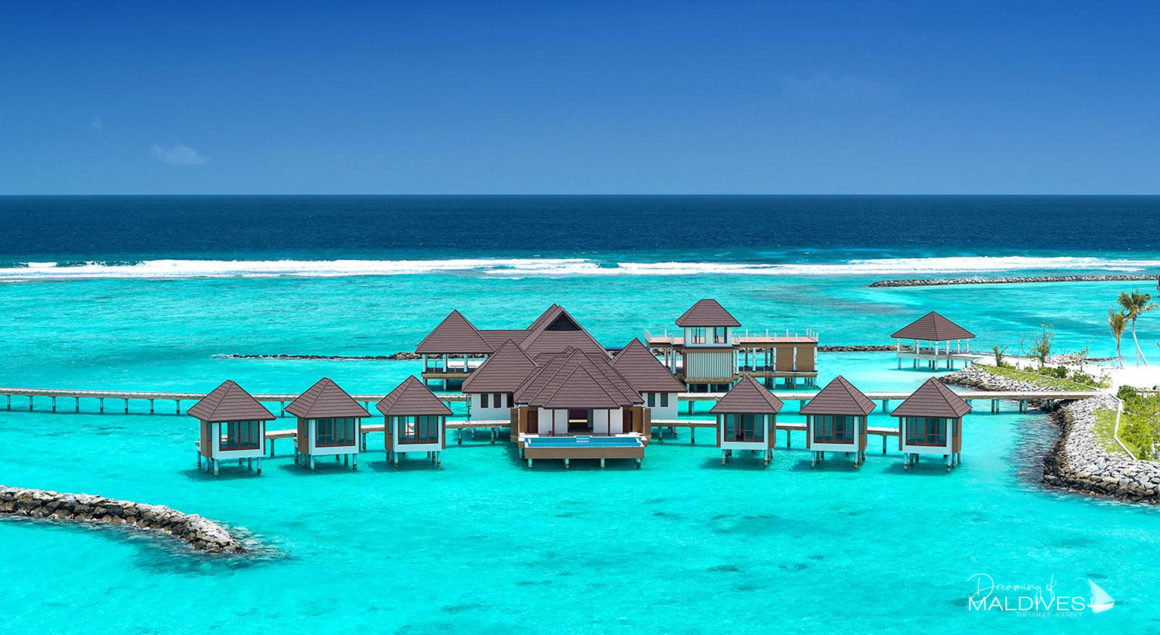 The generous PREMIUM Plan also includes numerous activities, including two daily snorkeling excursions by boat to the surrounding dream spots to observe Manta rays and the wonderful colorful life in the ocean, non-motorized water sports and a 45-minute spa treatment per four nights stay per person.
The Villas
VARU boasts 108 Villas, on the beach and overwater. The resort also offers villas for families with spacious Family Beach Pool villas. Each of the 108 villas and suites has a luxurious outdoor bathroom with a beautiful large terrace that opens directly onto the white sand beach or the turquoise lagoon.
All villas and suites are made of natural materials made of wood and stone and offer a minimalist style combined with bright colors. The interior reflects the tradition and culture of the Maldives. Each unit has a wonderful view of the turquoise sea and has direct access to the beach or the lagoon.
Each minibar is filled twice a day and includes soft drinks, water, beer, wine and a selection of snacks.
VARU The Beach Villas
Varu features 39 Beach Front Villas with or without plunge pool offering spacious interiors and outdoor decks facing the island blue lagoon.
Beach Villas With pool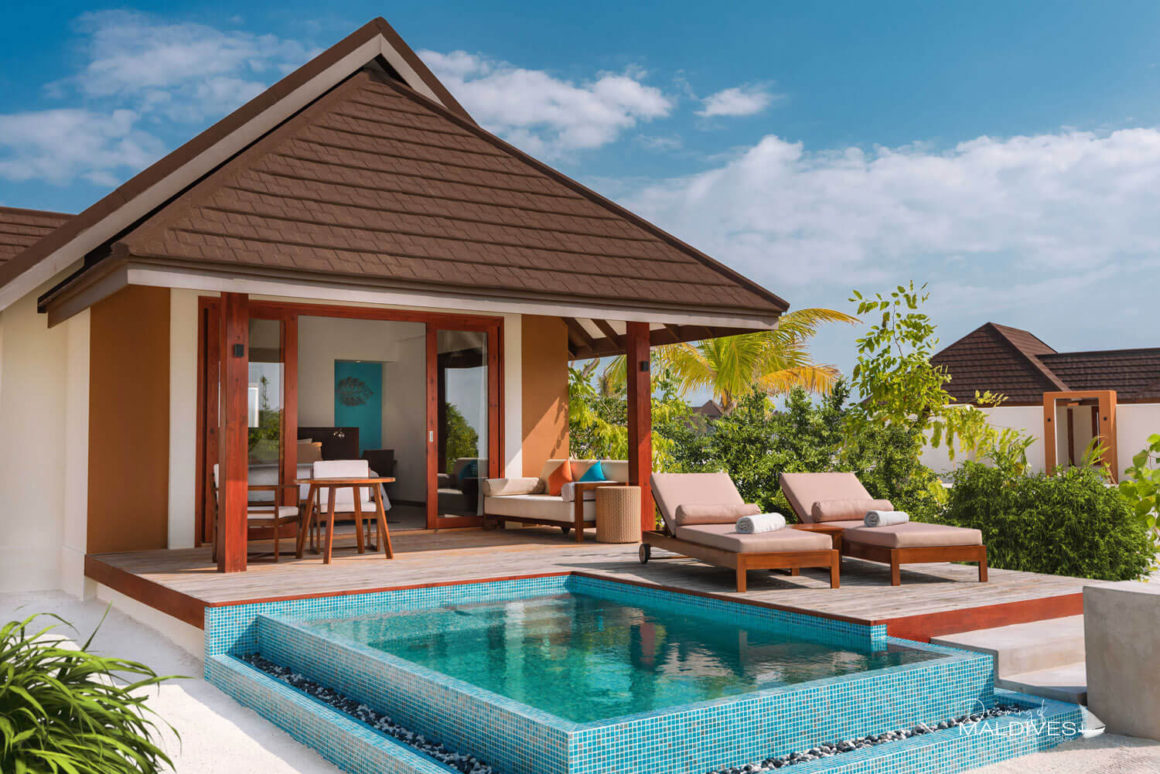 Each one-bedroom beach villa with pool covers 90 sqm and features an open-air bathroom, a large veranda and gracefully designed interiors. An elegant sofa with a matching plush armchair and side table form a cosy seating space by the window and a 10-square-meter private plunge pool with lagoon views.
Beach Villa With Pool Floor Plan
CLICK TO ENLARGE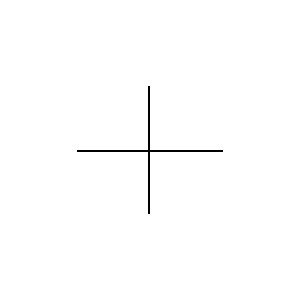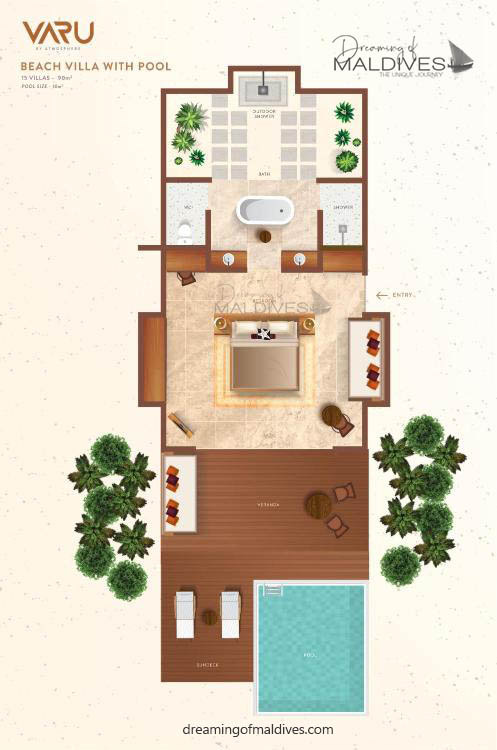 Beach Villas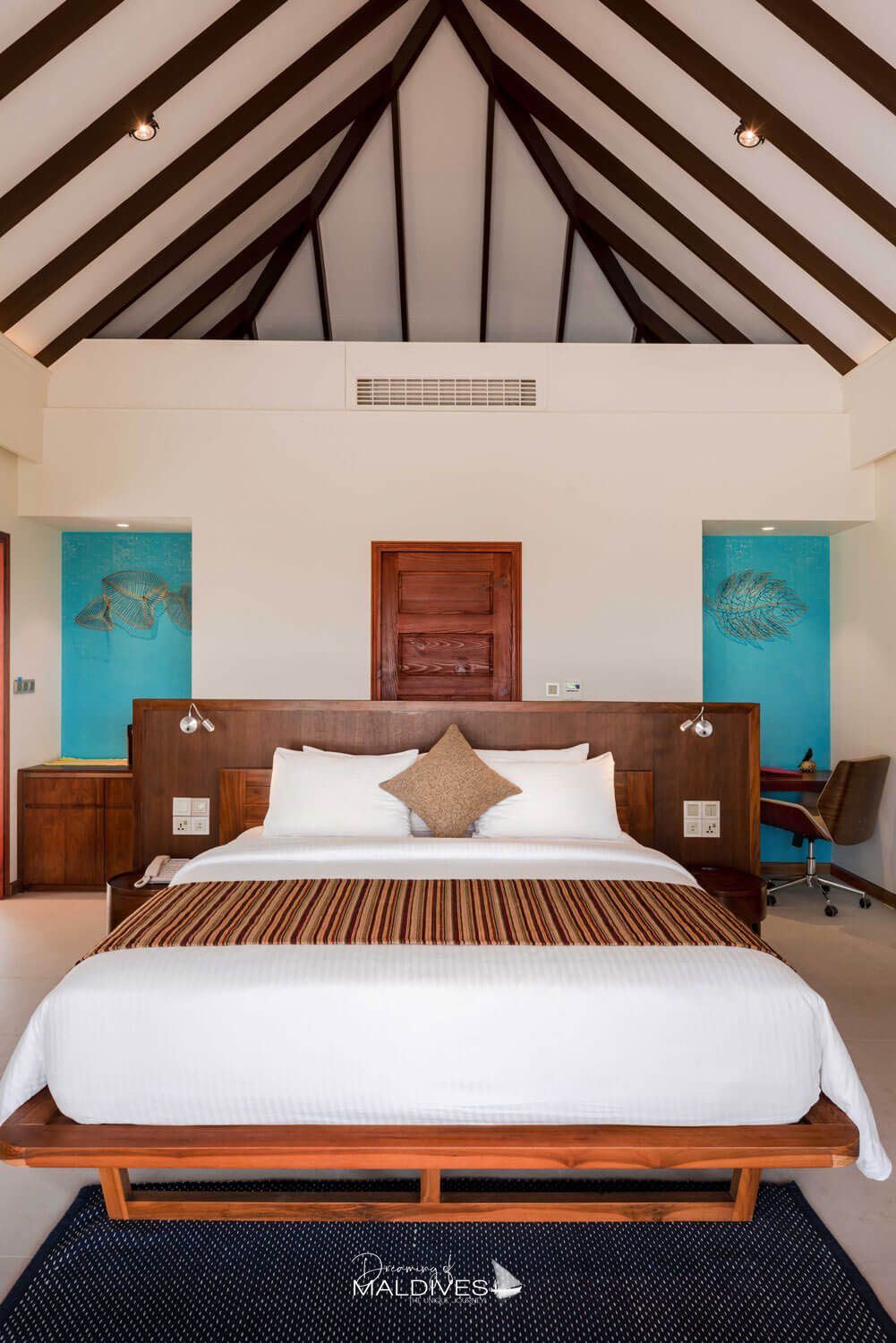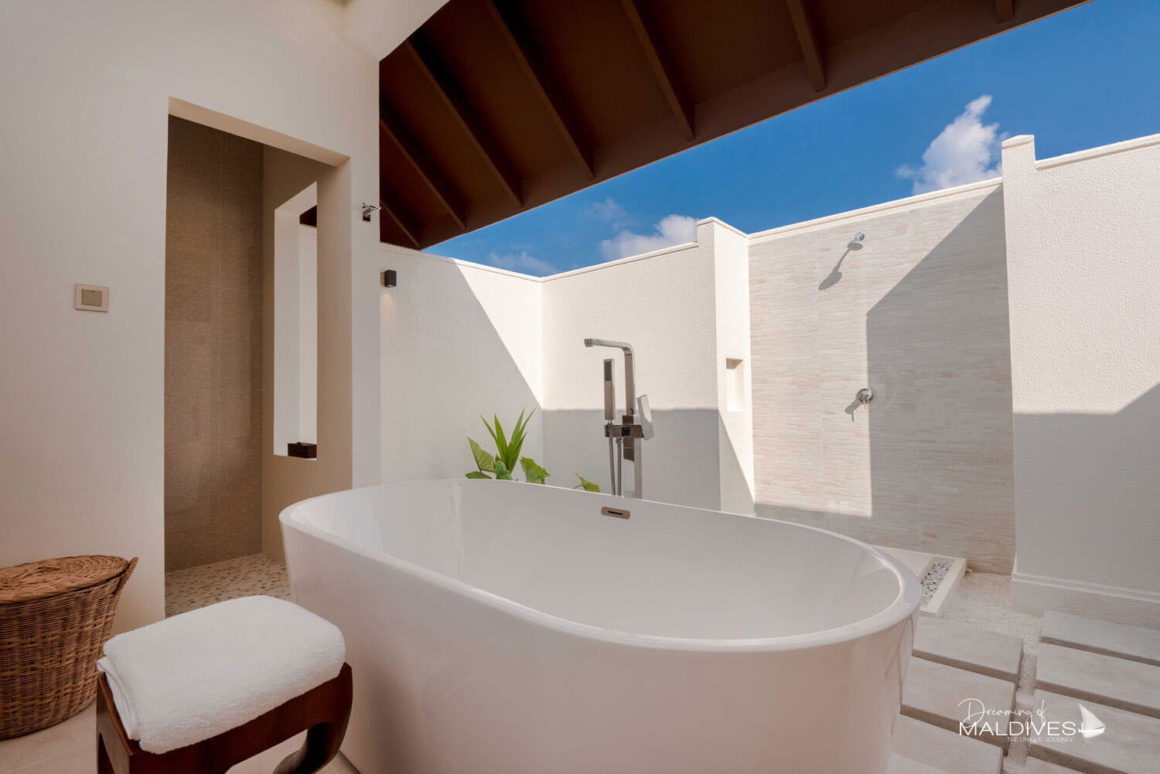 Identical to the beach villas with pool but with no pool, each one-bedroom beach villa features 75 sqm of space offering an open-air bathroom, a large veranda and gracefully designed interiors. Outside, the private features an elegant sofa with a matching plush armchair, a side table and views at the lagoon.
Beach Villa Floor Plan
CLICK TO ENLARGE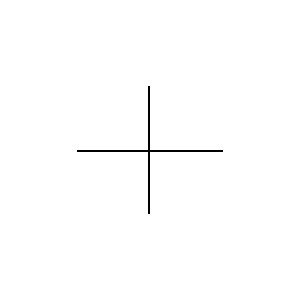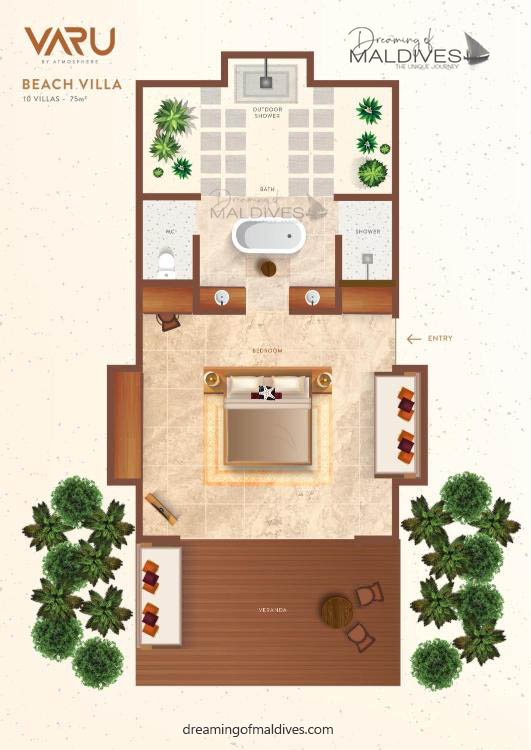 VARU WATER Villas
The resort 69 Overwater Villas have signature Maldivian-style interiors and direct access to the turquoise lagoon from the deck.
The Water Villas are fitted with or without pools and offer sunrise or sunset views.
Water Villas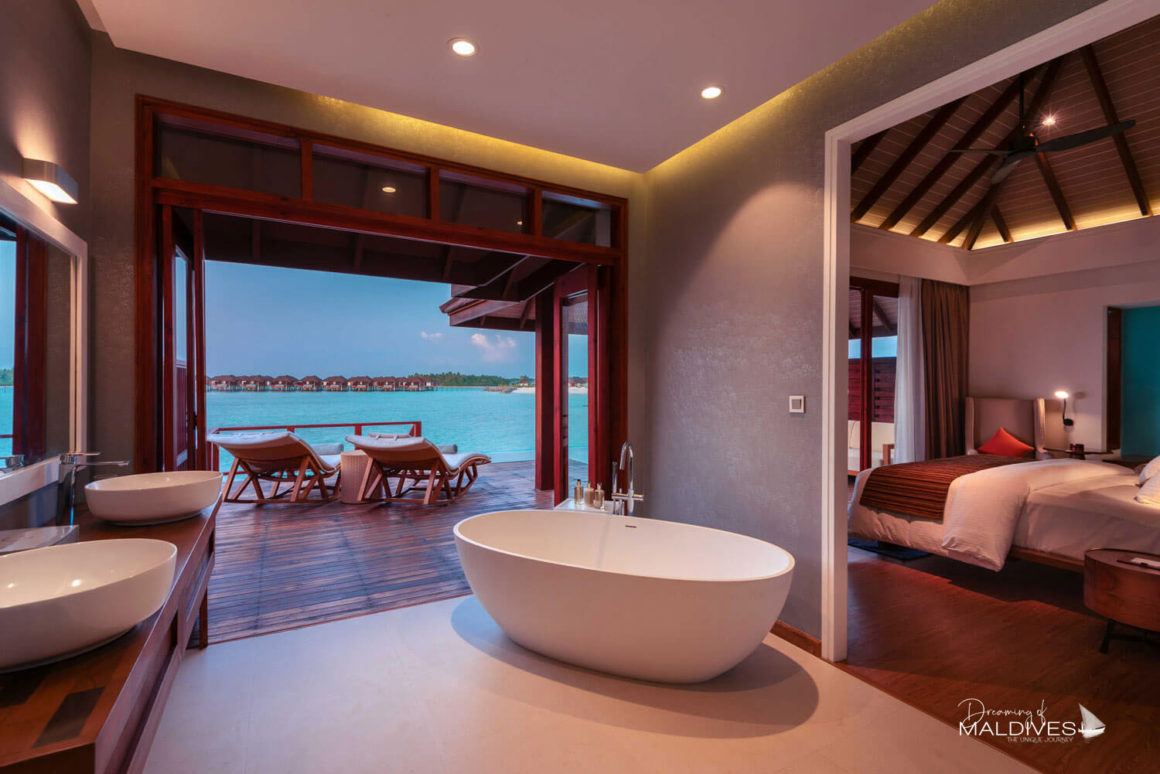 VARU one-bedroom water villas feature a plush king-size bed, an ergonomic workspace, a cream sofa with bright cushions and a matching table with armchair to complete the cosy seating space. The spacious integrated cupboard is stocked with beach essentials including umbrellas, bathrobes, outdoor and indoor slippers, and a beach bag.
Water Villa Floor Plan
CLICK TO ENLARGE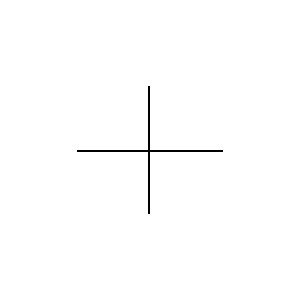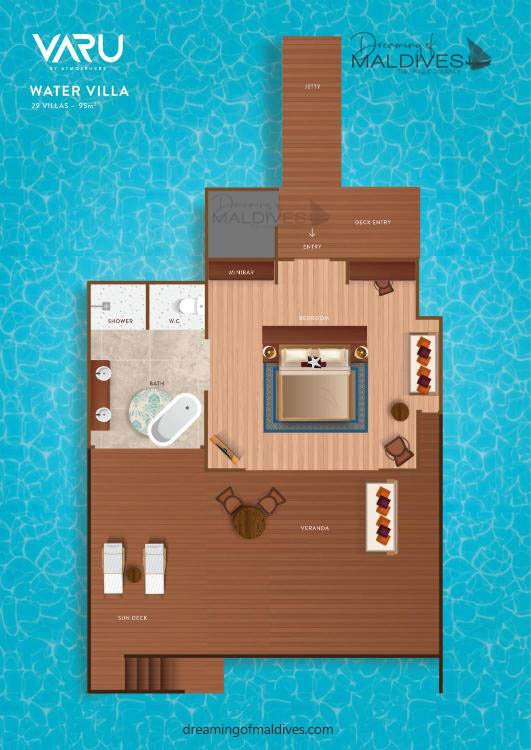 Water Villas With Pool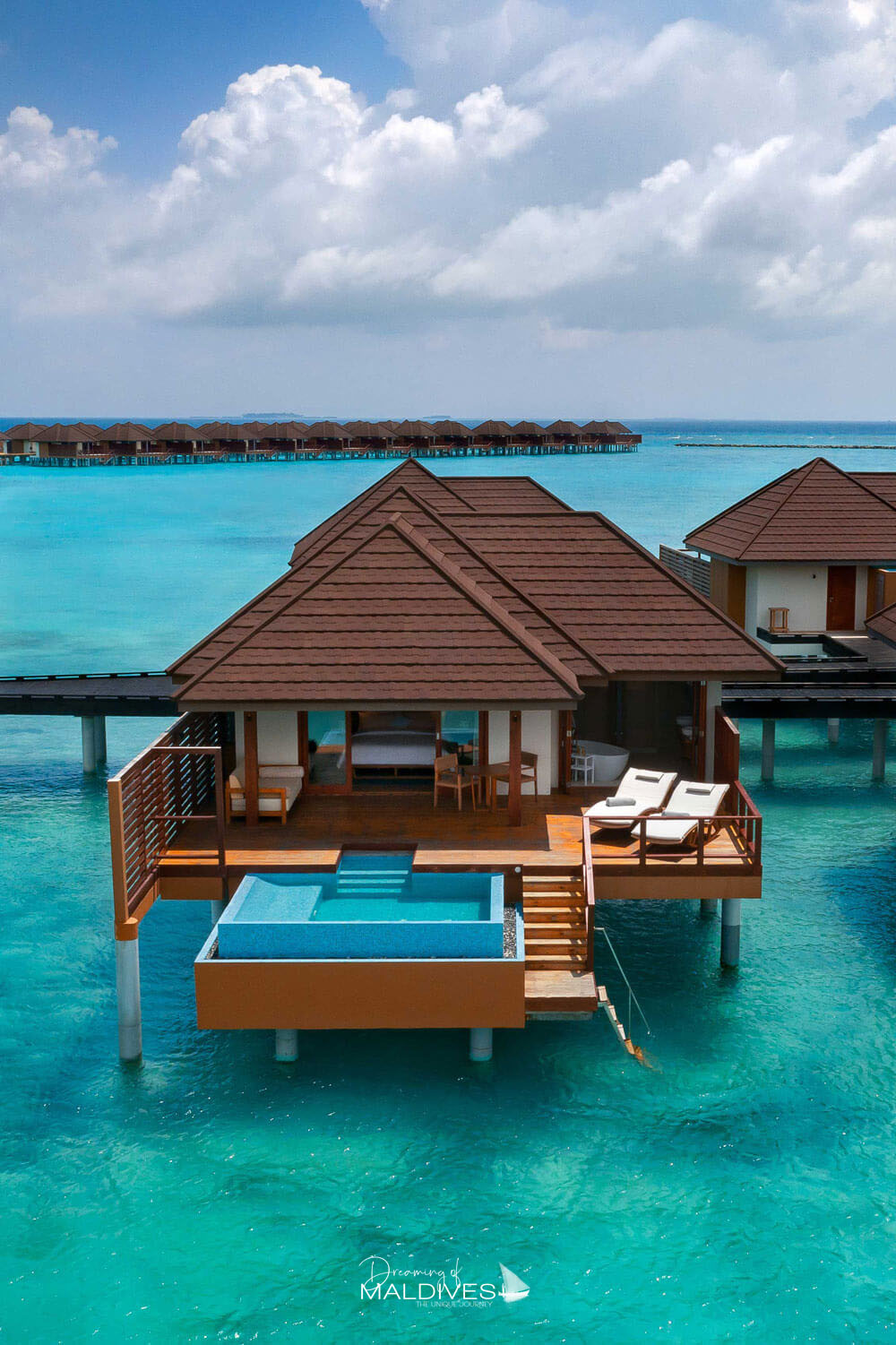 Each one-bedroom water villa with pool is identical to the standard Water Vilas but come with a 10 sqm private plunge pool.
Water Villa With Pool Floor Plan
CLICK TO ENLARGE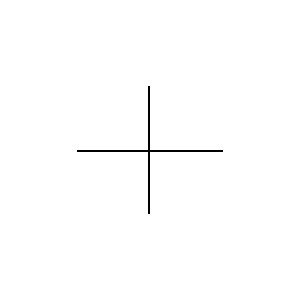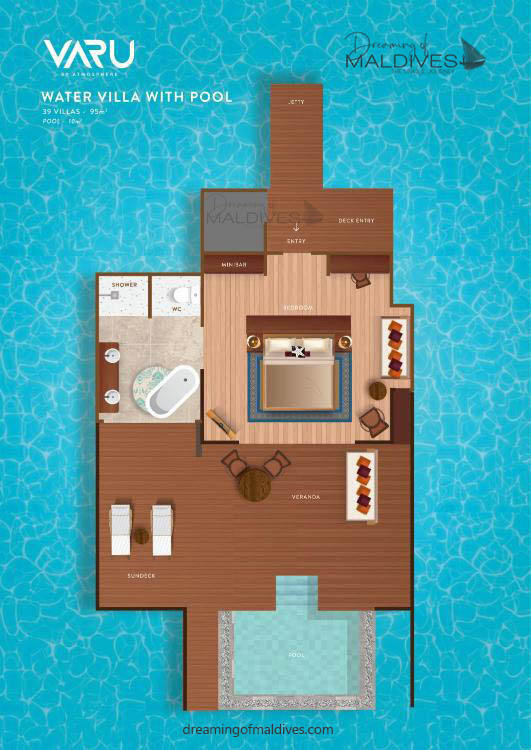 Family Beach Villas With and Without Pool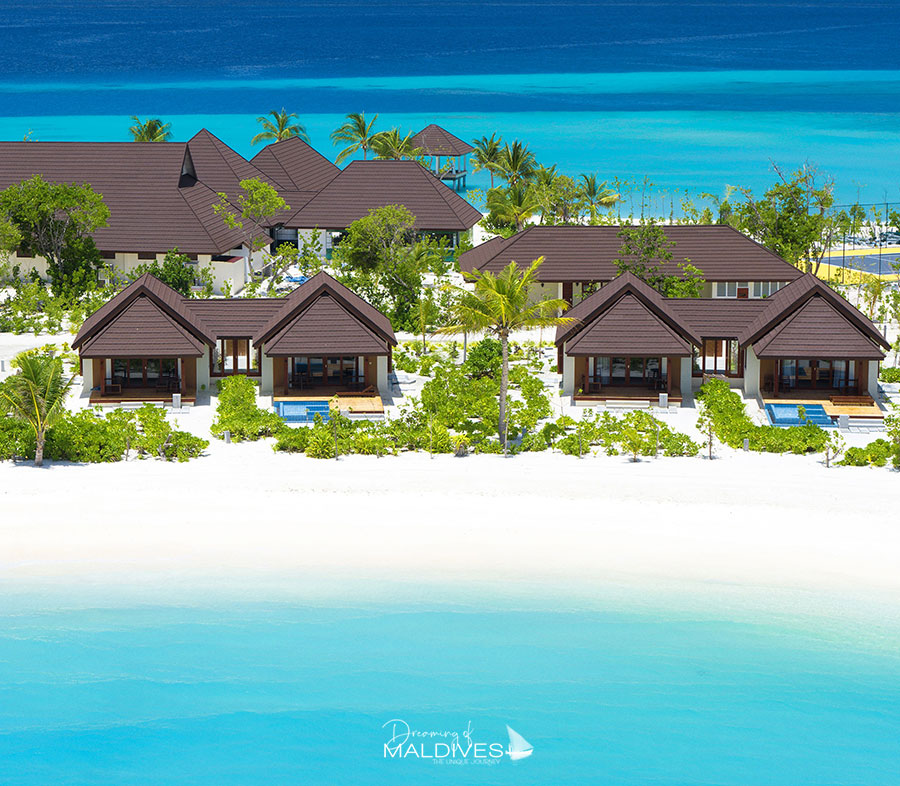 VARU Family Villas consist of two connected beach villas., one with a pool and the other without. The villas have a common entrance area with a small corridor leading to the two bedrooms. They have a direct beach access and are perfect for families and small groups.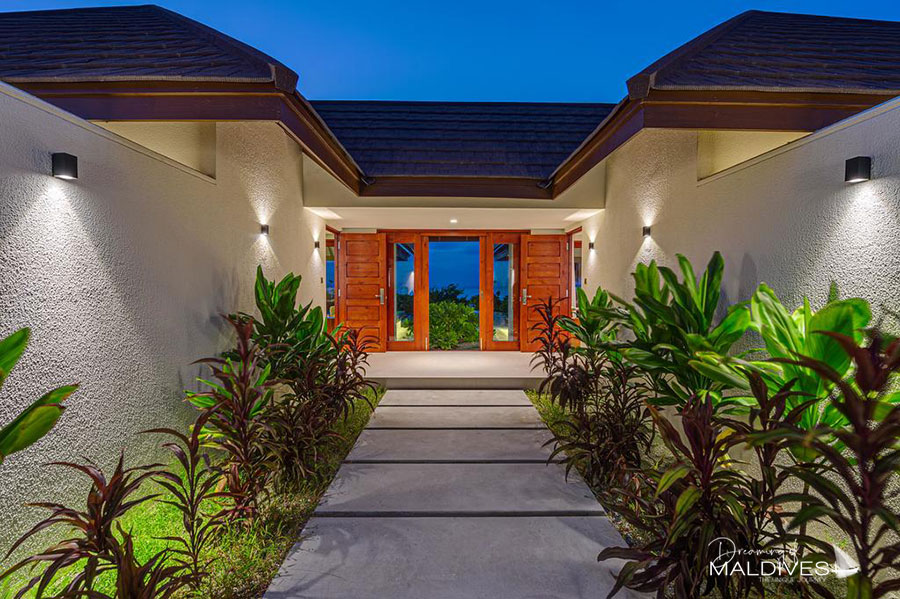 Family Villas Floor plan
CLICK TO ENLARGE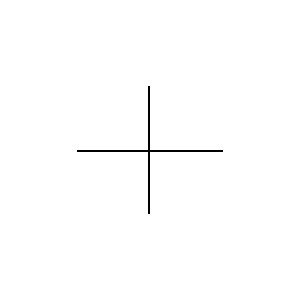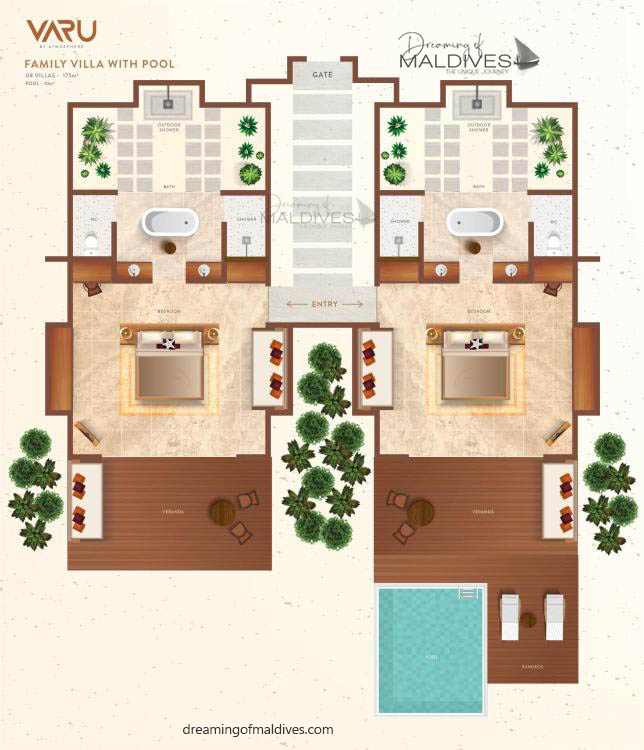 VARU Majlis Suite With Pool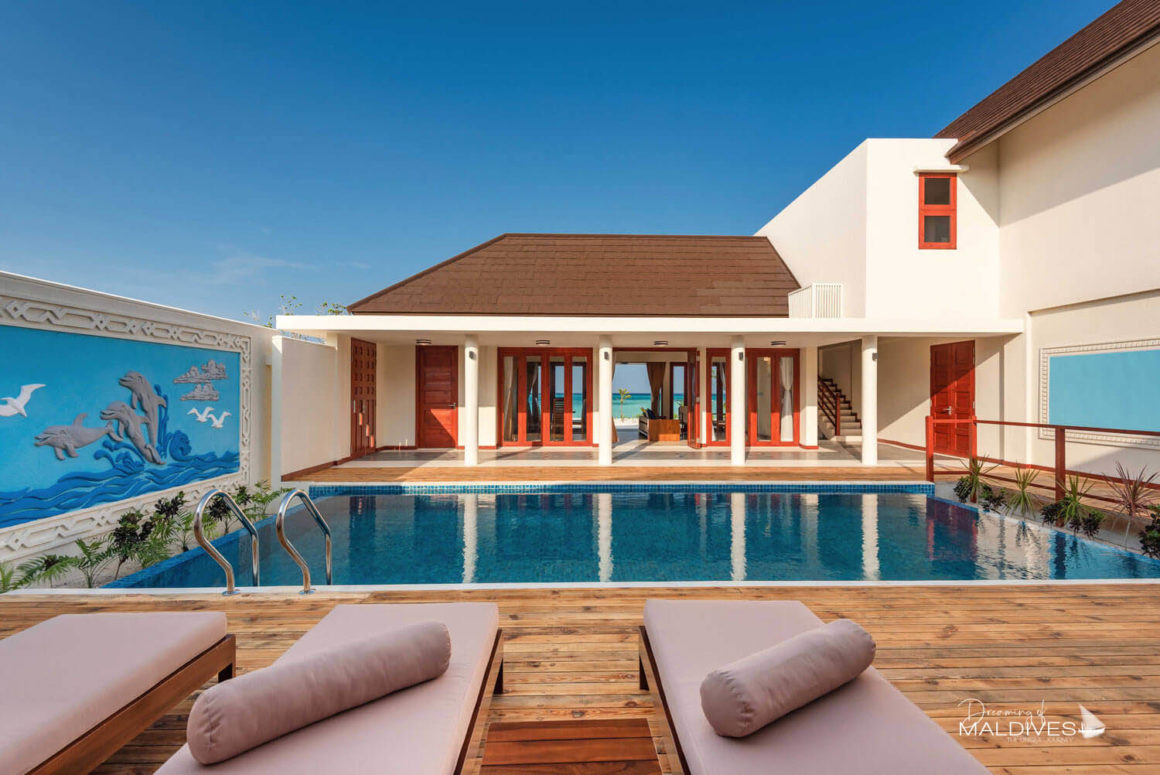 The Majlis Suite is a secluded and cozy beach villa for families.
Varu's most exclusive villa the 330 sqm tropical suite consists of 3 units and one private entrance. The suite features two large master bedrooms with an outdoor bathroom and a large living room with direct access to the beach, including a room for a maid or nanny and a 45-square-meter private plunge pool.
Majlis Suite Floor plans
CLICK TO ENLARGE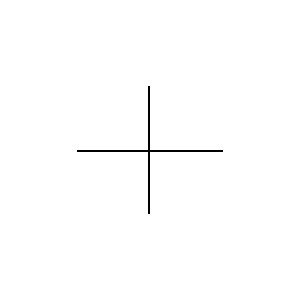 On top of VARU's All Inclusive Plan, The Majlis Suite also includes the following services :
Check-in at the villa, a bottle of champagne on arrival, fresh fruit daily, two additional bottles of alcoholic beverages, two bottles of wine daily, butler service and muffin & tea service in the morning.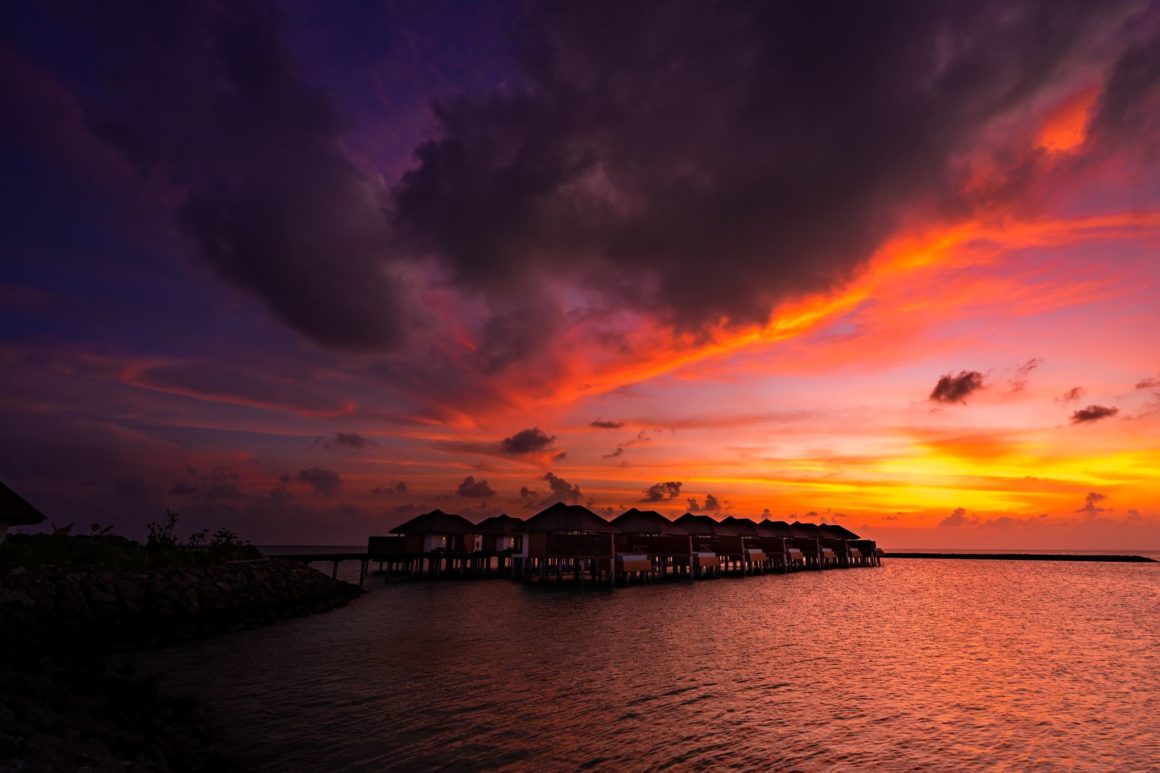 Varu by Atmosphere The Restaurants and Bars
In addition to the restaurant LIME & CHILI, there are also three other restaurants where you might want to treat yourself to an on-top meal every now and then, given the seductive delicacies on the menus – grilled, Mediterranean specialties and Maldivian fine dining.
From casual to fine dining, big buffet breakfasts, vegetarian cuisine, Indian and Maldivian Cuisine, international favourites, themed nights, live cooking stations, seafood, grills, Mediterranean fine cuisine, VARU has almost everything to please any palate.
The pool bar serves refreshments in between.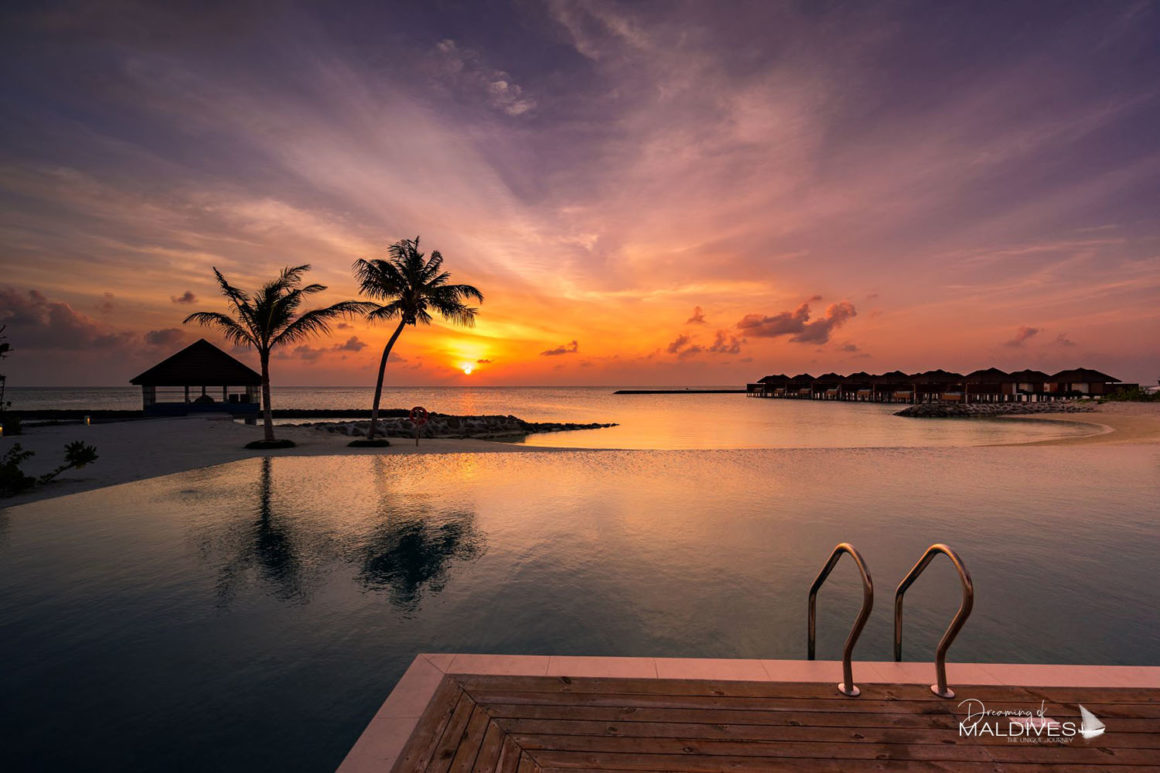 LIME & CHILI . The main restaurant for Buffets, features Live Cooking Stations and a "Gala Dinner" once a week.
CHARCOAL . Grill restaurant serves fresh grilled dishes on the beach
NÜ restaurant serves Mediterranean Seafood specialties over water. NÃœ also offers a Sunset Rooftop Bar.
KAAGE restaurant serves Maldivian delicacies in fine dining atmosphere.
BAY ROUGE the pool bar, serves drinks and snacks all day long by the pool
A Lunch by the Pool theme happens every saturday.
Varu by Atmosphere Leisure and Activities
In terms of leisure activities, the vast and crystal-clear lagoon surrounding this paradise make the most of scuba diving and other activities, as well as a gym, tennis and even a futsal court.
Guests can enjoy a vast range of activities, from wine tasting, learn Bodu Beru (the Maldivian Drums ), chess competitions, a nice range of fitness classes.
From windsurf to Hobie Cat, all non motorized Watersports are included. Motorised sports will cost you an extra – like most of the resorts. The aquatic centre offers several watersports from windsurf to jet skiing.
For children, there is a club with excellent facilities.
At night, guests can enjoy a cool atmosphere at the café lounge with a saxophone-singer duet performing Live.
Diving at VARU by Atmosphere
VARU dive centre offers scuba excursions (costs extra but guests get 20 per cent off the first two dives)
The resort has access to some of North Male Atoll best dive spots including manta cleaning stations, shark channel dives, good coral reefs and an immense variety of macro life. Most of the sites are located within marine protected areas. ( See my Guide to Diving in North Male Atoll for more ).
Snorkeling at VARU by Atmosphere
Unfortunately VARU does not have its own house reef. Guests can explore the island underwater beauties with daily schedule snorkeling trips.
The resort generous All Inclusive Plan offers unlimited snorkelling excursions and free use of snorkel gear throughout the stay.
Varu by Atmosphere The Kids Club
Each Atmosphere Resort is family orientated with specially designed services and villas for families including Kids Clubs.
VARU is the latest member of this big family friendly resorts.
On The Move, VARU's kids club offers scheduled activities, monitored play areas, and guided art and craft workshops to entertain our little ones. From hosting birthday parties to offering babysitting services, the trained staff at the kids' club ensures that kids are well taken care of and have a good time while parents get some well-deserved private time.
Varu by Atmosphere The Spa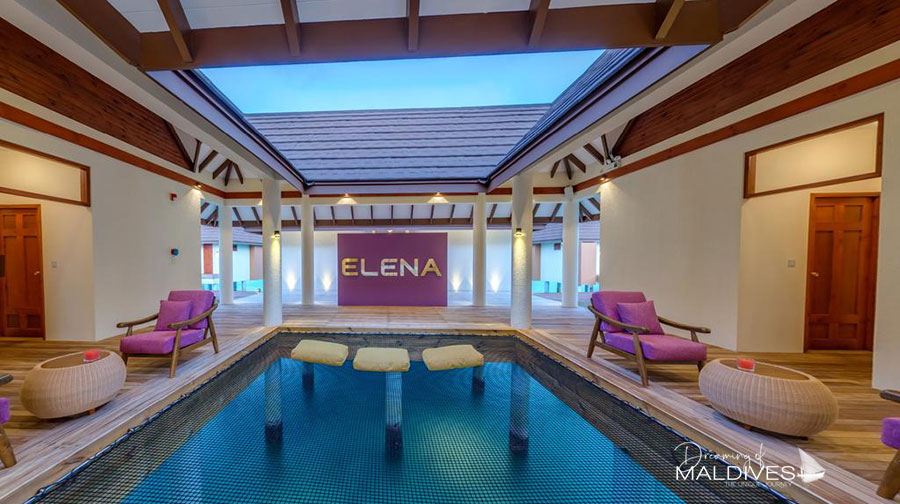 The Elena spa, a staple of Atmosphere resorts, puts on vigorous yoga classes alongside its array of massages, reflexology and oil treatments. The specialties of the Resort Spa include personalized pressure point massage and warm stone massage for more heavenly relaxation.
Varu by Atmosphere Resort Map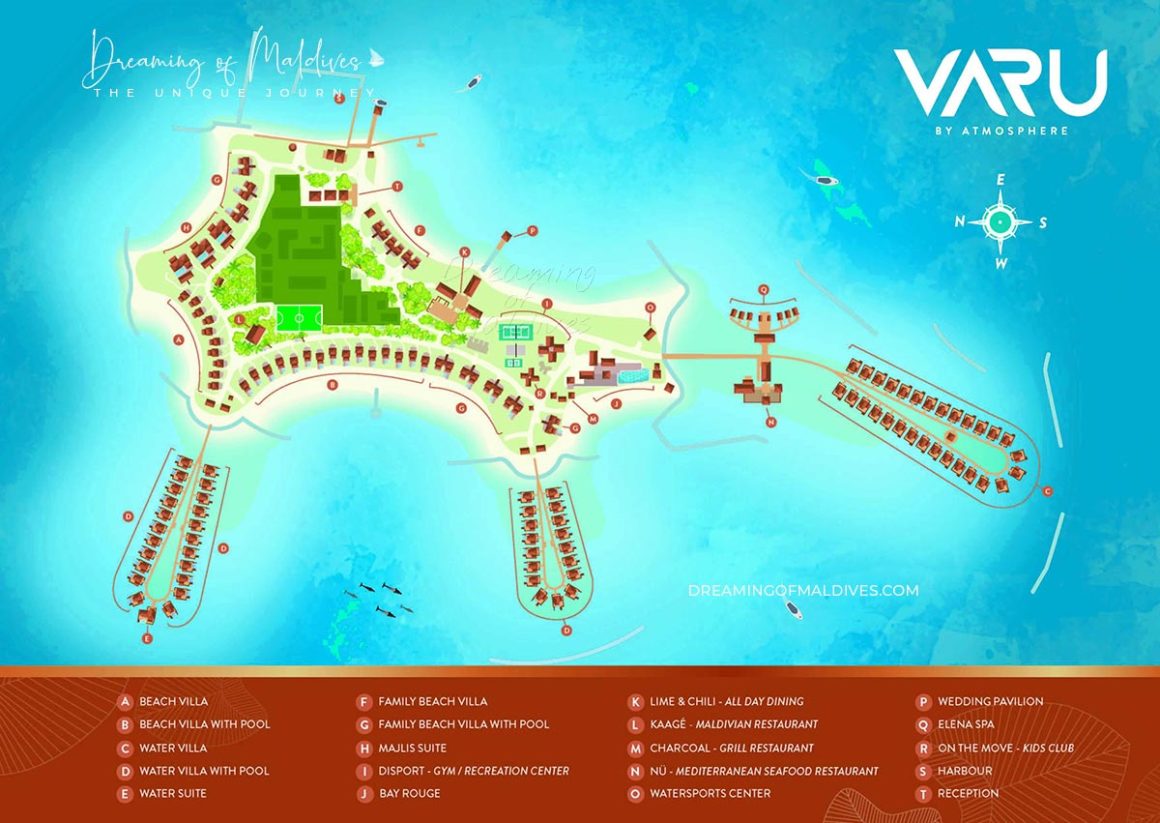 VARU by ATMOSPHERE ALL INCLUSIVE PLAN
THE VARU PLAN
DINING EXPERIENCES
– Breakfast, Lunch & Dinner served at the LIME & CHILI (All-Day Dining)
our main restaurant; combination of sumptuous buet, live cooking
stations, theme nights & grills
– Selection of snacks daily from 16:00-18:00hrs at the BAY ROUGE
SPECIAL THEME NIGHTS
– Indian Ocean Gala Dinner Every Wednesday at LIME & CHILI
(All other dining outlets will be closed for Dinner)
– Bay Rouge Lunch Every Tuesday & Saturday at BAY ROUGE
(All other dining outlets will be closed for Lunch)
Premium Brands and unlimited cocktails
BEVERAGES
– Premium brands of spirits, beer and wines at BAY ROUGE, LIME &
CHILI, and three Specialty Restaurants; CHARCOAL (Sizzle and Grill by
the beach), NU (Over-water Mediterranean Seafood Specialty), KAAGE
(Maldivian Specialty)
– UNLIMITED Cocktails & Mocktails, signature drinks, seasonal fresh
fruit juices, soft drinks, mineral water, selection of tea & coee available
from The VARU Plan Cocktails, Spirits & Beer Menu
– Wide selection of Premium wines from world-over & bubbles from
The VARU Plan Wines & Bubbles Menu
– In villa minibar stocked with beer/wines/soft beverages & selection of
snacks replenished TWICE DAILY.
ADDITIONAL SPECIAL SERVICES

** Eligible ONLY for ALL FOUR NIGHT stays and above
– Sunset fishing ONCE per Stay (On pre-registration basis – weather permitting)
– ONE Complimentary excursion per guest from a selection of excursions per stay
(On pre-registration basis – weather permitting)

DINING EXPERIENCES

** Eligible PER PERSON PER STAY depending on the total number of nights of stay
** on pre-booking basis for Lunch OR Dinner in any of the THREE Specialty
Restaurant inclusive of beverages from The VARU PLAN Beverage Menu.
– 3 Nights Stay: ONE Meal /
– 4-5 Nights Stay: TWO Meals
– 6-7 Nights Stay: THREE Meals /
– 8-10 Nights Stay: FOUR Meals
OPEN for LUNCH and DINNER on mentioned days
– KAAGE Progressive Maldivian fine-dining experience
(Open for LUNCH on Thursday and Sunday / DINNER on All-Days except
Wednesday)
– NU Over-water Mediterranean Seafood Speciality dining experience &
Sunset Rooftop bar
(Open for LUNCH on Monday, Wednesday, and Friday / DINNER on All-Days
except Wednesday)
– CHARCOAL A-la carte Sizzle and Grill by the Beach dining experience
(Open for DINNER on All-Days except Wednesday)
ELENA SPA
ONE spa treatment for a minimum stay of 4 nights – for adults over 15 years.
Additional spa treatments for an additional 4 nights.
ACTIVITIES & ADVENTURES
20% Discount on first TWO regular dives per guest
(Guest Must hold a PADI certified certificate, discounts applicable on dives only)
COMPLIMENTARY selection of non-motorized water sports (Wind surf, Stand up paddle boards, Canoes, Water bikes, Water logs, Water castle) during stay.
Guest Must pass Windsurfing competence check.
COMPLIMENTARY Snorkeling Equipment for each guest during stay
UNLIMITED snorkeling excursions during stay with TWO Snorkeling sites
(Shuttles in the Morning & Afternoon on pre-registration basis – weather
permitting)
FULL ACCESS to the Sports & Recreation Centre DISPORT, A fully equipped gymnasium, outdoor & indoor recreational activities, flood-lit tennis court, badminton, beach-volley.
An array of daily organized activities for Children & Young Adults at THE KIDS CLUB " On The Move
Various other activities on a weekly & seasonal basis.
RESORT FEATURES & FACILITIES
The VARU Plan
Premium All-Inclusive Holiday Plan
ELENA Spa & Wellness
Spa Centre, Gymnasium & Salon
Dive & Watersports Centre
Restaurants: All-day dining + 03 Specialty
Bars: Main Pool Bar + Specialty Bar
Recreation & Entertainment Centre
Kids Club & Kids Activities
Beach Villa: 10 units – 75 sqm
Water Villa: 29 units – 93 sqm
Beach Villa: + 10 sqm Pool: 15 units – 90 sqm
Water Villa: + 10 sqm Pool: 39 units – 93 sqm
Family Villa: 03 units – 173 sqm
Family Villa + 10 sqm Pool: 08 units – 173 sqm
Water Suite: + Pool 15 sqm: 1 unit " 170 sqm
Majlis Suite: 03 units – 329 sqm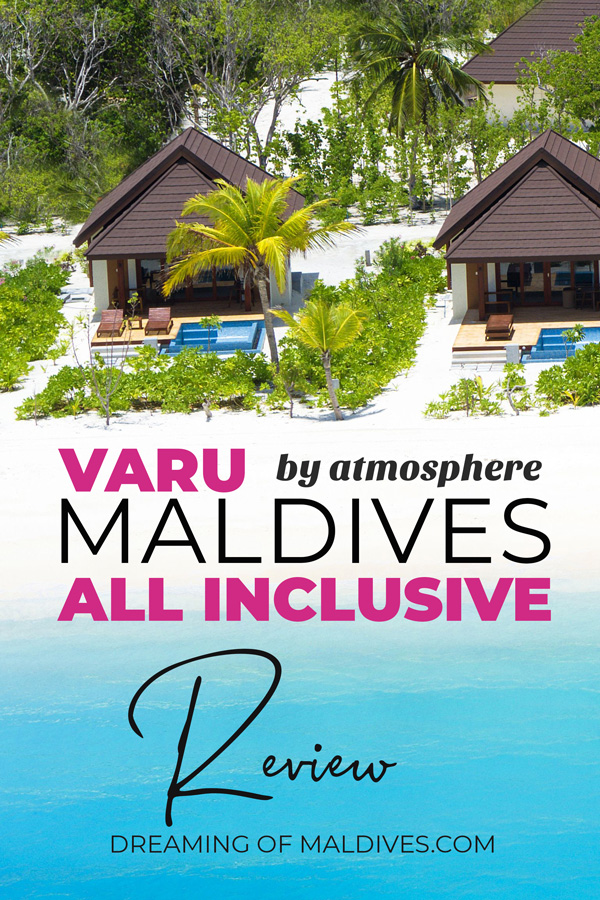 Pin The Dream
Follow us on Facebook, YouTube and Instagram for more Maldives stories.
Maldives TOP 10 Dreamy Resorts 2024
YOUR CHOICE. YOUR DREAM. YOUR VOICE