This is a new insider's look into one of the most Dreamy Island Resort of Maldives : Huvafen Fushi.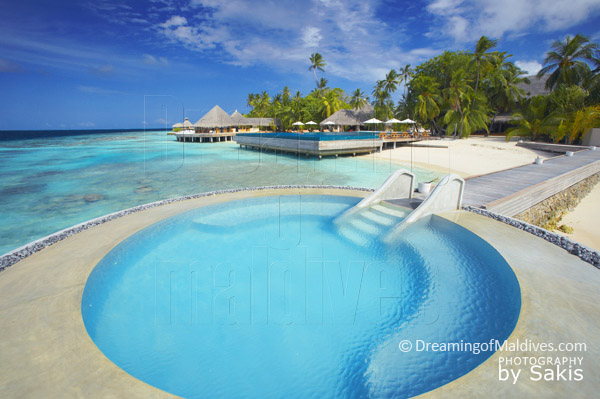 For December's Month, we have selected Huvafen Fushi as "Dreamy Resort of the Month".
Huvafen Fushi Maldives is a Luxury Boutique Hotel located in North Male Atoll, on a beautiful small and narrow Island, at 30 mns by speedboat from Male Airport.
In Dhivehi -Maldivian language-, Huvafen Fushi literally means "Dream Island" ("Huvafen" for Dream and "Fushi" for Island )… the name is indeed a perfect match with the style and concept of the Resort. Creative and special in many ways, almost futuristic sometimes but remaining traditional and discreet, Huvafen Fushi is a unique concept introduced for the first time in Maldives in 2005 by Per AQUUM Retreats, Resorts and Residences,
Have a deeper look into one of our favorite Maldives Resort with a new Video, exclusive photos from our collection, The World's famous Underwater Spa, maps, aerial views, the Villas, the restaurants and Bars, the watersports, Diving, the Spa, the activities, where to stay, what to do, what we love and much more…
Enjoy this New Dream at www.dreamingofmaldives.com/huvafen-fushi
Note : The Dreamy Resort of Maldives Feature was launched in July 2011 .
Independently selected, each place can be a Resort, a Hotel or a Liveaboard Safari Boat, ranging from 3*** to 5*****.
Our selection is made up on quality criteria based mainly on the beauty of the island herself, the environment, the resort atmosphere and of course the quality of the services as anybody could expect.
The property category will vary according to the Month selection.
Follow us on Facebook, Youtube and Instagram 
for more Maldives Dreams & Stories
Your TOP Best Maldives Resorts 2023
YOUR CHOICE. YOUR DREAM. YOUR VOICE
[ Official ]
Traveler's Choice
12th Edition