Dreaming of Diving and Snorkeling at Filitheyo ? Don't dream no more, Martin and Sanne, the resort dive center managers give you here a complete guide to the underwater world surrounding the resort.
Filitheyo Dive Center is managed by Werner Lau, a veteran in Maldives Diving.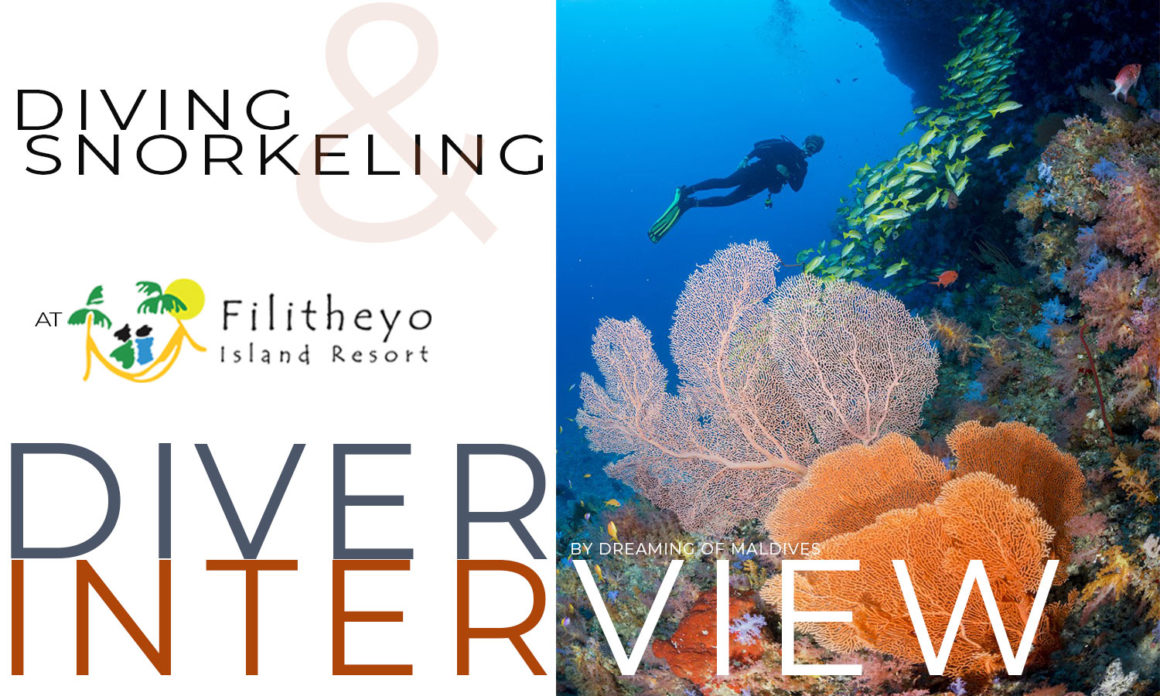 Let's fly South Maldives to reach the amazing and totally unspoilt Atoll of Faafu, where lies one of the best snorkeling/ diving spot we've seen in Maldives Filitheyo.
Diving And Snorkeling At Filitheyo, Faafu Atoll.
The beauty of its underwater world not only resides in the Atoll itself, but just in front of the villas. Make 3 steps in the water, let yourself float if you're a beginner ( the littles ones included ) and just enjoy.
You will see, it's amazing !
About Filitheyo
Filitheyo is twice gifted : first, for its lonely location in the middle of a virgin environment and second for its exceptional house reef.
It's not a surprise that the famous Werner Lau Diving centre has established one its Maldives base there.
To help us discover the Atoll and the Resort surroundings, I've interviewed Martin and Sanne, a passionate couple of divers who once decided to give up on their daily jobs as a teacher and carpenter to dedicate their lives to diving.
They bring us to the best spots and secrets that surround the Island. Among them, you will learn about Wrecks ( Filitheyo has 2 of them ! ), amazing coral gardens ( & photos ), Mantas, tiny creatures and so many more.
If you love snorkeling and/or diving, you should not miss this place. It is a true Maldives wonder.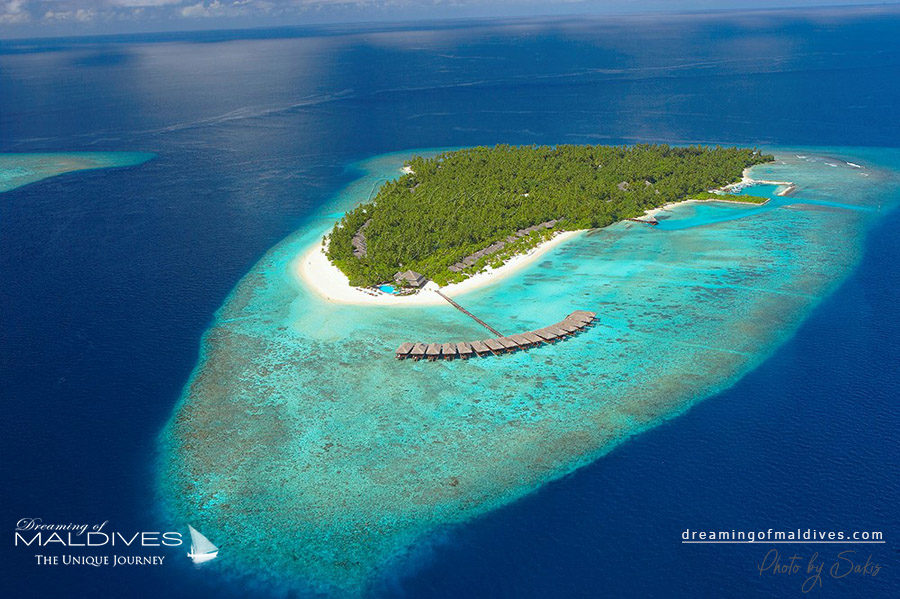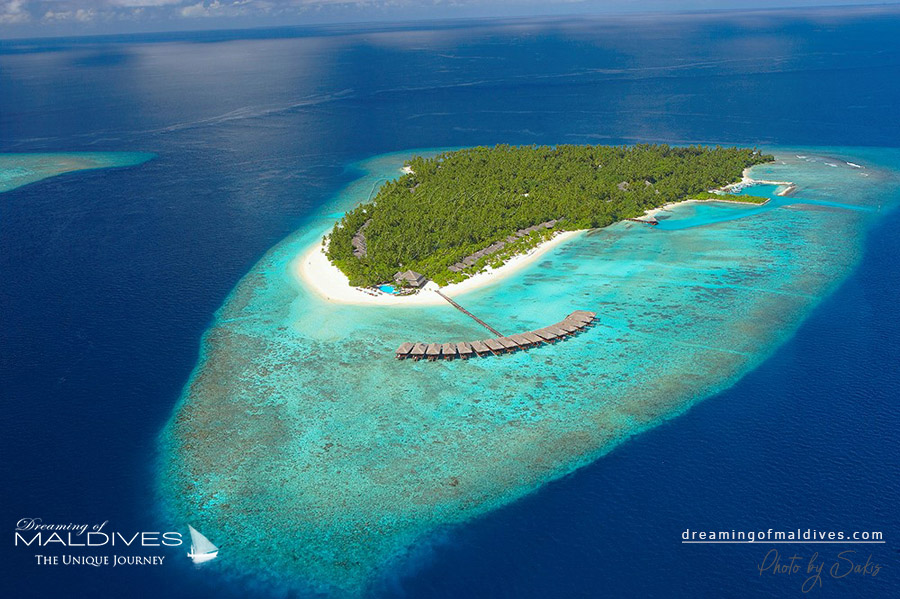 The 4**** Resort is one of Maldives crown jewels. The medium sized Island resort is reachable after a 35/40 mns seaplane flight from Male.
Spreading around the island beach and on 1 side of the lagoon, 125 villas are all built in a Maldivian style with thatched roofs and decorated with light wood and clear colors.
They offer an intimate and relaxing atmosphere and all necessary comfort and amenities.
The beach villas are proposed in 2 categories :
– 94 Superior Beach Villas adjacent to each other (their terraces have a wooden separation) each offering 95 sqm of cosy space
and
– 15 –111 sqm detached Deluxe Beach Villas with their own terrace, if you're looking for more space and intimacy,
– 16 Water Villas ( 146 sqm ) stand on the best part of the island ( the trio sunset + reef + lagoon is all there ) and all offer a spacious bathroom with a whirpool style bath tub, a Bubble Bath, a Private Veranda and a big Maldivian swing.
Note about the villa capacities: the Water Villas can accommodate 2 people maximum.
If you travel with a child, you will opt for a Beach Villa. They all offer a capacity of 3 people ( with a single day-bed in each). If you travel with several kids or friends, you can ask for adjoining villas ( available on request only ).
The resort offers 2 restaurants and bars. A large variety of excellent food from around the world is served at the main restaurant buffet and A-La-Carte menus are served close to the infinity pool in front the lagoon and the Sunset.
On the leisure side, Filitheyo offers the traditional range of daily activities with a Spa, excursions (don't miss the Atoll gorgeous desert islands) and watersports.
Note about the lagoon : due to the close-by house-reef, the lagoon is narrow, thus not very appropriate for sailing.
Consider Filitheyo has an excellent value. If some resorts sometimes fail to fulfill the usual Maldives traveler expectations, Filitheyo does the magic.
It is for us one the best Maldives resort we've been to in this category and is definitely a Dream for its underwater world.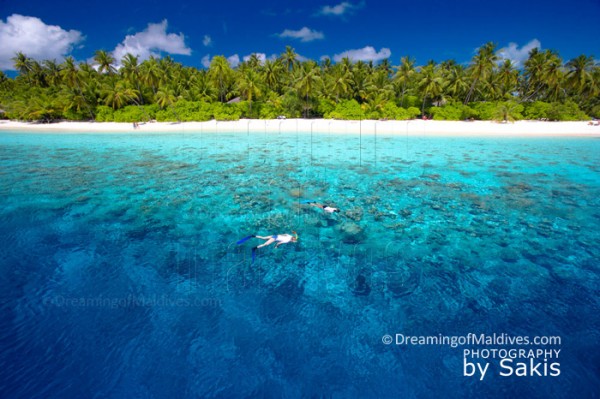 Note : A beautiful Underwater Photo Gallery of Faafu Atoll and Filitheyo + all reachable diving spots are waiting for you at the end of the interview.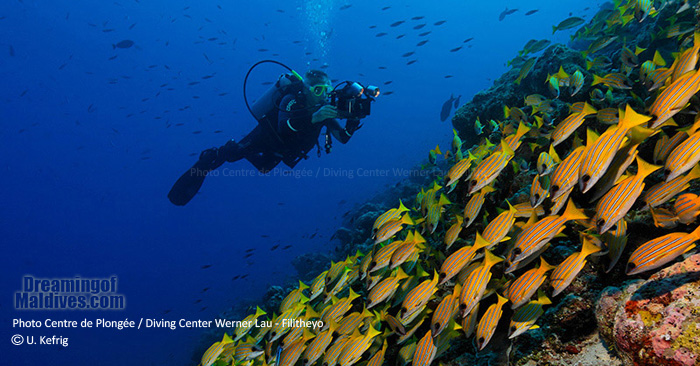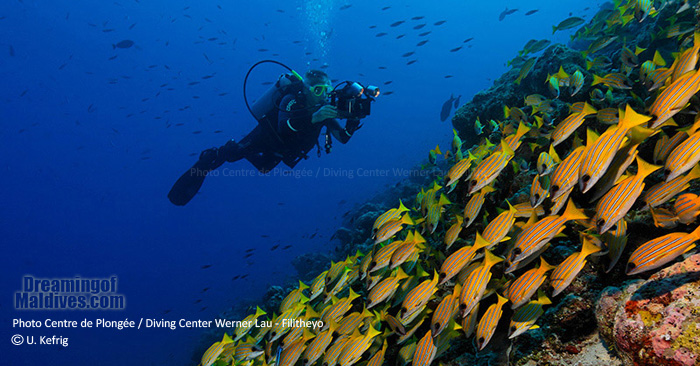 INTERVIEW
Diving in Maldives from a Professional Point of view.
Focus on Faafu Atoll
Dreaming of Maldives Question. Hello, where are you from ?
Martin & Sanne Answer(s). Holland and Denmark.
Q. Can you introduce yourself ?
A. We are a Dutch/ Danish couple here on Filitheyo Island working for Werner Lau Diving Center as the base leader couple.
Martin is Dutch 36 years old and married to Sanne who is 33 years old and from Denmark.
Our former educations are as a carpenter and school teacher. These were our previous jobs before we moved out to start our dream job as a dive instructor. Both of us started off in Egypt; Sharm El Sheikh for Werner Lau and that is also where we met each other.
For the last five years we have been living our dream.
Q. Your diver degree(s) ?
A. Martin is a Master Instructor, TEC Deep Instructor, EFR Instructor Trainer in PADI and Dive Control Specialist instructor with SSI. In both organizations Martin can teach loads of specialties.
Sanne is a Staff Instructor with PADI and an Advanced Open Water Instructor with SSI. As Martin she can teach loads of different specialties with both organizations.
Q. When and why have you started diving ?
A. Martin started diving in 2004 and Sanne in 2006.
Q. Have you been diving in other places around the world? If yes, where ?
A. We have been working as diving instructors in Egypt, Vietnam, Malaysia and now here on the Maldives.
Q. How long have you been diving in Maldives ?
A. We started working for Filitheyo Dive Center on the Maldives 2011.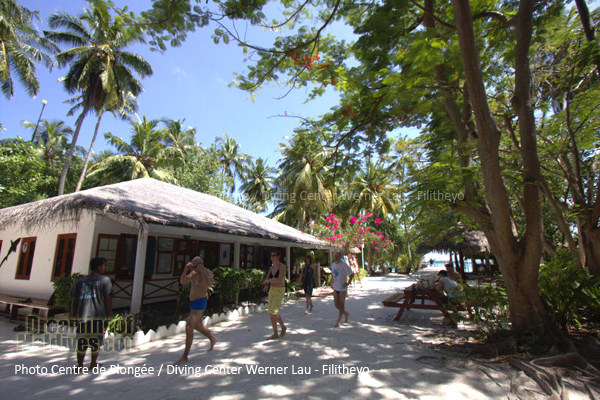 Q. How did you become a dive center manager in Maldives ?
A. When the old base leader couple left, we guess it was natural, that we took over as the one with most experience working on the island.
Q. How is the Diver life on a (small Island) resort ?
A. We love our job but living on a small island can be a hard life. For us as a couple it is very nice. We always have each other to talk to. We believe that as a single instructor life is a bit different. Often its couples or families coming diving on the island and not really any party life.

Q. Holidaying yourself..Are you more underwater or on the land ?
A. When we have holiday we love to go different places all over the world. We don't plan for diving but if it's an option – we might go. Our last holiday back home in Denmark ended up with a dive – a bit colder than here but I guess we are kind of addicted.
Q. What are your favorite spots in your Atoll and why ?
A. There are so many fantastic dive spots in our atoll that it is difficult to point out the best.
The best thing about diving in our atoll is that we are the only resort and therefore also the only diving boat.
We can point out Repeaters Paradise and Coral city for their amazing coral and small fish. Both dive sites is located inside the atoll and very easy to dive for all levels of divers.
In the atoll channels we have dive sites like Filitheyo Outside and Barakuda Kandu often with strong currents, deep dives and loads of sharks, rays, napoleons and turtles!
In the right season (December – February) we also love our manta spot Kuda Falhu.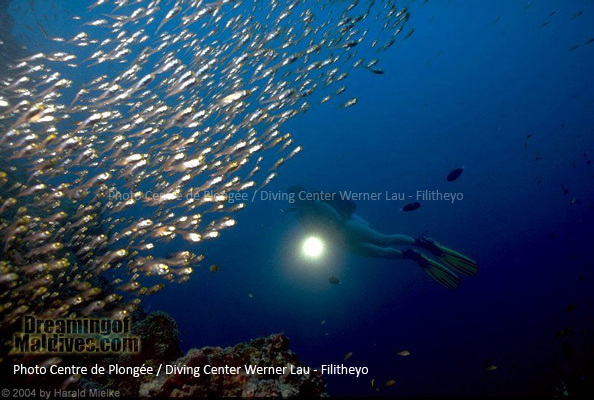 Q. If you've worked in other Atolls. What are your favorite spots in Maldives and why ?
A. Unfortunately we have not worked in other places on the Maldives so all our favorite spots are located right here.
Q. How do you compare Maldives diving with the rest of the top spots around the world ?
A. Maldives is lovely and amazing for diving. It is difficult to compare diving on one spot with another. Everywhere in the world we have been diving is different but all have something special to offer.
Q. The difference(s) ?
A. Maldives has warm water and often with loads of big fish like sharks, rays, turtles and big school of fishes. The dive sites we have here in our atoll, is still a bit untouched and a side from the big stuff they also hide loads of macro life.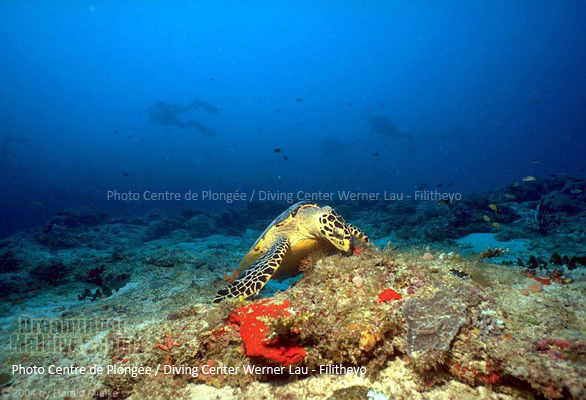 Q.I am curious to know about :
– Your most exciting/memorable moment.
A. Sanne: Must be on a safety stop on Fish Pan with one guest – suddenly we hear the sound of dolphins – and right after more than 50 dolphins swim past us.
Martin : Diving on the house reef with an Open Water student having a massive guitar Ray swimming by and later on Eagle Rays in formations and off course the obligatory sharks we always meet on the house reef.
– Your worse
A. There is none !!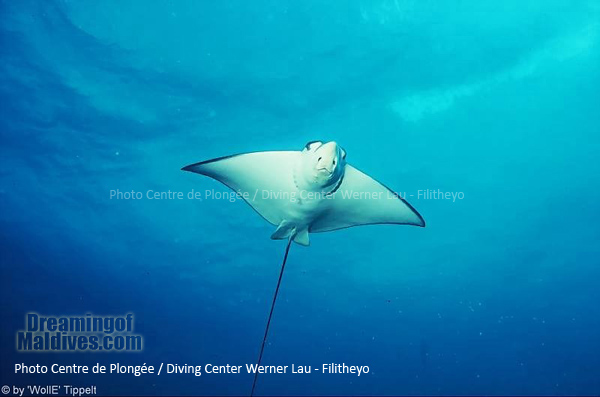 Q. Faafu Atoll : what are the top spots proposed from Filitheyo ?
A. All top dive sites are offered from our daily boats from the resort.

Q.1 Diving Spot not to be missed inside the Atoll ? Which one ?
A. Coral city and Repeaters Paradise chosen for their beautiful coral gardens and aquarium look alike dives.
Barakuda Kandu, Filitheyo Outside, Fish Pan as the challenging current dives with loads of fish and big stuff.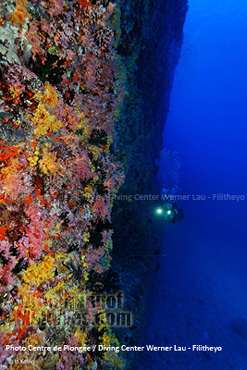 Q.Is it dangerous to dive in Maldives ?
A. No diving is never dangerous but always listen to the dive briefings and follow the advice of the dive guide. Sometimes we have amazingly strong currents where it is necessary to hold on or even use reef hook.
Here in the Dive Centre we offer diving for different levels.
We have our easy boat for people that want to relax while diving and our tough boat where we guide the divers in strong currents and deep water. We also offer the current specialty from SSI as a special offer to make sure that all people can enjoy the Maldivian currents.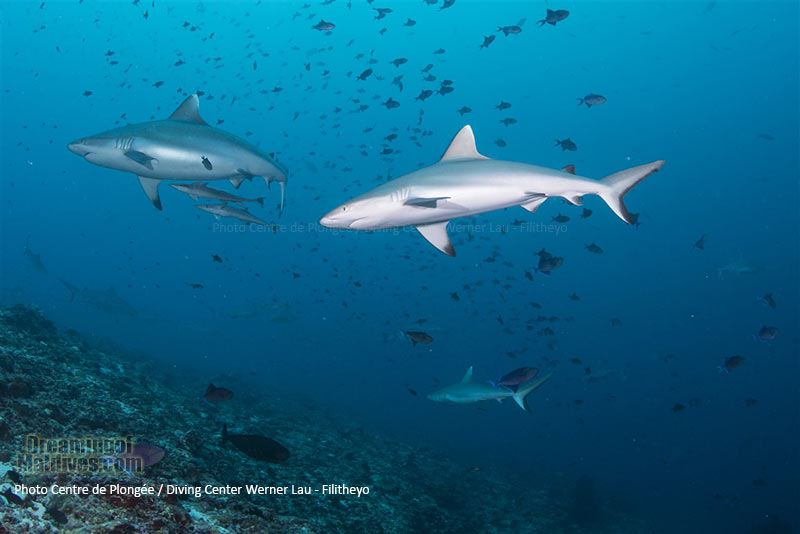 Q.Any wrecks around the Resort ?
A. We have 2 wrecks on our hourse reef.
Both of them were put down to offer new challenges for divers on the house reef and to attract marine life. The wrecks are old wooden supply Dhonis standing on the bottom between 30-35 m of depth.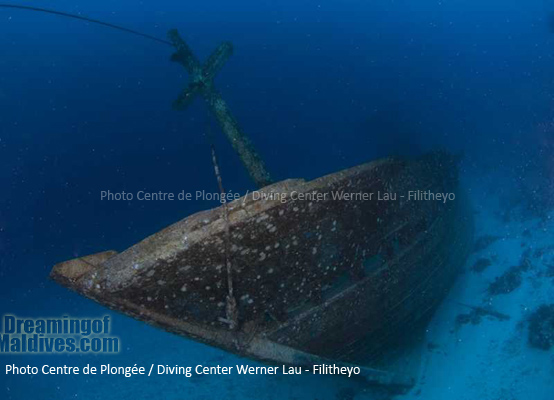 About KM AGRO MINA II – Filitheyo Wreck
Here is a bit of history if you're interested to know more…
Since November 30, 2009, the house reef at Filitheyo Island offered one more attraction.
KM AGRO MINA II has been used for many years as fishing boat by AAA ( the Maldivian Hotel Group behind Filitheyo )and now lies on the North side of Filitheyo Island, its last resting place.
The wreck is in an upright position on the bottom at a maximum depth of 32 meters.
Before sinking the 30 meter vessel we added additional openings to it in order to facilitate the wreck penetration.
Already the first marine life has moved in and not before long the first stingrays and nurse sharks will surely follow…
On December 2010 23rd, was added another wreck to the house reef of Filitheyo.
The Koimas I with a length of 34 meters and a width of 8 meters is a little bit larger than the KM Argro MINA II.
The ship is lying at a depth of 21 down to a maximum of 34 meters and can be dived by divers of all levels from house reef entry 5.
Q.What is the best season for you to dive around the Atoll – anything about currents, visibility, big species?
A. We have our monsoon season from around April – November then we have changing currents which effects visibility.
During the good season, which is considered being from October to March we SHOULD (nature has its own will) have a constant east current. It is a strong incoming current and gives us very good visibility.
On the west side of the atoll is then all the plankton which is good for the plankton eaters such as mantas and whale sharks.

Q.Best season for Mantas ?
A. Mantas can be seen all year around in our atoll but we can recommend the season from December to February where we have more guarantee for a constant current coming from east and making our cleaning station on the west side of the atoll attractive to the mantas.
Q.Best season for Whale Sharks ?
A. Answer is the same as above but it is a little rarer to see the whale sharks.
This season we have had a few also between December and February.
Q.How is the coral around Filitheyo ? Improvement ? Worsening ?
A. We have a very beautiful house reef with very nice corals and marine life. [ AN : It's truly amazing !!! ]
Q.How is the coral in Faafu Atoll. ? Improvement ? Worsening ?
A. As we are the only dive boat and the only resort in the atoll the corals are most places really nice and healthy.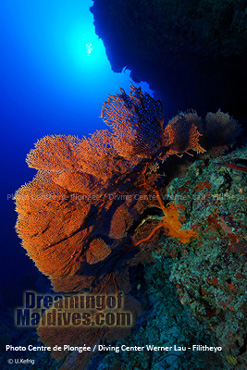 Q.Any scuba-dives outside the Resort house reef ? How is the scuba-diving around
A. We have 8 different entry and exit points marked on the house reef and almost possible to dive around the whole island.
The east side is outside the atoll so we normally don't dive this side. But we go to the south east side of the island with our boat dives and dive the Filitheyo Channel on "Filitheyo Outside".
Because our house reef is located in a channel the diving can be absolutely fantastic and it is possible to meet all underwater stuff from makro to mantas!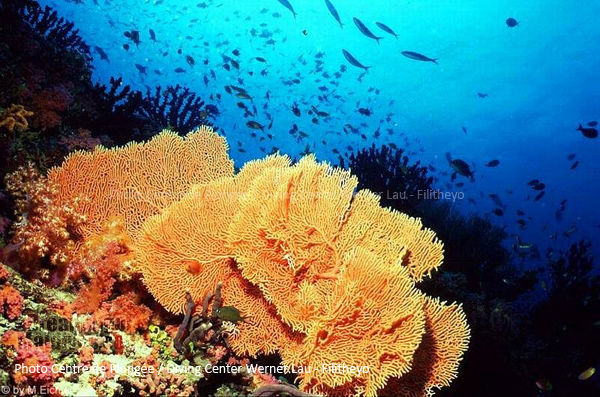 Q.Can I see nice underwater flora / fauna ?
A. Yes, both snorkelers and divers really like our house reef. There is even different marine life and corals on the different sides of the island. The different sides also makes it possible to dive the currents or go to a more sheltered side of the island.

Q.Approximate Scuba-Diving Depths expected ?
A. The depth limit on the Maldives is 30 meters. In the channels we dive to 30 m where we have loads of sharks and big stuff and can stay sheltered of the current of the reef edge.
Many of our easy dive sites reside inside the atoll. We recommend to stay at around 15m where there are a lot of amazing small stuffs with stunning colors too.

SNORKELING
Q. How is the snorkeling around Filitheyo ?
A. Very nice – see answer above. [ AN : Filitheyo's snorkeling is in the top 5 amongst Maldives resorts, truly amazing. ]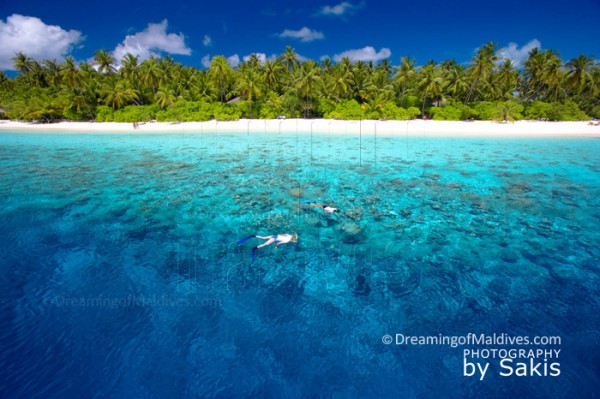 Q.Can I see nice underwater water life ?
A. Yes – same as for diving . Its possible to meet everything.
Q.Approximate Depth outside and inside home reef ?
A. Inside the lagoon 1,5 to 3 meters and outside 20 meters.
Q.Snorkeling in front of the resort beach, (near the villas), can I see nice underwater flora / fauna ?
A. There is often sharks both white and black tips, rays and turtles are also coming to eat and relax in the shallow area around the water bungalows.
Q.Is it safe for children? Do you have material for our small ones ? which age ?
A. We always recommend kids to go with their parents. It is possible to do snorkeling in the shallow lagoon where morays, octopuses, clownfish and much other stuff is living.
The dive centre have a few life west's for kids but in general we suggest that you bring what you need so it fits perfect. The smallest fin size we have is 30.
[ NA : Please be aware of the currents and visit the dive center before going, it is anyway a general advice in all Maldives. ]
Q.Night-snorkeling. How is it ?
A. Very nice we have loads of active marine life at dawn to night time. It's often possible to see the sharks, red snappers, morays and loads of lion fish, shrimps and other night fishes.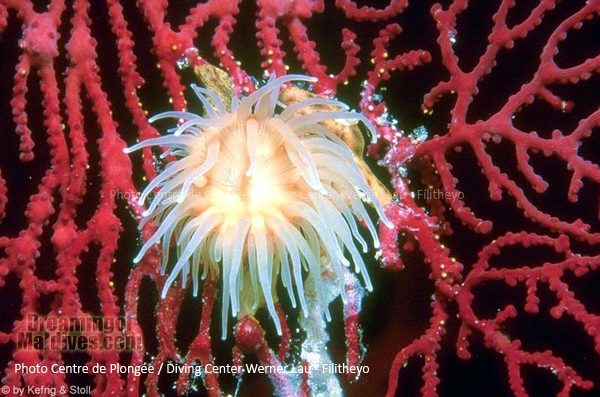 Q. Any top snorkeling spot reachable by boat ? Distance / time by boat ?
A. All of our diving and snorkeling points are reachable with boat. The boat trip is from 5 minutes to 1 ½ hour away. The resort is arranging snorkeling trips several times pr. week and they go to different places on the snorkel tours.
[ AN : Amazing snorkeling is available at a few meters from the beach, which is fantasttic for beginners and kids having swimming skills or, like we did once with our son, a buoy or a safety jacket. Snorkeling together is a Nature Wonder for everbody. ].
Q. Any basic advice for snorkelers ?
A. Enjoy the house reef and the reefs inside the atoll. Be aware of surface currents, and watch out that you are not damaging marine life by touching fish and corals or feeding the fish.
Discover more Diver Interviews
The DIVING CENTER
Q.Can you tell us about your diving center ?
A. We have a very nice diving centre located on the south east side of Filitheyo Island.
It is a big diving center well equipped with all equipment necessary for diving and snorkeling. We have many extra equipments such as underwater scooters, cameras and video cameras.
We are open from 7.30 am in the morning and closes normally by 18.00 pm.
Every day we offer courses and diving for beginners and certified divers. The possible times for diving are from 6.00 am to 08.00 pm.
In front of the dive centre, we also have a set of rinsing pools and a big equipment room to store all divers' equipment in a room with fans.
In front of the dive center is a webcam always updating the activity in and around our dive center.
Next to the diving centre we have our sail sport center also run by Werner Lau. Here we are offering catamaran sailing, wind surfing, canoeing, stand up paddling boards etc…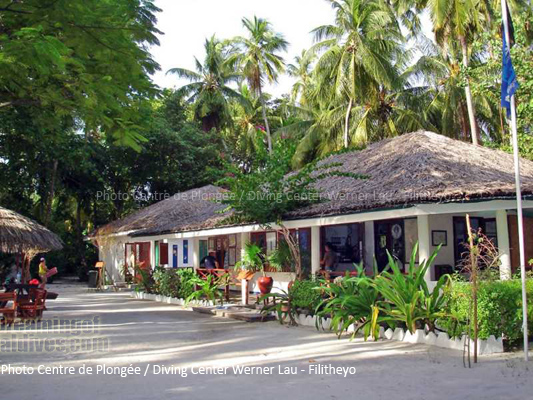 Q.Spoken languages at the diving center ?
A. At the moment the spoken languages in the dive centre is German, French, English, Dutch, Belgium, Danish and Dhivehi.
Q. Starting from level 0. Which level can I be if I stay 1 week in Maldives ?
A. An open water course is conducted in 3 ½ day after that it's possible to continue with advanced course and all other specialties.
We are offering courses from SSI, PADI, Cmas and Barakuda.
Q. How many divers maximum per group ?
A. If a diver has more than 40 dives, he can go independently with a dive buddy on the housereef and dive in a buddy pair from the boat.
If a diver has less than 40 dives, we take the divers on the boat in guided groups of maximum 4 divers per instructor.
During our open water courses we have a maximum of 2 divers per instructor.

Q.Can I dive privately ?
A. If we are available it's possible to go with a private guide.
On the house reef you can dive from 6 am to 8 pm without assistance from the dive staff. We bring the cylinders to the entry points and the divers can go on their own to explore.
Q.Any basic advice for divers ?
A. Jump in an enjoy the scenery !
Q.Starting price for a simple dive ?
A. The price for a single dive is 62 USD for certified divers. Then we have additional prices for equipment.
It is easy to see the prices on our website and it's also possible to book dive packages in advance as well as boat dives and courses.
[ AN : A price list is available at the end of the interview. ]
Q.How much costs an initiation ?
A. Every Tuesday and Saturday we offer an introduction dive.
An introduction dive is the perfect way to find out if you like scuba diving or not.
We also use this dive as the first lesson of the Open Water Course. The price is 35 USD.
But if the guest choose to continue with the Course then it is for free and included in the Open Water Course price.
We start the introduction by building up the equipment and explaining how all scuba gear works. Then we sit down and give a briefing about how to breathe under water.
We believe that a proper breathing pattern makes diving a lot easier and we focus on that during every single dive we conduct on the island and we give advices to both experienced and inexperienced divers.
After the briefing we go to our nice, shallow, sandy lagoon where we do some relaxing skills on the surface and then go for exploration in the lagoon meeting marine life and being able to breathe under water. The hole lesson is conducted without weights and therefore on the surface or when exhaling a little bit under water.
Q.Beginner course (discovery ) – where and how does it take place ?- Any age/health issue/requirement ?
A. When kids are 8-9 years of age we offer them to do a resort dive or a Cmas Bronze course. Both activities are at a maximum depth of 2 meters.
For everybody older than the age of 10 years, we offer resort dives .
A resort dive is a single dive experience to a maximum depth of 12 meters together with an instructor with a maximum of two divers' per instructor. The beginning of the dive takes place in the lagoon in very shallow depth to get used to the equipment, the breathing and then the relaxing under water.
When everything is comfortable we go over the reef side and go for a dive which is normally around 40-60 minutes.

Q.Not all our readers are divers or snorkelers (yet). "I am afraid of the depths…Convince me"
A. Diving and snorkeling is like everything else – not for everybody – but everybody should give it a try !!
With a nice first experience most people like the underwater world.
The first natural step to the water world is to see everything from the surface, being able to react to the feeling of standing up if necessary.
The next step is then to go for a dive and the most fantastic things can appear right in front of the mask.
Instead of looking down at the fishes only seeing them from the top, you suddenly become a part of the underwater world – looking all the fishes in the eyes and enjoying the moment of being in one with nature.
For us diving is a passion – the most fantastic and amazing thing we can imagine – and that's why we love to show everybody else all the spectacular moments that you can enjoy here in the Maldives.
Especially here on Filitheyo Island, where the underwater experience is beyond any expectation, when people are "Dreaming of Maldives" ;-).

END –
© DreamingofMaldives.com
Maps of Faafu Atoll and Diving sites reachable from Filitheyo
Locate Faafu Atoll and Spot the main reachable Diving Sites from Filitheyo Island resort
Diving and Snorkeling at Filitheyo Photo gallery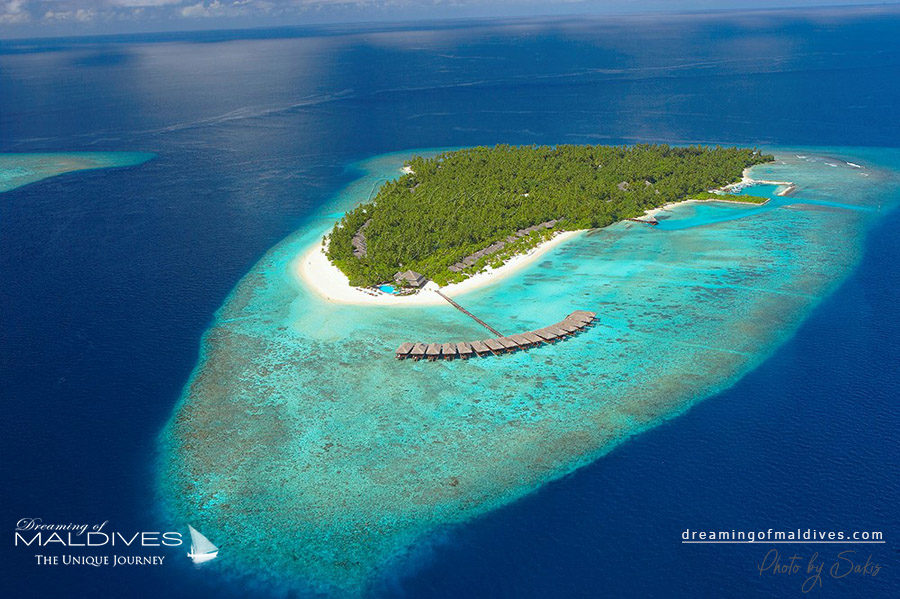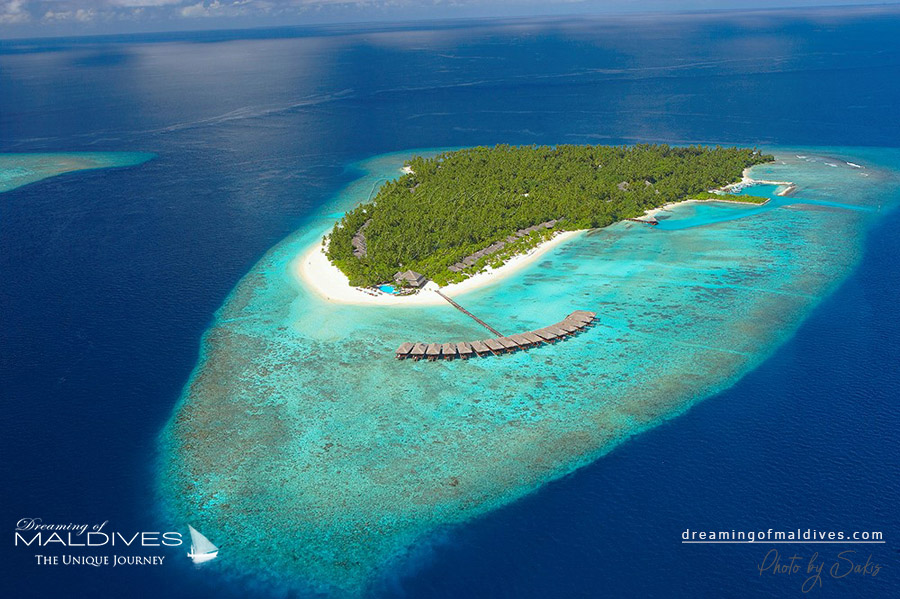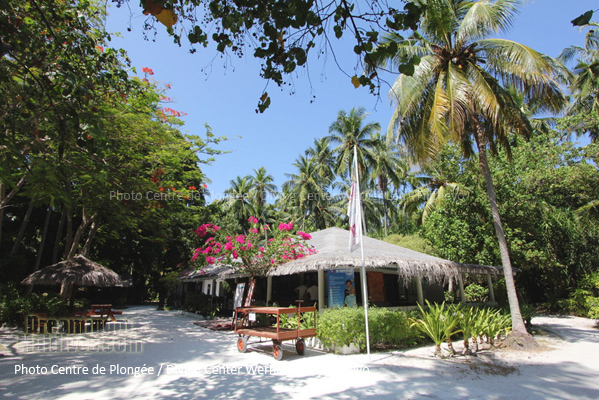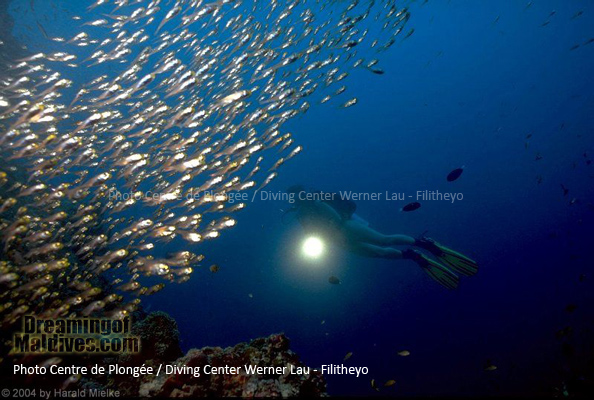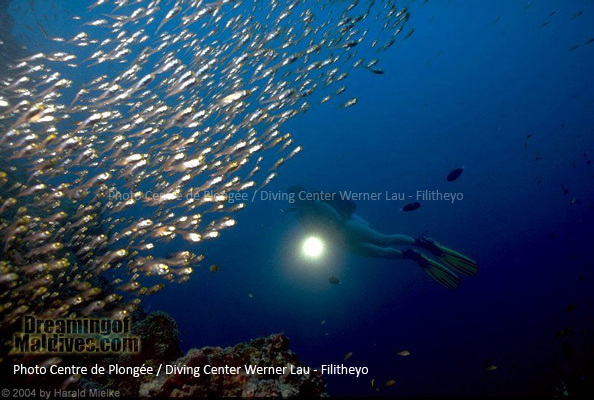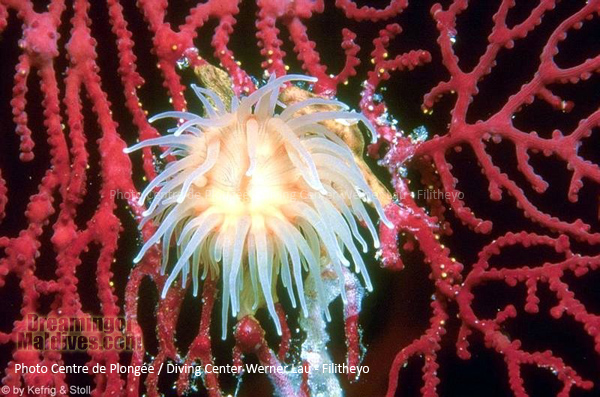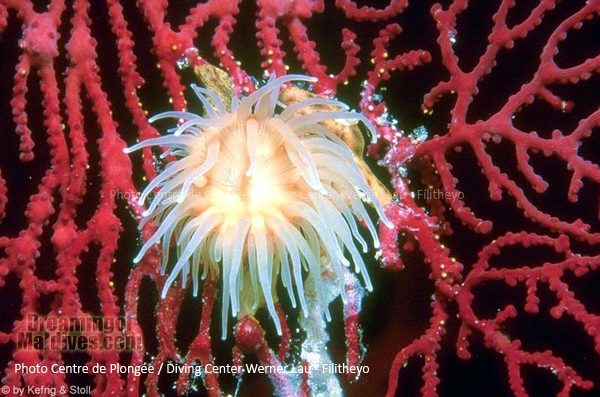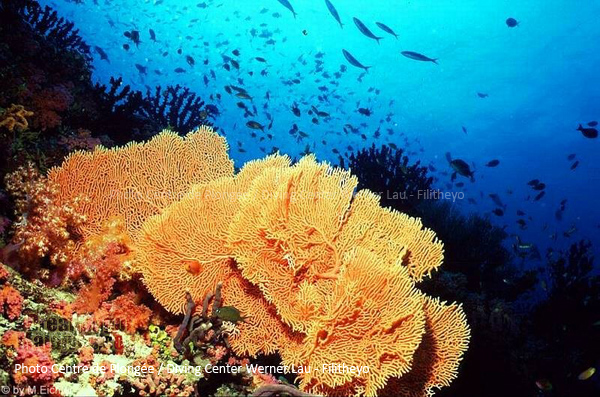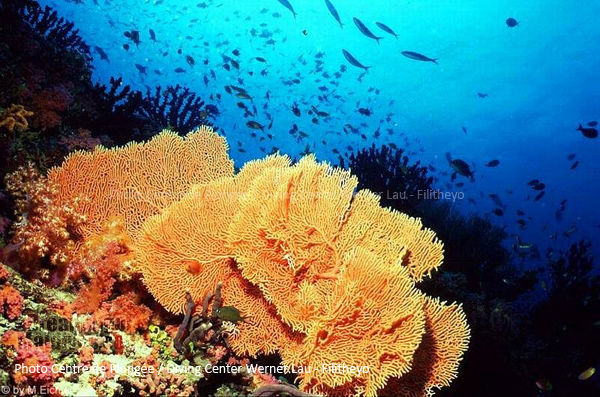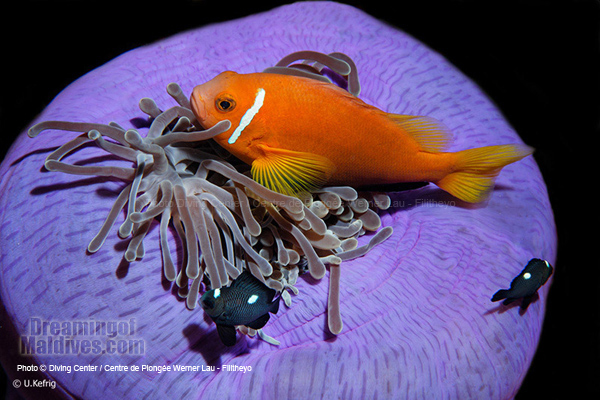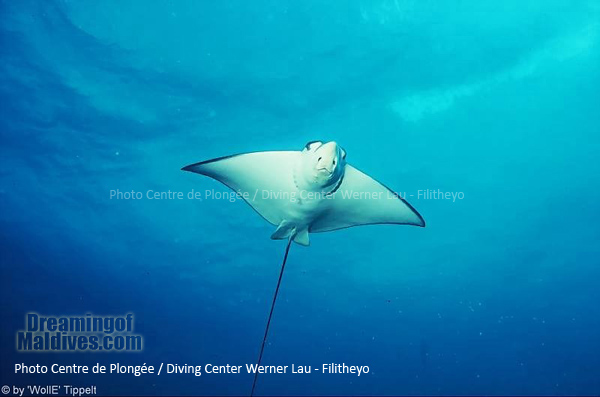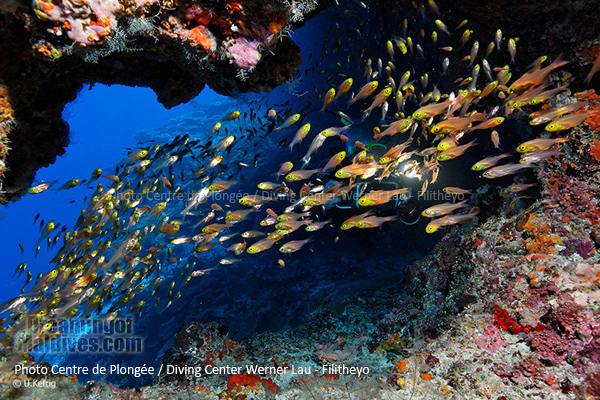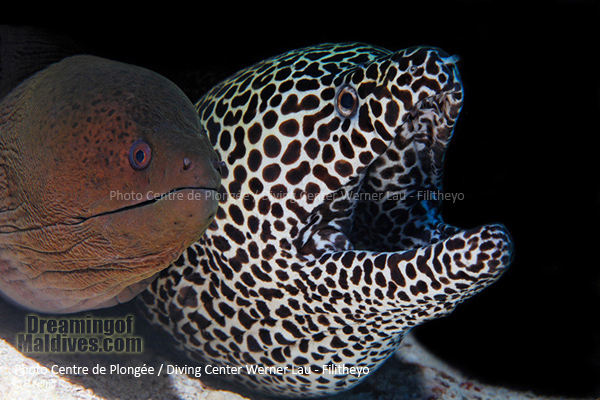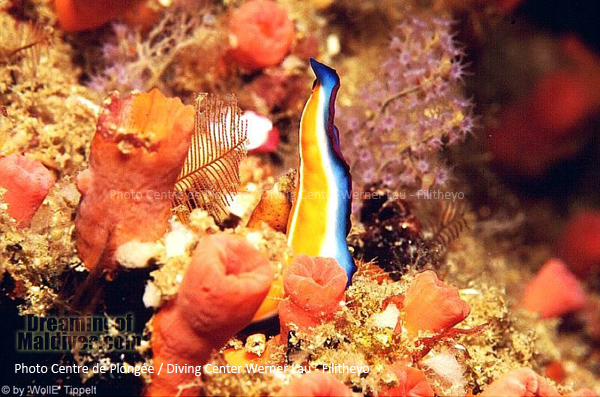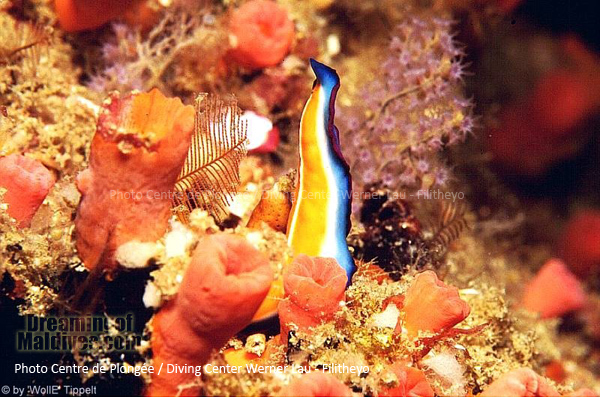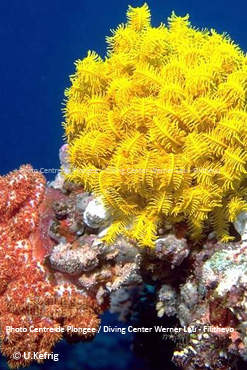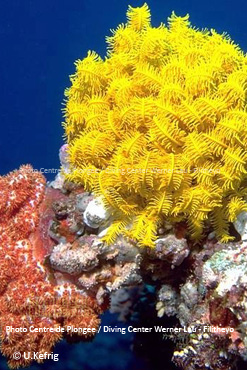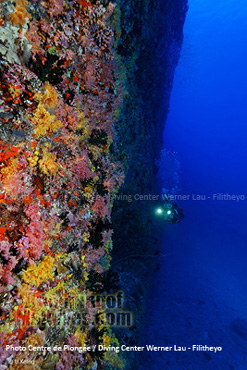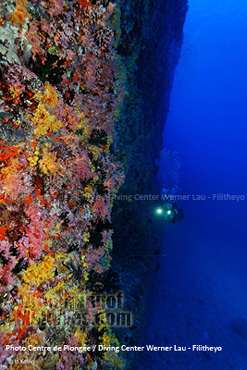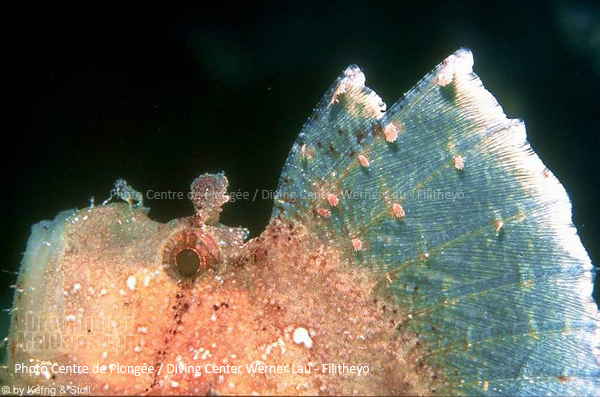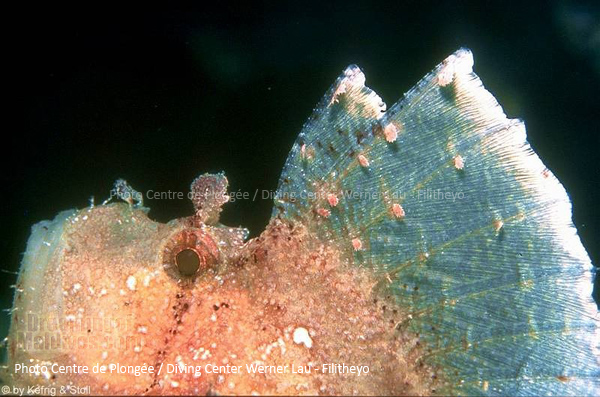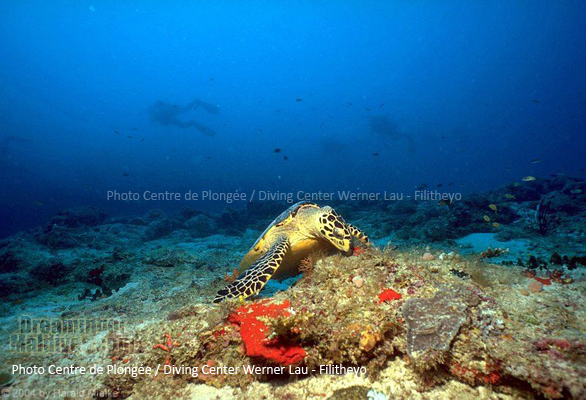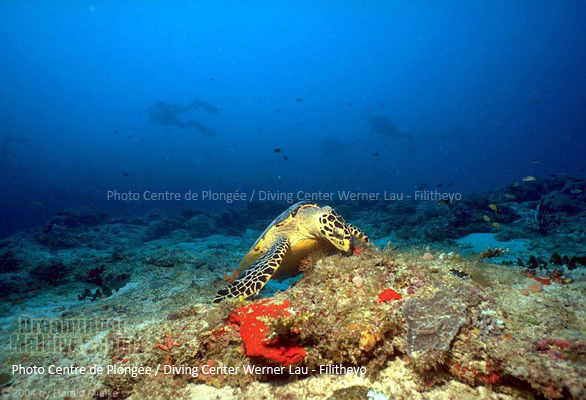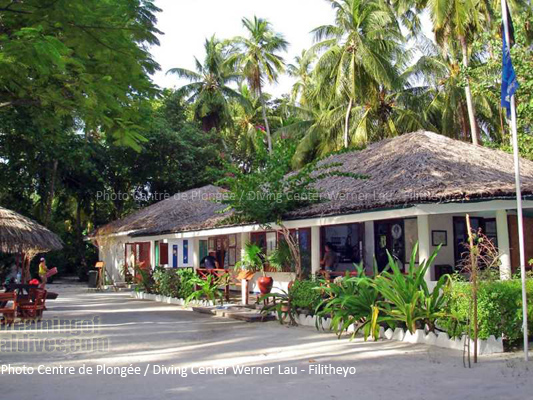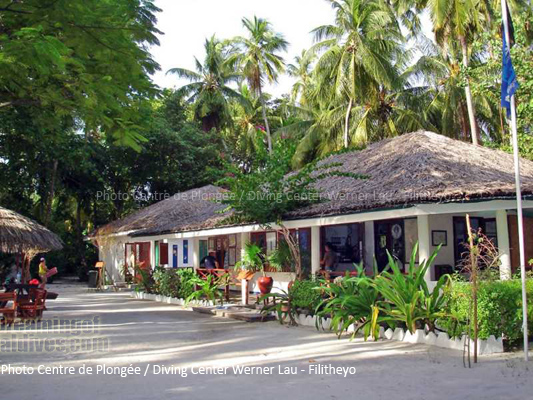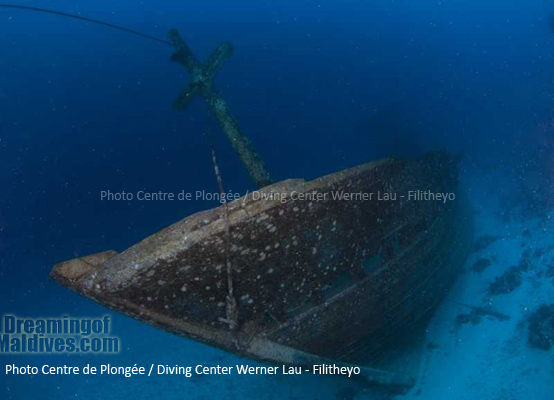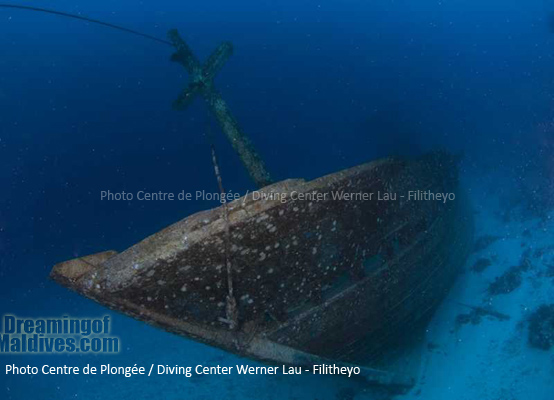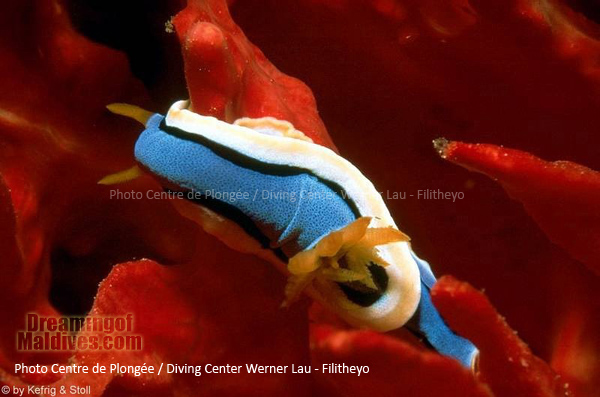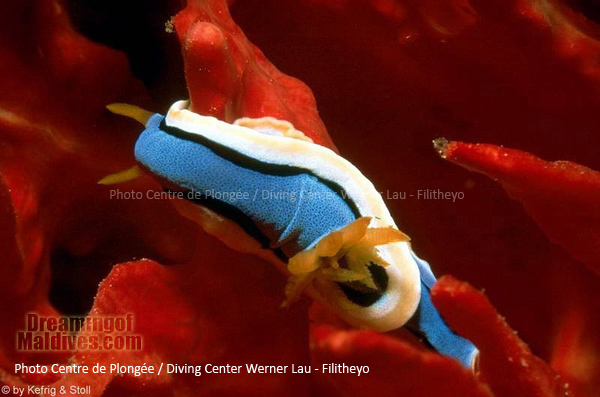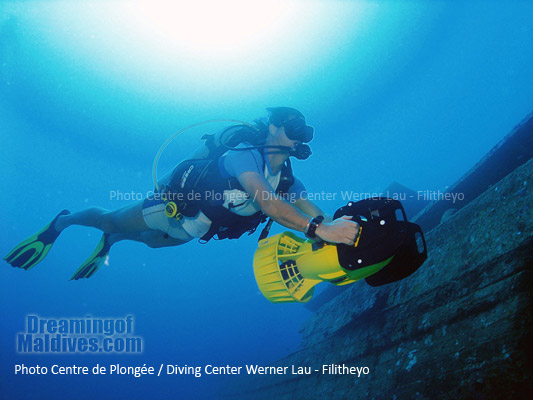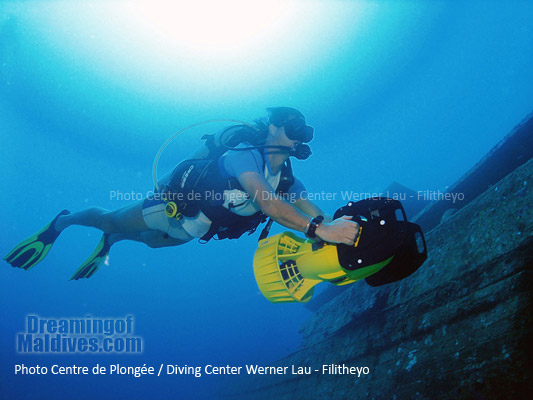 Follow us on Facebook and Instagram for more Maldives stories.
Maldives TOP 10 Dreamy Resorts 2024
YOUR CHOICE. YOUR DREAM. YOUR VOICE