This map of Atmosphere Kanifushi shows you a detailed view at the resort, the locations of the villas and their numbers, the restaurants, the bars, the activities, the Sunset and Sunrise side…
Discover Atmosphere Kanifushi Maldives resort on the island map
click to enlarge
Atmosphere Kanifushi. The Resort at a Glance
Atmosphere Kanifushi is set on a very long and narrow Island and offers plenty of space with a 2 kms long beach. The island has the particularity to show two distinct types of Maldivian landscapes : an endless turquoise lagoon on one side and uninterrupted views on the open ocean and its coral reef on the other. A long sandy path links the island extremities. Bicycles and electric shuttles are at disposal if you don't wish to walk.
Generous in food and drinks, the all-inclusive plan also includes a wide range of activities and leisure with many daily excursions, fishing, snorkeling trips and non-motorized activities at the well equipped water sport center.
Tennis courts and weekly events are also on the list. The resort has 2 infinity pools located on both sides of the island including a 50 meters long one, ideal for a long lap and a adults only pool.
There are no snorkeling nor diving spots around Atmosphere Kanifushi. If you wish to further explore the wild Lhaviyani's Atoll underwater world, the diving center experienced team awaits for you with top gear and great diving options and schedules for both beginners and experienced divers.
Atmosphere Kanifushi Maldives offers one of the best all-inclusive package we've experienced in Maldives !
Where is Atmosphere Kanifushi located?
Atmosphere Kanifushi Maldives is located in the northern Atoll of Lhaviyani, at 35 minutes by seaplane from Male Airport.
The Villas
Built with tranquility in mind, Atmosphere Kanifushi Villas and Suites are set on the lagoon side, far enough or very far away from restaurants and bars to offer tranquility. To ensure complete privacy, a minimum of distance (4 meters) from each other has been kept to spend a holiday without a close neighborhood.
Find Atmosphere Kanifushi Stories in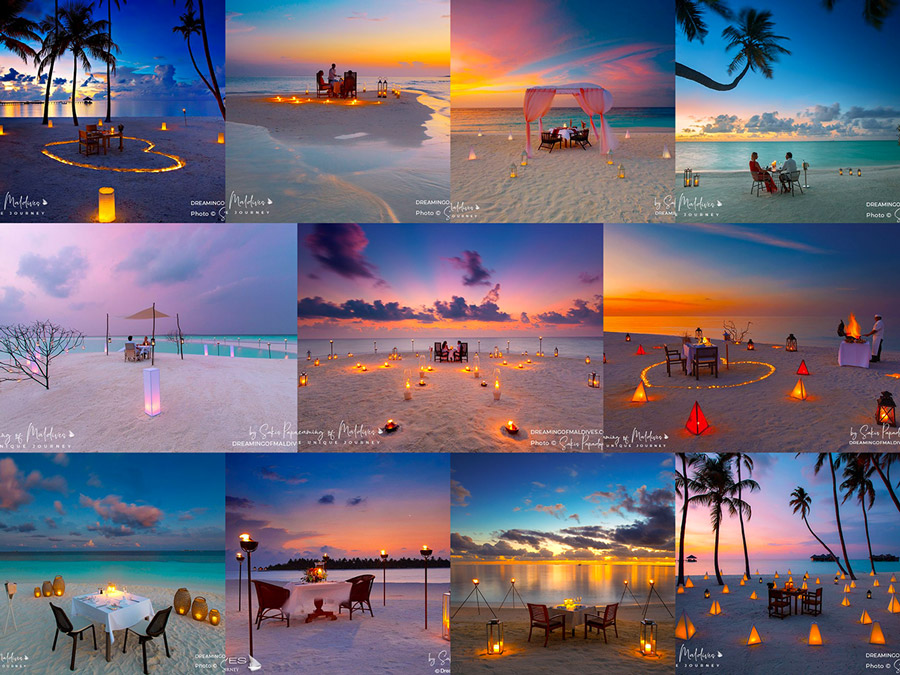 Dream again with our photos of beautiful romantic sunset beach dinners taken by Sakis in various Maldives resorts.You will travel from north…

Sunset beach dinners in Maldives are extremely romantic, but when they are set up at the center of a heart made of candles, they truly become…
Follow us on Facebook, Youtube and Instagram
for more Maldives Dreams
Your TOP Best Maldives Resorts 2023
YOUR CHOICE. YOUR DREAM. YOUR VOICE
[ Official ]
Traveler's Choice
12th Edition