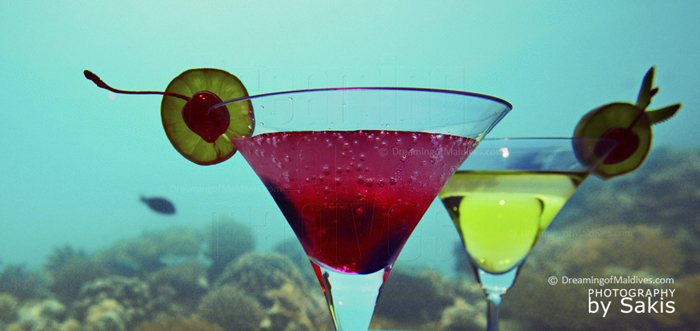 We are, as I write these few lines, in Dhaalu Atoll, Southern Maldives, on the beautiful and new Island of Niyama, to bring you new images and make you discover the Resort and its most Dreamy Spots.
Niyama is the newest hotel of Per Aquum* and home to one of the most extraordinary places on Earth :  Subsix, the first underwater nightclub in the world, immersed at 6 meters below the lagoon.
Before bringing  you back plenty of information, feedbacks and visual experiences from our stay, I already wanted to briefly share with you our first impressions of this amazing Dreamy Spot.
* Note: Per Aquum had already surprised the world in 2004 with the first underwater spa in the world, the SpaQuarium, at Huvafen Fushi.
Opened in October 2012, Subsix is located 500 meters from the beach, in the middle of the lagoon and is reachable only by boat, after a short 5 minutes ride from the island itself.
At the entrance,  long wooden stairs lead you down to a door opening onto a circular magic place.
Everything is right there :  DJ Decks, trendy music, a dark colored bar, laser lights, black armchairs, LED illuminated tables and all around, at 180 degrees, through large windows … the blue lagoon, coral reefs driven by a multitude of tropical fishes.
The Subsix is truly, incredibly hypnotic.
This amazing place is so special that words seem to be not enough for me to give you a right description that could fit the level of sensations you get once you're enter the place.
The Subsix has to be experienced for sure.
This is why we could not only give you a description…More than ever, images will be necessary for us to make you feel the real magic of the place.
Stay tuned for what is about to come in the next weeks … New Dreams are on their Way, for sure !