Cooks and Dreamers, here is a new Recipe from the Maldives : The Maldivian Tuna Curry Marinade.
Today we'll go for a Gourmet Journey with a new Chef recipe given by Umberto Piccolini, Executive Chef at Anantara Kihavah Villas in Baa Atoll.
This recipe was given to him by one of his Maldivian cook. It is family recipe, so I trust you will enjoy it 🙂
The Tuna Curry Recipe directly from the Maldives
If you have tasted Maldives local cuisine during a previous holiday, the title of this recipe will sound familiar to you.
Fish is staple of this Island Nation and delectable curries are king at the family dinner table where a variety of foods are served together, rather than a succession of courses.
You will find it at the buffet or at the à-la-carte menu in some Maldives Resorts.
If you are fond of this type of cooking, do not miss it, it's not only a delicious dish but it's also made only from local products.
The traditional Maldivian cuisine
The traditional Maldivian cuisine mainly consists of tuna and reef fish, spices, lemon and coconut. Often spiced, it offers complex aromas and delicate flavors reminiscent of Indian and Sri Lankan cuisine.
It might be overstated, but the almost exclusive use of fish and spices makes it light and very healthy.
For the record, in the 70's, the first Maldives tourists used to eat only their fishing catches with rice and coconut… and everyone was in great shape back home. So, enjoy!
About Umberto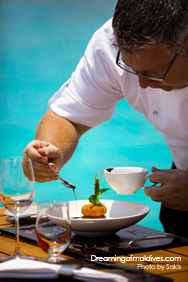 Umberto Piccolini fell in love with cooking at the age of 9 in the family kitchen, in Italy.
First he was cooking for pleasure with his grandmother, and then alone, as a hobby and only for "fun". Later, he finally decides, against the advice of his parents, to make this hobby a full time job.
Umberto speaks with love about cooking and gets passionate when he speaks about flavors. His dishes are like him, delightful, generous and rich in character.
For Umberto, eating is like a beautiful journey. It must feel like a home-sweet-home cooking but we must always remain curious and open to any new taste experiences… Eating at his table was a delight for us, Gourmet Travelers who love the exquisite mouth sensations offered by new horizons.
On his small and remote island of Kihavah in Baa Atoll, he makes a point to keep cooking regional produce imported from small producers from Italy or France and like to invent new recipes inspired by Maldivian traditions to draw new inspiration.
His cuisine is influenced by its Italian origins and is a generous blend of the Mediterranean Sun and Maldivian Islands.
He keeps learning the culinary traditions of the country and cooks Maldivian dishes ensuring that their essence and uniqueness remain unchanged.
The fish delivered by the fishermen from neighboring island becomes a delicacy for the eyes and taste-buds, just like the simple and delicious Maldivian Tuna Curry, one of the most revered dishes in Maldivian cooking which turns into a masterpiece.
the Kandu Kukulhu – or Tuna marinated in a rich blend of spices and cooked as a curry
The Recipe that Umberto has agreed to share with us is a Maldivian Family Recipe called Kandu Kukulhu in Dhivehi.
It was given to Umberto by one of the Resort Kitchen Steward who traditionally received it from his parents like many of the traditional family recipes which have been passed from generation to generation for more than a hundred years.
For the Nihaadh family who live on the neighbouring Island of Kudarikilu, fishing is a profession and cooking a family passion. Whereas the brown curry paste is traditionally prepared with coconut milk, in the Nihaadh household only dry coconut flakes will do. This results in a distinctly different effect on the palate.
Umberto kept it intact and gave it a new dimension with a gastronomic presentation.
This Tuna Curry is an integral part of the Maldivian diet for ages. For centuries, Maldivian Women had to devise food preparation methods that would make the daily catch last longer, resulting in richly marinated fish prepared as curries. Today Kandu Kukulhu is a popular dish enjoyed by Maldivians and tourists in street cafés, homes and luxury resort restaurants alike.
At Anantara Kihavah Villas it is served as a unique creation.
This marinade is served as a Best Seller dish at Salt restaurant and the star attraction of the Resort Maldivian Cooking Classes.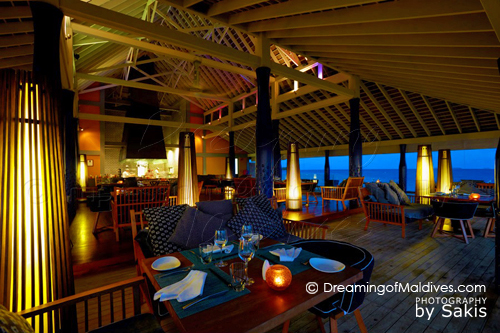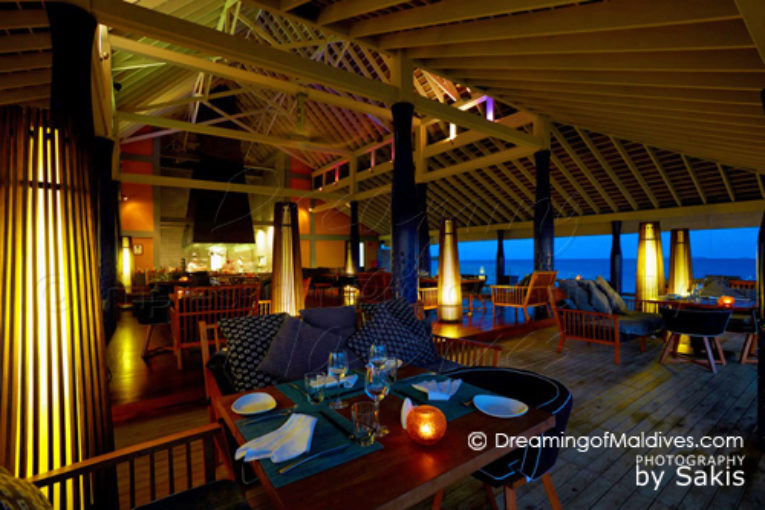 Umberto creates menus and dishes in all gourmet restaurants of Anantara Kihavah.
According to his schedule, in the evening, you may see him passing to great his guests at Manzaru Italian restaurant tables, one of the best of its kind in the Maldives or in one of the beautiful Asian restaurants located over the lagoon.
This recipe is solely based on Maldivian products, it is very simple and can easily be cooked at home.
If the presentation will vary according to individual talents, it will always taste the same.
Some ingredients may be hard to find depending on where you live.
An exotic store, ideally an Indian or a Thai one, will be perfect.
Otherwise, numbers of these ingredients are findable on the internet.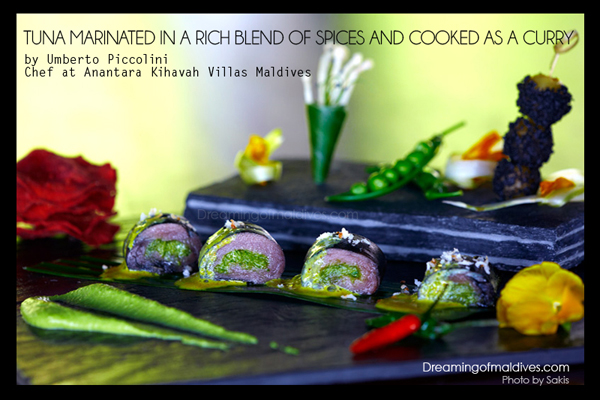 Find and replace ingredients :
You can replace the Tuna fish by another firm flesh fish, chicken or by shrimps.
Spices used for the Maldivian Curry Paste can easily be found in exotic product stores.
This a great Dish to serve to family and friends for a taste of Maldivian exotism.
Note : The Recipe is in 2 parts.
The 1st part concerns the Tuna and the 2nd the Maldivian Curry
The Recipe for 4 persons :
– Preparation Time : 45 minutes
– 2 hours of marinade will give more flavor to the fish
– Difficulty : Medium
1 / For the Tuna
Ingrédients :
– 200 g Havadulhu Paste (Maldivian Brown Curry Paste) – see method below
– 500 g Yellow Fin Tuna Loin
– 50 ml Coconut Oil
– 100 ml Coconut Milk
– 200 ml Vegetable Stock ( an homemade one will be better )
– To keep the rolls : Coconut Leaves or cooking string
– Salt and Pepper to taste
2 / To prepare the Curry / Havadulhu Paste:
Combine the following ingredients in a food processor or crush them with a mortar and pestle until you obtain a thick homogenic paste texture :
Ingredients :
– 100 g Dry Coconut Flakes
– 30 g Chili
– 20 g Rambba or Pandan Leaves ( These ingredients are the most difficult to find if you do not have an Indian or Thai shop close-by. You can eventually replace them by Chives, but the taste will be different )
– 100 ml Lime Juice
– Salt and Pepper to taste
Do you have everything ? So, Let's start Cooking !
Method :
• Cut the Yellow Fin Tuna Loin in 5 millimetre thick slices and lay flat on a tray.
• Spread a spoonful of the Havadulhu Paste on the Tuna slices and roll the slices up. Use the Coconut Leaves or cooking string to tie the rolled up slices.
• In a pot, mix and heat up the remaining Havadulhu Paste and Coconut Oil. Add the Tuna rolls and sear.
• Add the Vegetable Stock and cover the pot with a lid. Simmer for approximately 20 minutes.
• Add the Coconut Milk and boil open on high heat until the sauce is reduced to a glaze.
• Season with Salt and Pepper
To Serve :
Arrange the Tuna rolls on a plate, garnish with fresh Chilies and serve with Chapati ( see our previous recipe here ), Rice or Lentils on the side.
BON APPÉTIT !
Tell me what you think !
Follow us on Facebook, Youtube and Instagram
for more Maldives Dreams & Stories
Your TOP Best Maldives Resorts 2023
YOUR CHOICE. YOUR DREAM. YOUR VOICE
[ Official ]
Traveler's Choice
12th Edition