Dreaming of Six Senses Laamu Maldives with Sven van Hees
Escape & Dream
Music producer and DJ Sven Van Hees will perform at Six Senses Laamu in Maldives from March 7th until June 3rd 2016
Sven Van Hees will perform over the lagoon at the gorgeous Resort main bar, Chill Bar.
Chill Out, Jazz ,Lounge, Deep House & Downtempo Bliss will beat the Musical menu each day.
A FEW WORD ABOUT SVEN VAN HEES
Sven Van Hees is a Belgium DJ, Composer, Producer & Label owner of Your Lips whocreates a very relaxing music that immediately invites to Escape and Dream.Sven has composed for more than 25 years, created over 11 albums, several singles and remixes and made his first musical creation at the age of 17.
His music evokes an atmosphere that exudes sensuality.
He often works with Soul vocalists and Classical musicians and mixes these sounds with electro Music.
His excellent production includes one of our all time Favorite Chill Albums like Tsunami ( Inside My Soul )- featured in our Music selection N5, Calypso, or Beach Bliss. Several of his singles have been included in various Cafe Del Mar and other Lounge Music Albums .
His music collection is a timeless and endless source of relaxation.
Van Hees will surely play his latest Ambient Jazz Album CHAMELEON.
Six Senses Laamu and Cool Beach Grooves ?
So Dreamy.
CHILL BAR PHOTO
JUST IMAGINE BEING THERE LISTENING TO
Sven Van Hees live
Greatly Designed, Chill Bar is built over water on several levels.
It is an ideal place to Chill out during the day and for a sip at Sunset. Chill Bar is also one cool spot to reach the Island amazing house reef.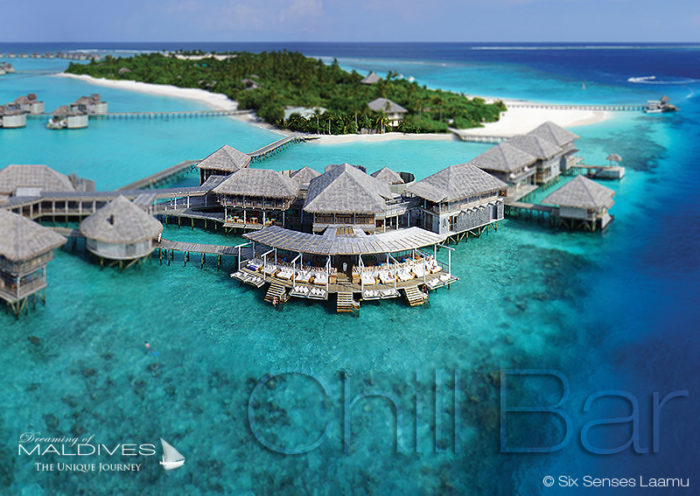 Sven Van Hees – Music Videos
© Your Lips YouTube Channel
Sven Van Hees - Pescador (from the Album Chameleon)
Six Senses Laamu Resort Video
Sven Van Hees - Love Lottery (from Beach Bliss)
JUST FOR PLEASURE : Love Lottery. Album Beach Bliss
SVEN VAN HEES - IT'S SO REAL (from EXOTICA CD)
It's So Real. Album Exotica
Your TOP Best Maldives Resorts 2023
YOUR CHOICE. YOUR DREAM. YOUR VOICE
[ Official ]
Traveler's Choice
12th Edition