Opening of Crossroads : the first artificial island complex in Maldives.
This Summer 2019 will see the largest man made island complex that Maldives and any Island Nation has ever seen : CROSSROADS.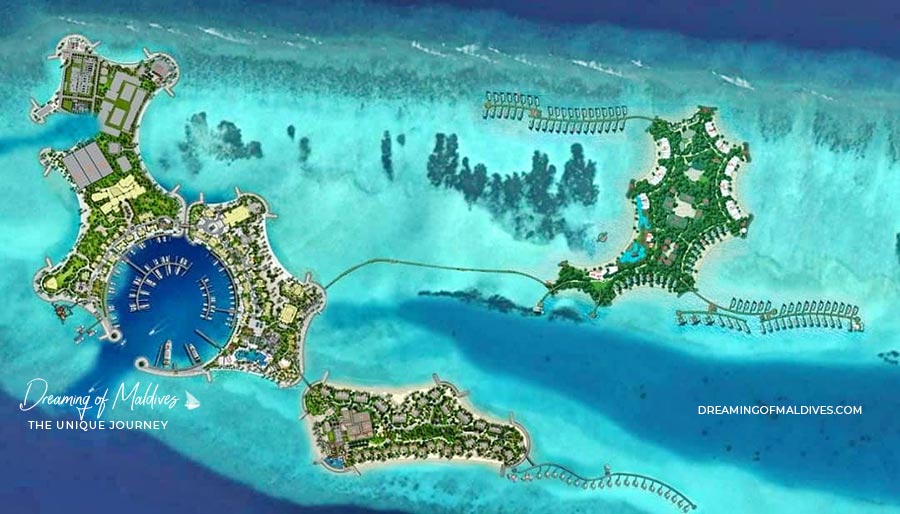 Crossroads is located in Emboodhoo Lagoon : a 7 kms long artificial lagoon composed of nine reclaimed islands. Very close to Male, at just 8 kms away, Emboodhoo Lagoon is reachable after a 15 mns speedboat ride Velana International Airport.
CROSSROADS is managed by Singha Estate PLC, a Thailand-based real estate developer developed together with Abu Dhabi and Singapore based Investors.
Located at the extreme north of South Male atoll, near Malé and the International airport , CROSSROADS, also called The Marina @ CROSSROADS Maldives mega project took about 7 months to be ready to operate.
click to enlarge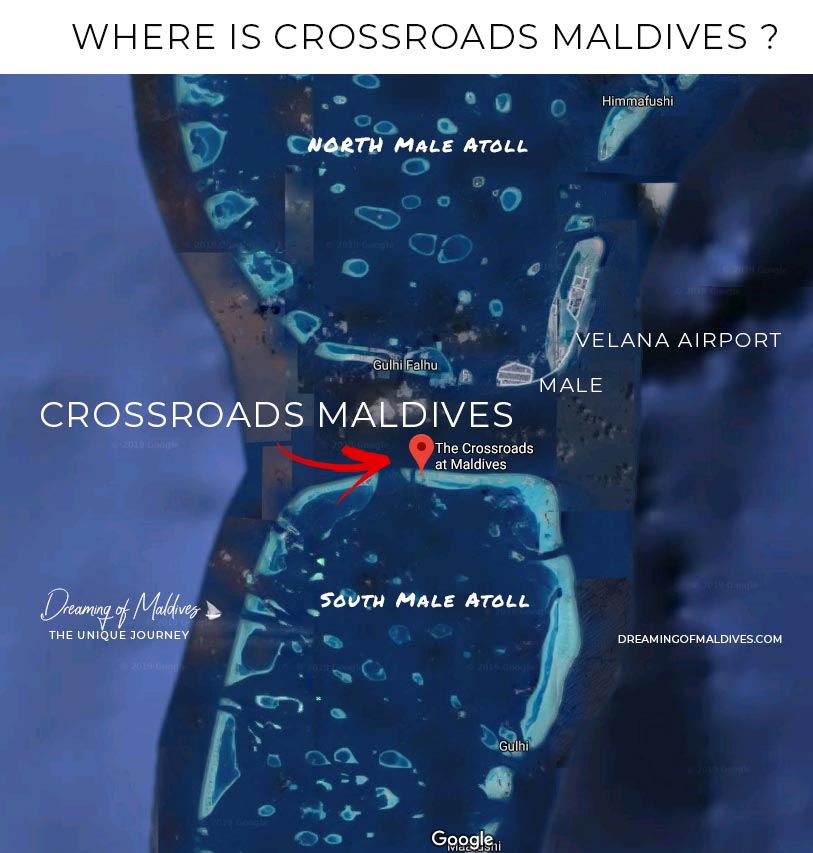 CROSSROADS Maldives. A mega floating complex dedicated to Entertainment, Shopping, Art and Luxury
CROSSROADS Project total cost
The total investment cost for phase 1 which consists of the Township and three hotels totals US$311 million, while the total project cost for both Phase One and Two is US$696 million.
CROSSROADS Economy Impact on Maldives and Job Offers
CROSSROADS announced to provide over 5000 employments.
Apart for International Hotel Brands, Singha has partnered with some big names of the Food & Beverage and Retail industry :
Cafe Del Mar, Bean & Tea Leaf, Cafetier, Crepes & Co, Kenny Rogers Roasters grill restaurants, Puma, Crocs to name a few.
Singha also promised many investment opportunities for Maldivian businesses ranging from Food & Beverage, retail, service and Art & Crafts.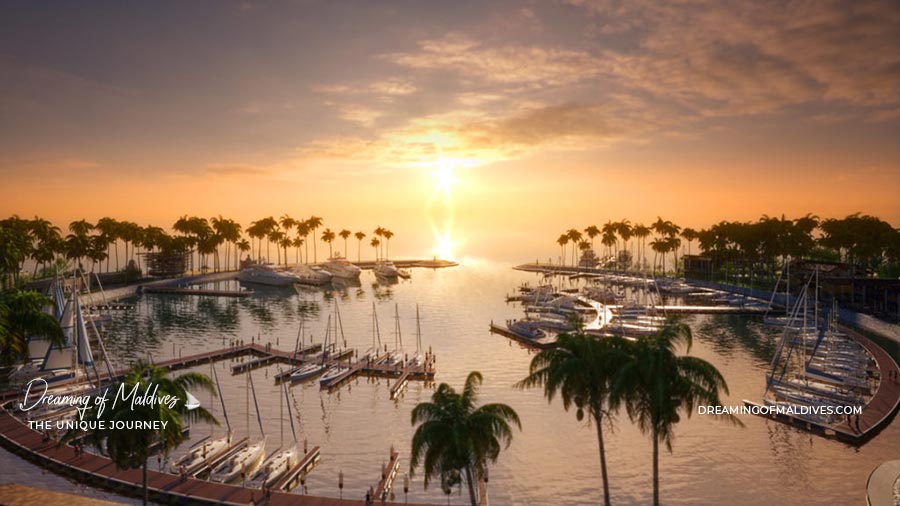 Would you Stay at CROSSROADS Maldives ?
GO TO POLL
CROSSROADS Impact on Maldives Environment
Obviously, building a 7 Kms long artificial lagoon and nine Islands, in such a fragile and interlinked ecosystem as the Maldives, does have an impact on environment.
Photo taken during a Flight above CROSSROADS Maldives showing its building process.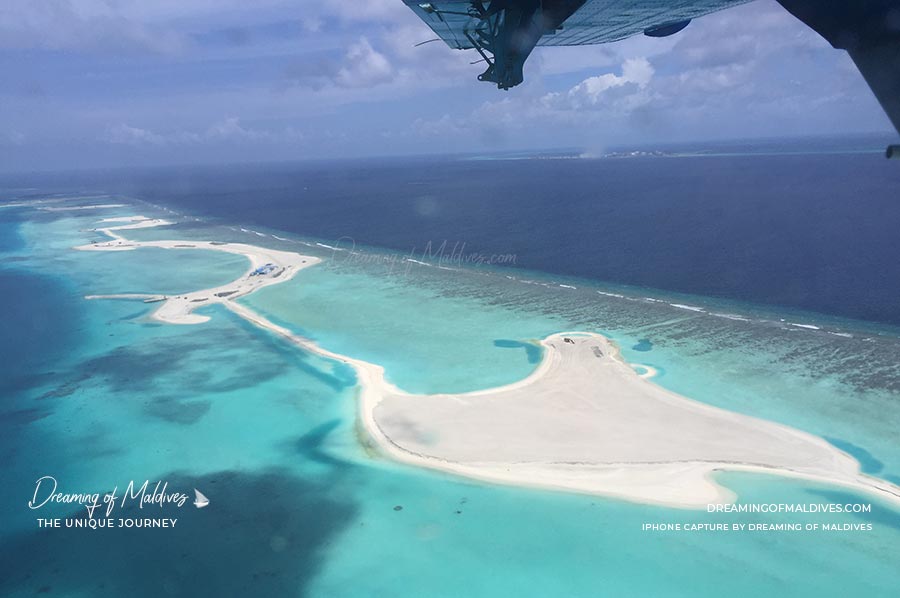 The project has needed much of land reclamation and heavy dredging has been necessary to build CROSSROADS complex.



Singha Company has communicated several information about the building process :
– The natural surroundings of Emboodhoo Lagoon were closely monitored prior to and during construction. Turtles and coral reefs were discovered, halting immediately the project to redraw it elsewhere.

– To prevent leaks of construction toxins into the sea water, the majority of wet work has been announced to have been carried out outside of the Maldives and reassembled at CROSSROADS.

– With regard to safety concerns about high-rises being built on the reclaimed land, Singha has ensured that all the structures on the Township Island are built no taller than local coconut trees.
Maldives land reclamation and dredging
CROSSROADS Project is part of the massive number of authorisations given by the previous Maldivian Government for land reclamation and artificial islands ( including in protected areas of the Maldives).
What will Crossroads feature once fully achieved
Defining itself as a Multi-Island Integrated Leisure And Entertainment Resort, the fully finished complex will host :
– several resorts
– 11,000 sqm of space dedicated to retail restaurant & Bars and entertainment,
– a luxury yacht marina,
– a Kids Center and
– a Health & Wellness centre,
– a cultural centre dedicated to the Maldives,
– and a Marine life Centre,
all linked by a inter-island water transportation.
click to enlarge
CROSSROADS Hotels & Resorts
Aside from the busy and dynamic Hard Rock Hotel Maldives, the CROSSROADS project will feature various other International hotel brands as well. SAii Lagoon Curio by Hilton will cater to individuals who enjoy being close to the entertainment island and being able to easily retreat to their rooms.
click to enlarge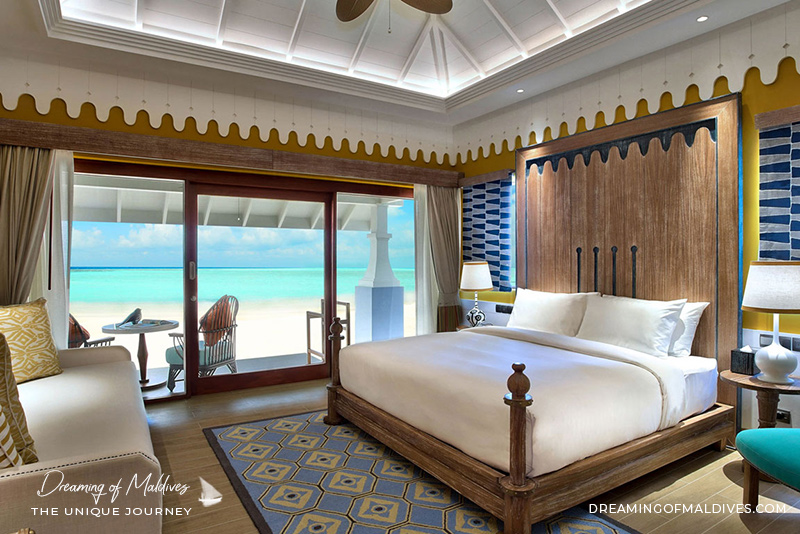 The first phase of resort openings include 2 resorts : ( between June and August 2019 )
– The Hard Rock Hotel Maldives for Family and Fun – Opening Summer 2019
– SAii Lagoon Maldives, Curio Collection by Hilton, for everybody with a quiet atmosphere – opening August 2019.
The next and second phase will include another resort :
– Upscale Lifestyle Resort for couples ( opening date not yet communicated)
CROSSROADS Event Hall
CROSSROADS will host a multi-purpose EVENT HALL venue covering 423 square meters for exclusive gatherings, dinners and celebrations including Music events supported by a professional event planning and catering team.
CROSSROADS Yacht Marina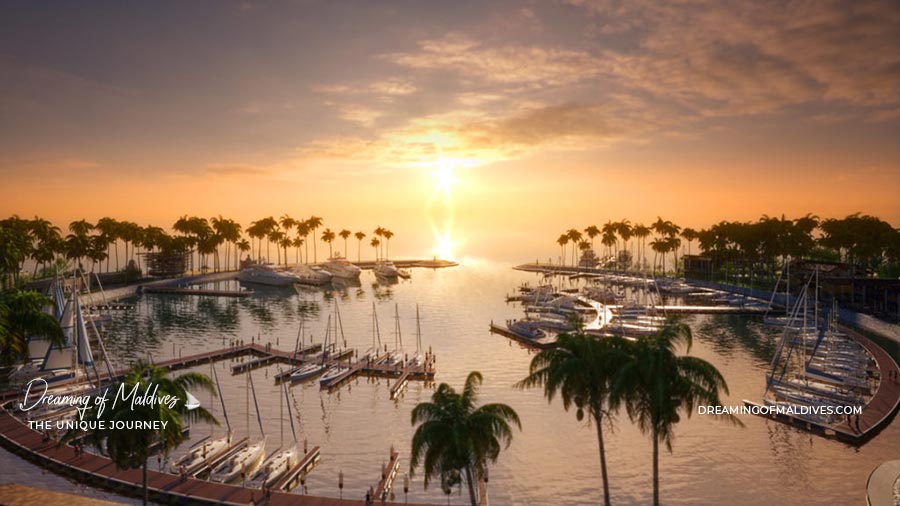 Crossroads yacht marina will be Maldives first dedicated leisure and Luxury marina, catering for vessels up to 60 meters in length (197 feet).
In addition to providing electricity (up to 400 amperes), water, fuel and pump out services the marina will provide premier and exclusive services including marina catering, as well as agency assistance for international yachts.
CROSSROADS Restaurants & Leisure
A wide range of world-renowned restaurants are set to open at The Marina @ CROSSROADS.
CROSSROADS is announced to host more than 60 different retail and Food & Beverage outlets, including the Iconic Café Del Mar.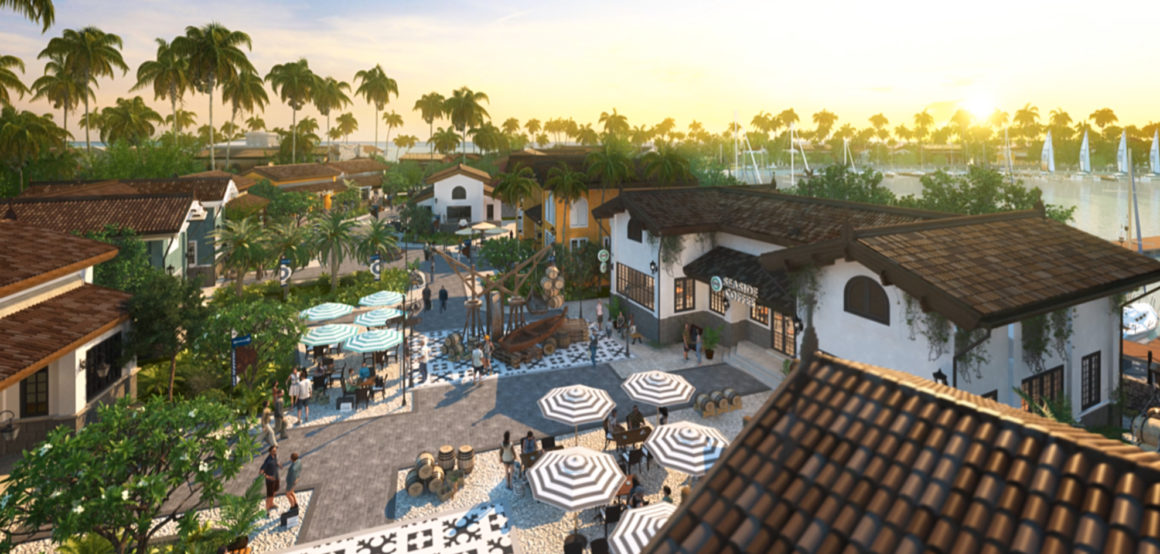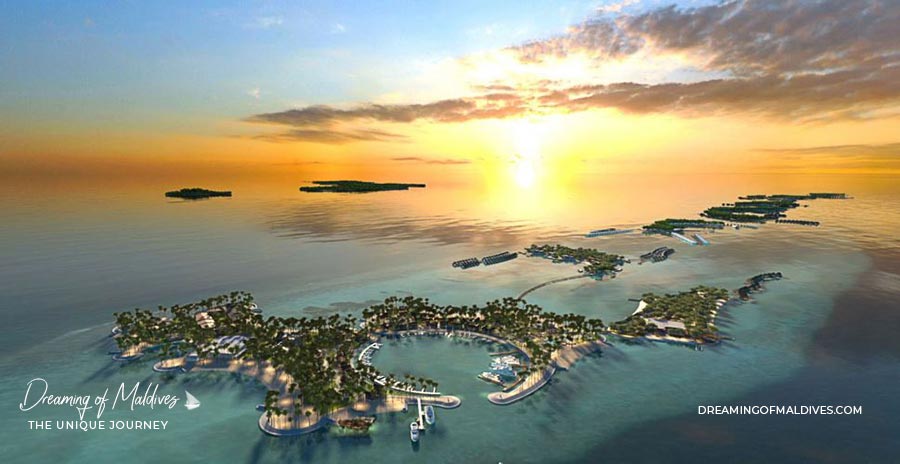 Follow us on Facebook, Youtube and Instagram
for more Maldives Dreams & Stories
Your TOP Best Maldives Resorts 2023
YOUR CHOICE. YOUR DREAM. YOUR VOICE
[ Official ]
Traveler's Choice
12th Edition