Maldives cabinet makes a splash
President Mohamed Nasheed and his cabinet met underwater to highlight the threat of global warming
The government of the Maldives has held a cabinet meeting underwater to highlight the threat of global warming to the low-lying Indian Ocean nation.
President Mohamed Nasheed and his cabinet signed a document calling for global cuts in carbon emissions.
Ministers spent half an hour on the sea bed, communicating with white boards and hand signals.
The president said the UN climate change conference in Copenhagen this December cannot be allowed to fail.
At a later press conference while still in the water, President Nasheed was asked what would happen if the summit fails "We are going to die," he replied.
While underwater, they signed a document ahead of the UN Climate Change Conference in Copenhagen in December, calling on all nations to cut their carbon emissions.
World leaders at the summit aim to create a new agreement to replace the 1997 Kyoto Protocol, which expires in 2012.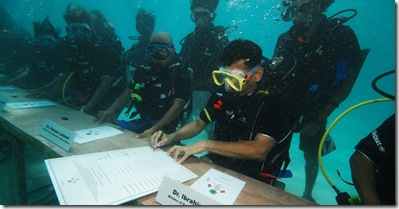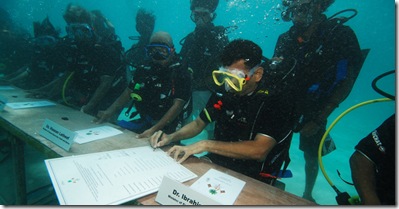 Maldives TOP 10 Dreamy Resorts 2021
YOUR CHOICE. YOUR DREAM. YOUR VOICE