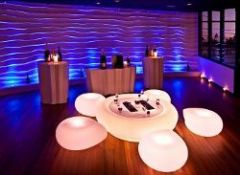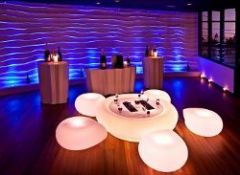 What a delicious idea!
Hilton Maldives Iru Fushi has opened the first dedicated champagne bar in the Maldives!
The aptly titled, 'Bubble Lounge' will complete the resorts outstanding range of food and beverage offering.
Featuring only the finest selection of champagne and sparkling wines, the Bubble Lounge will stock a minimum of 50 varieties at any time, ten of which – including Dom Perignon – will be available by the glass. The extensive champagne list will include Grande Marque champagnes amongst other fashionable brands and limited edition vintages.
Guests will be presented with the champagne list on an Apple iPad.
"The Maldives is synonymous with celebrations, and what better way to celebrate than in the first, and only dedicated champagne bar in the region. The new concept will represent sophistication within an inspiring, over water venue and with our expert knowledge, we are able to deliver an exceptional service and product, offering even the most exceptional champagnes by the glass," said General Manager Jean Sebastien Kling.
The Bubble Lounge is located next to the Wine Cellar and Flavours Restaurant, and is open daily from 1800-2200, hosting up to 14 guests outside and a further six inside
Tempting, isn't it ?
Your TOP Best Maldives Resorts 2023
YOUR CHOICE. YOUR DREAM. YOUR VOICE
[ Official ]
Traveler's Choice
12th Edition