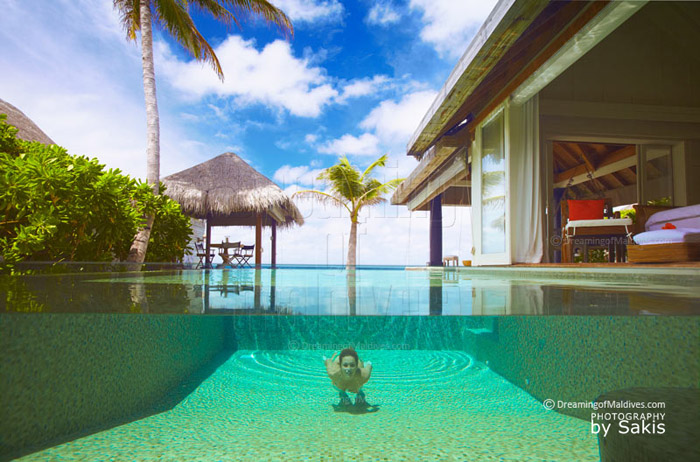 Naladhu Maldives lifestyle is one of the few of its kind in Maldives and is in our top 5 favorite resorts…This is why, for March's 2012 month, we have selected it as "Dreamy Resort of the Month". This is a new insider's look into one of the most Romantic Small Luxury Island of Maldives.
This special feature is the first of its kind and offers you the most complete information you can imagine…
Have a deeper look into one of our favorite Maldives Resort with a new HD Video, exclusive photos from our collection, the private Houses, maps, aerial views, the restaurants and Bars, watersports, Diving and snorkeling, the Spa, the activities, where to stay, what to do, what we love and so much more…
A collection of pdf documents and many maps of the Resort are (as usual) at your disposal to organize and plan your holidays in the best way as possible.
About Naladhu Maldives
Nested on a beautiful and tiny Island measuring only 123 meters wide by 180 meters long, Naladhu is one of the best retreat for couples in Maldives.
Discret, elegant and extremely private, Naladhu will answer to the highest expectations for intimacy and romantism.
The Resort has definitely mastered the Art of "Feeling-Like-Home" by creating a complete set of absolutely private and tailored services and last but not least…a unique concept of Villas.
Enjoy this New Dream at www.dreamingofmaldives.com/Naladhu
Note : The Dreamy Resort of Maldives Feature was launched in July 2011 .
Independently selected, each place can be a Resort, a Hotel or a Liveaboard Safari Boat, ranging from 3*** to 5*****.
Our selection is made up on quality criteria based mainly on the beauty of the island herself, the environment, the resort atmosphere and of course the quality of the services as anybody could expect.
The property category will vary according to the Month selection.
Your TOP Best Maldives Resorts 2023
YOUR CHOICE. YOUR DREAM. YOUR VOICE
[ Official ]
Traveler's Choice
12th Edition