In the Maldives culture, the Dhivehi Libaas is the traditional dress worn by women for ceremonies, special occasions and dances.
Unique to the Maldives, these brightly colored dresses are adorned by a master piece of gold and silver embroideries crafted by a few Maldivian women around the archipelago.
If you go to the Maldives, you will probably see a Maldivian lady wearing a Dhiveli Libaas, so you better know their stories.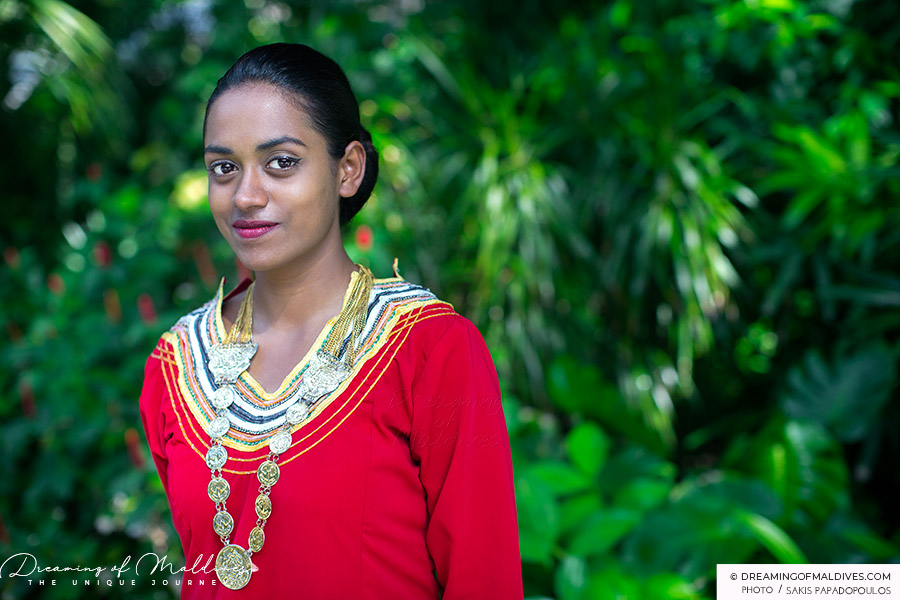 The Dhivehi Libaas or literally the Maldives Dress
Dhiveli Libaas , which literally means Maldives ( – Dhivehi ) and Dress ( – Libaas ) is a long-sleeved, brightly colored dress, worn above a black and white stripped sarong called feyli.

Feyli.
The Maldivian Sarong
A feyli, the typical black and white stripped Maldivian sarong here worn by a Bodu Beru Drummer.
These traditional dresses are widely worn during ceremonial occasions and dance performances around the Maldives.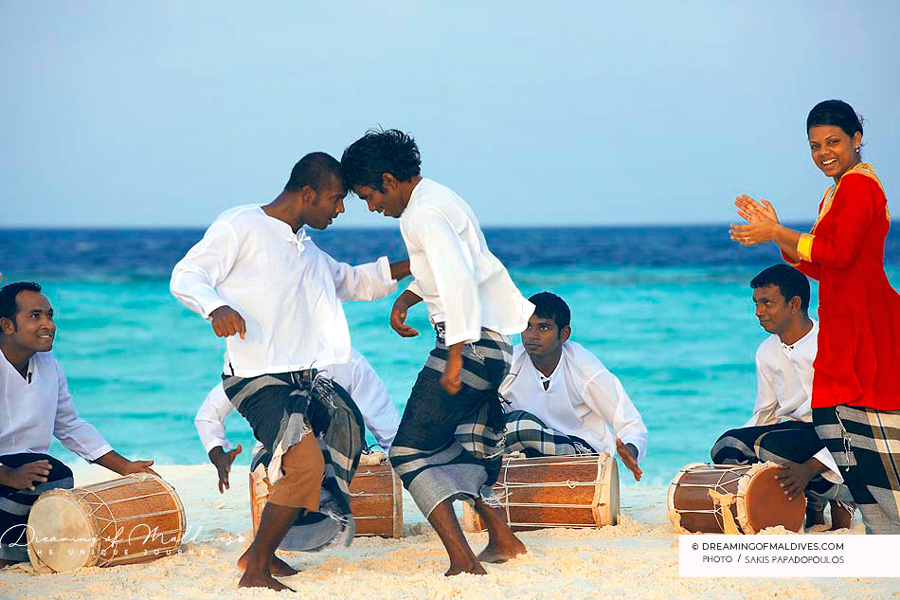 Dhivehi Libaas and the delicate art of fine embroidery
Besides being red, the Dhivehi Libaas immediately strikes the eyes with its large embroidered collar made from gold and silver threads, cotton and silk. Some dresses also have these embroideries at the extremity of their sleeves.
Called Kasabu boavalhu in Dhivehi, these embroideries are still crafted by the delicate hands of some talented women around the Maldives and take a minimum of 2 weeks to be created.
The Libaas is generally worn with a golden necklace called the Fattaru Bae, a traditional Maldivian jewellery.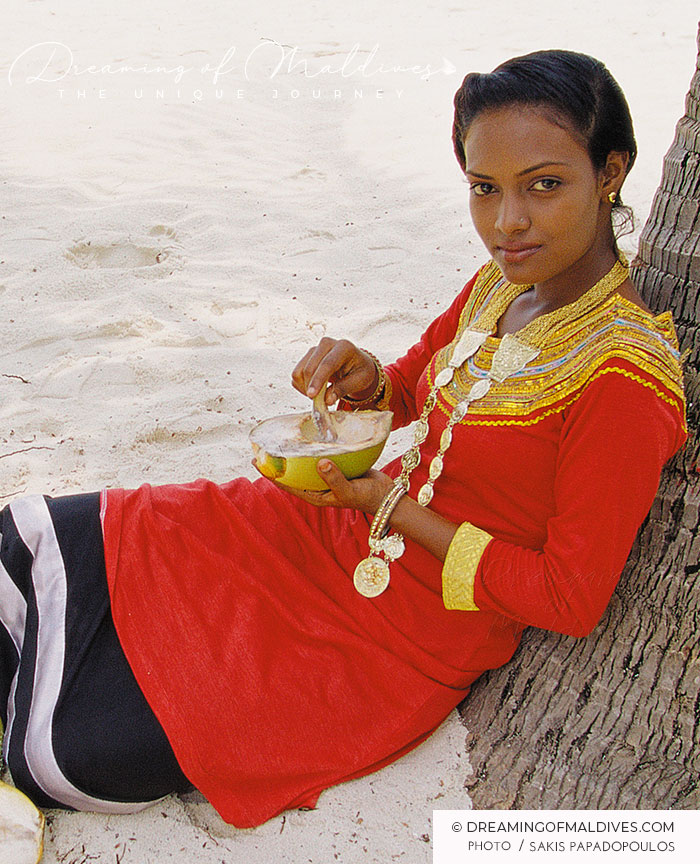 Maldives traditional crafts are unfortunately dying out with increased modernization and industrialization ( this phenomenon is worldwide and not only in the Maldives…).
However these embroideries, called the Kasabu, are still crafted on some local islands and by a few young designers ( see further down to discover Hidha's Kasabu artwork).
The red libaas is still made on demand by a few tailor shops in Male, the capital city.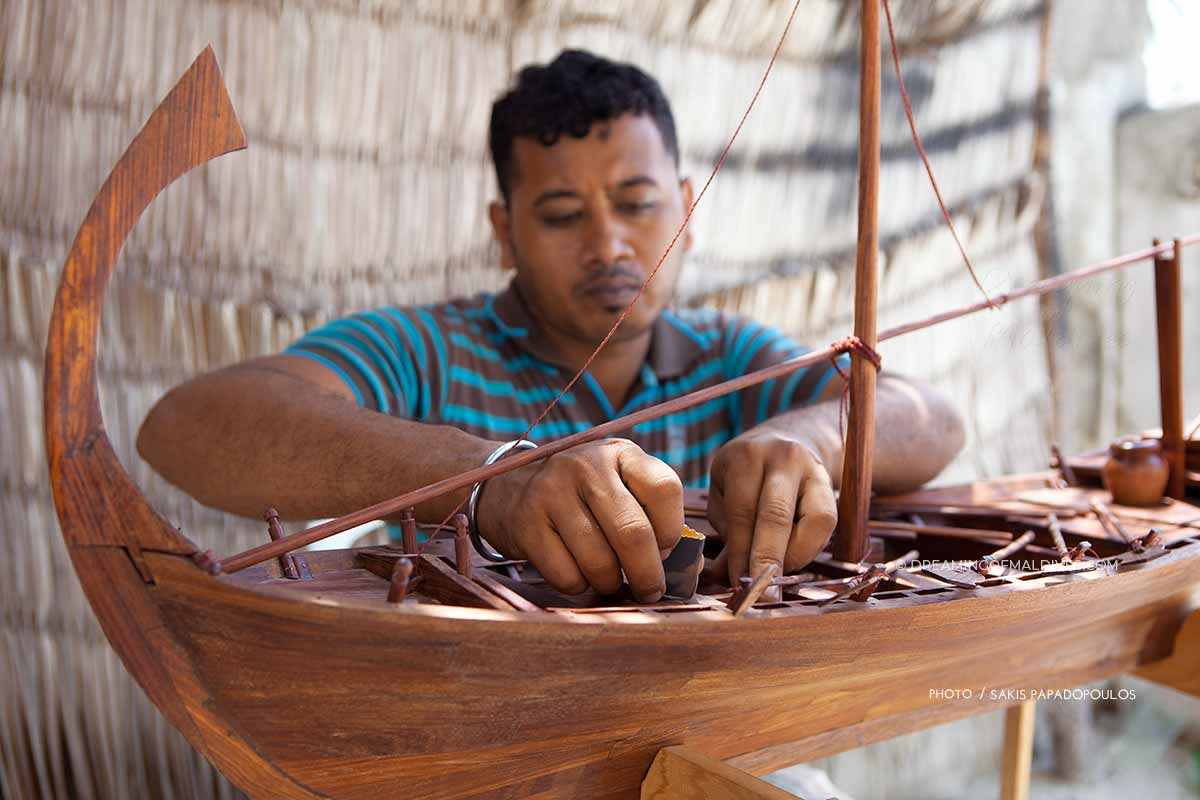 the people.
Maldivians are proud islanders but remain the discreet guardians of their cultural heritage.
If not obvious to the traveler, their customs and traditions are more rich than it appears.
Go travel around the Maldives and visit local islands, you will surely see some traditional crafts made in local houses.
Maldivians are the discreet guardians of their cultural heritage.
Photo © Sakis / Dreaming of Maldives
In Maldives resorts you will surely see some women wearing the Libaas during Maldivian evenings or during wedding ceremonies where some ladies ( from the resort ) will wear these red dresses for the occasion.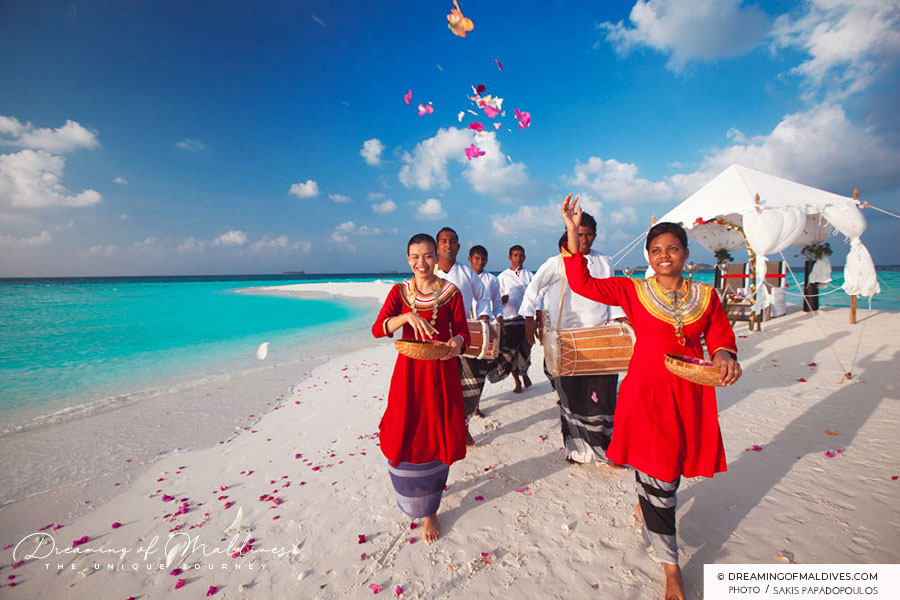 A few people still know how to weave the libaas. Traditionally made in Baa Atoll, once the main source for feyli's( the cotton fabrics ), this method of production has slowly been replaced by polyester prints which are easier to make and to wash.
The Dhivehi Libaas is such an important component of Maldivian lives that they illustrate one Maldivian currency bill of 100 rufiyaa.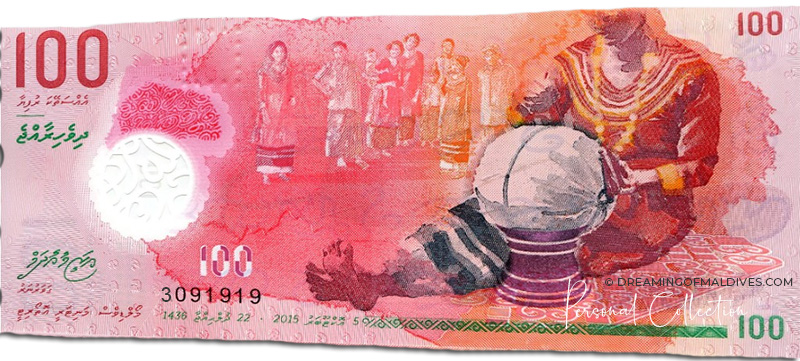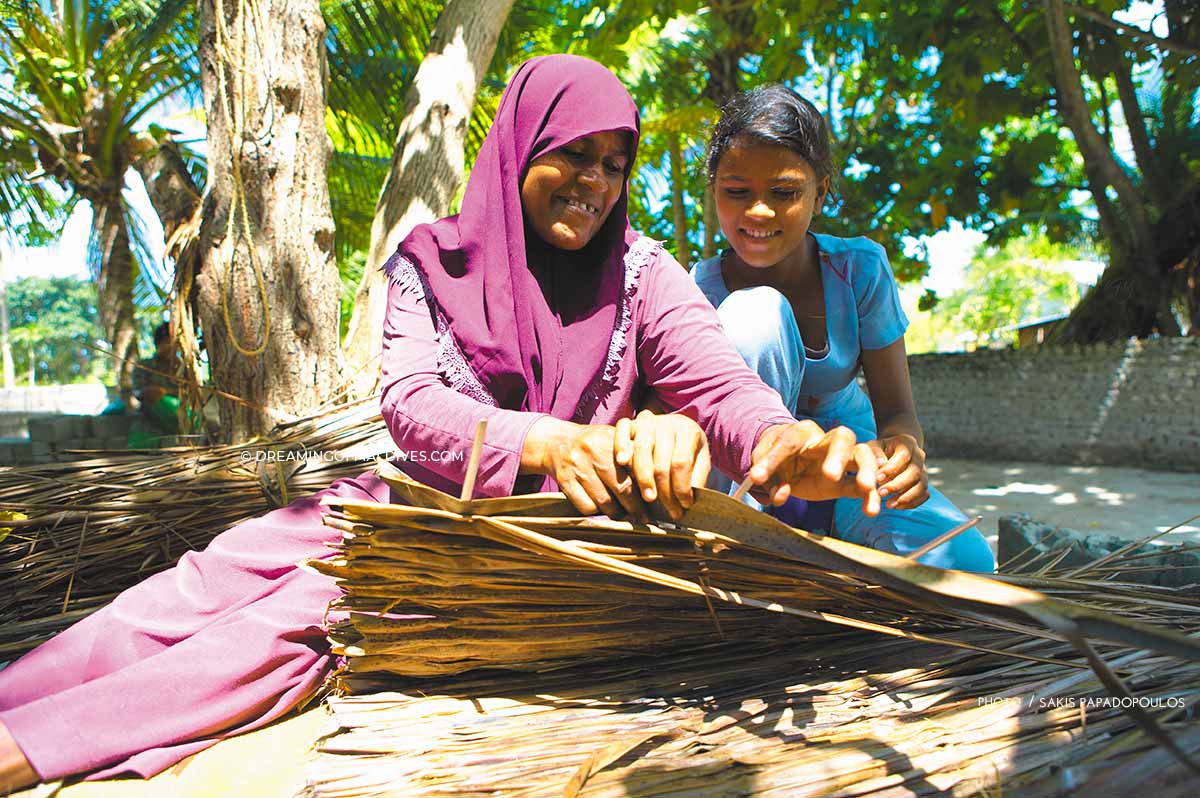 the Culture.
Maldives culture has evolved with the times. Locals still eat fish and fishermen still spend days out at sea, but tourism now prevails.
The influence of modern world has spread on many local islands where people try to save and preserve their culture and traditions.
Some Maldivians strive to preserve their culture and traditions.
Photo © Sakis / Dreaming of Maldives
Hereunder this young Maldivian lady is smoking the shisha in a joali, the typical Maldivian chair. Under her red libaas, we can see her black and white feyli.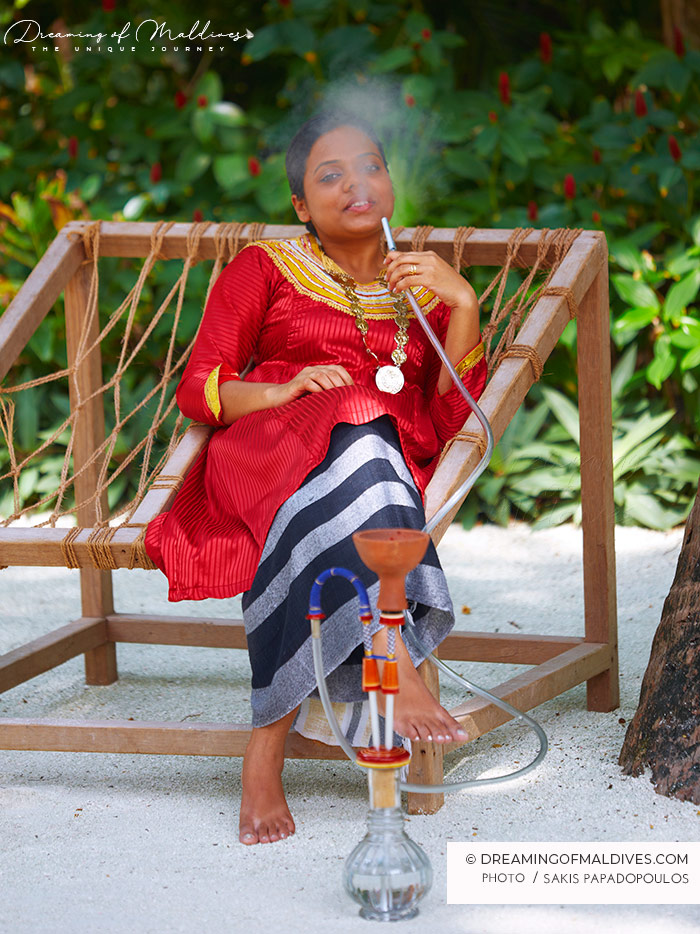 The Dhivehi Libaas is nowadays only seen during ceremonies and Maldivian events in resorts. But if you're lucky enough you might still see elderly women wearing it on some local islands.
The art of Kasabu boavalhu
The art of Kasabu boavalhu is a long process and requires time and meticulousness like all type of fine embroidery.
Despite its industrialization, the technique and the design might have a recent revival with the love and dedication of some young Maldivian designers and artisans who keep it alive and apply it to new items.
I recently found a Maldivian lady called Hidha who not only preserves the Kasabu for the Libaas but also creates beautiful accessories like wristbands, pillows or framed Kasabu artwork.
Some of Hidha's handmade creations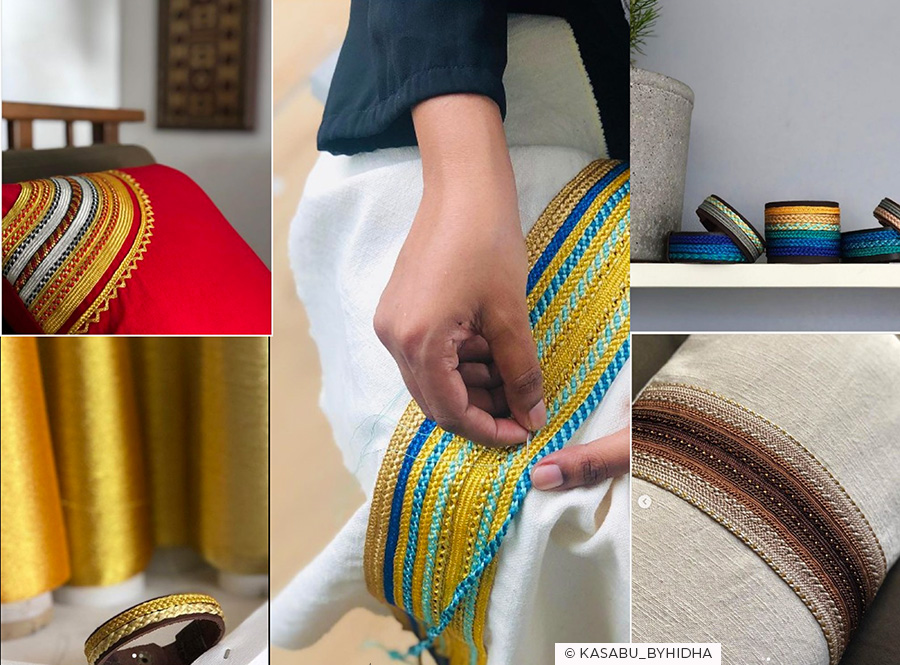 Hidha organizes Kasabu classes on local islands and teach other Maldivian woman to master it as a way to share her love for it and to make sure that the technique remains.
On her Instagram account, Hidha shows her work and explains us how the Kasabu is made.
The embroidery
The embroidery is composed of several "Rodhigandu ", a braid weaved using cotton/silk thread and metallic ribbon (baadhala) which are then placed in the middle of "Kasabu Boavalhu".
Hereunder she posts where it's made :
I really invite you to discover more of Hidha's work on her instagram account here : https://www.instagram.com/kasabu_byhidha/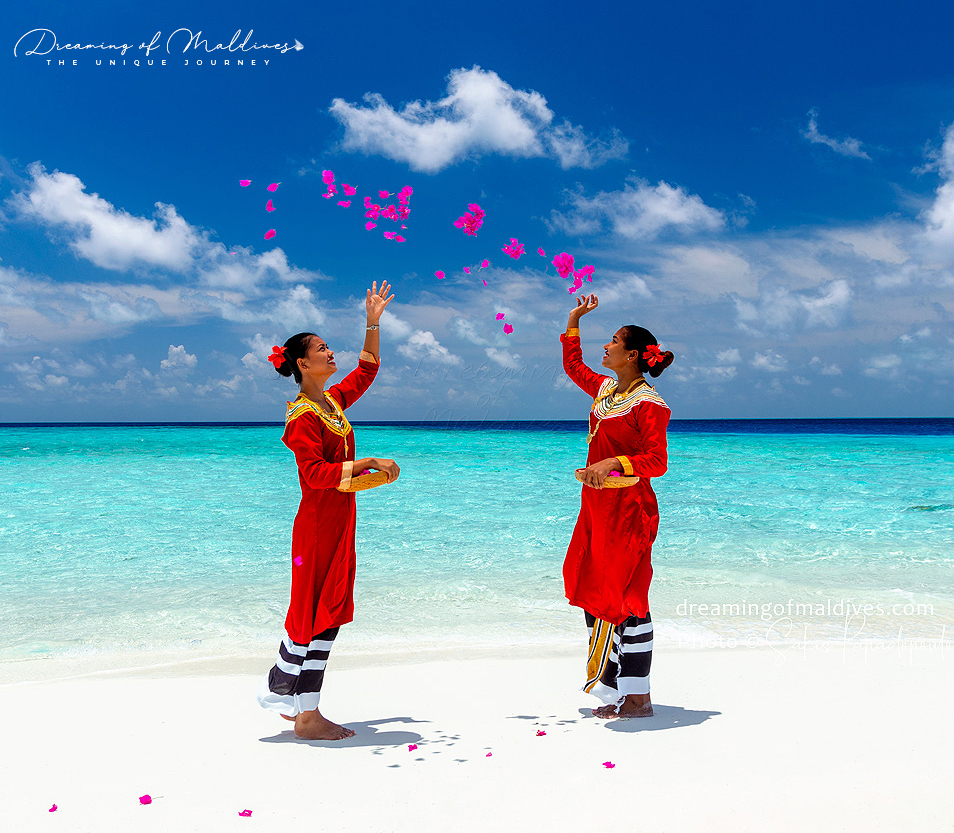 Maldives Traditions, History and Culture

The dhoni, the Maldivian traditional boat, is in our heart since the beginning of our Maldivian dreamy journey, started back in 1999. Here are…

Have you ever heard the Maldives traditional drums called "Bodu Beru" beating under the moonlight ? If you like World Music and…

Utheemu is one of Maldives most important historical place. The island is the birthplace of Sultan Mohammed Thakurufaanu, Maldives national…
Follow us on Facebook, Youtube and Instagram 
for more Maldives Dreams & Stories
Your TOP Best Maldives Resorts 2023
YOUR CHOICE. YOUR DREAM. YOUR VOICE
[ Official ]
Traveler's Choice
12th Edition