Which island has the best beach in Maldives ? if you're landing here to find the definitive answer, you're about to be disappointed.
Why ?
Because the question isn't whether the Maldives has a single "best" beach but rather if the notion of the Maldives having the "best beach" is purely absurd. Let me tell you more.
Cet article existe aussi en français ! C'est ici.

Fact or fiction : the ultimate quest for the best beach in Maldives.
I regularly see that the World Wide Web is full with this question : Which island has best beach in Maldives ? And some websites actually do answer !
Well…guess what ?
During my long exploration of the Maldives, I've had the chance of seeing hundreds of dream beaches with sand so incredibly fine on certain islands that it resembles the texture of flour.
The island nation has thousands of kilometers of picture-perfect tropical sandy beaches, making it impossible to pinpoint a definitive best beach.
A triptych of 3 beautiful beaches shot in 3 different Maldives resorts and stitchted together to make one.



Decoding Paradise : Is There a Best Beach in Maldives ?
The answer is : NO. There is no "Best Beach in Maldives".
It's just that some are more beautiful than others !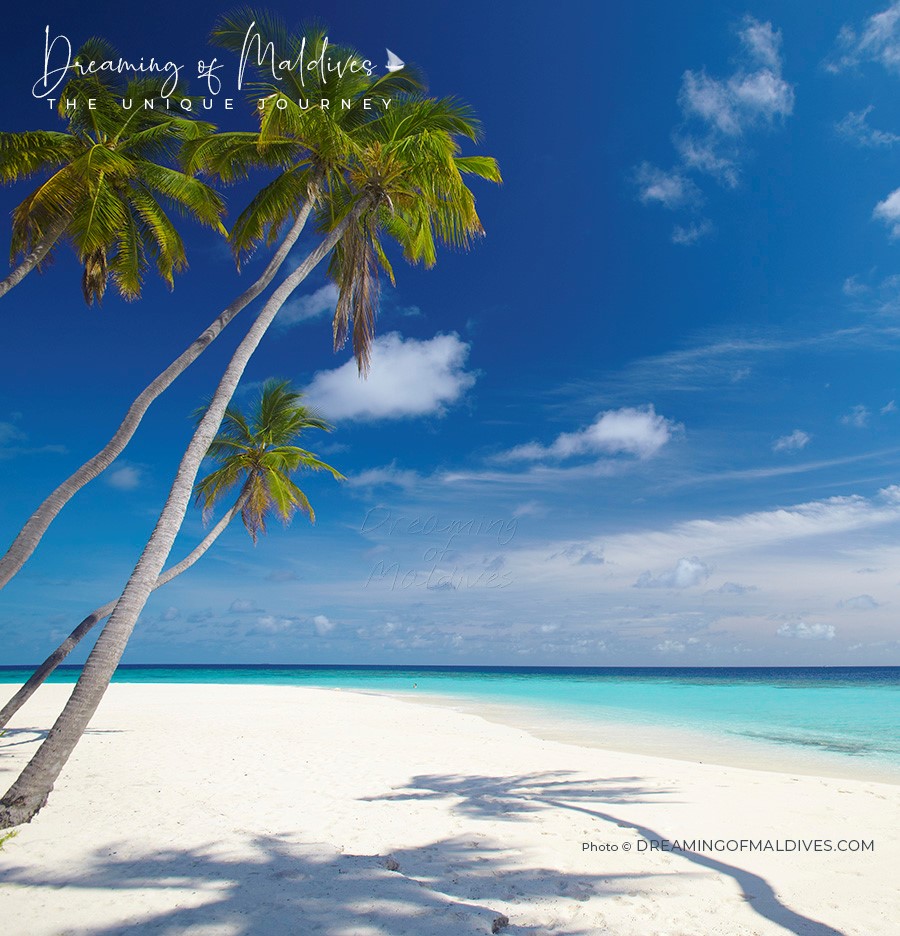 It is so challenging to pinpoint a single "best" beach in a nation that is essentially a collection of stunning beach destinations. Wherever you will go in Maldives, you will always contemplate extraordinary tropical beaches, whether you choose to stay at a resort or on a local island.
In my opinion, they are two primary factors that contribute to making a Maldives beach exceptionally beautiful and dreamy : the fineness of the sand and the presence of tropical, picture-perfect surroundings with coconut trees. These characteristics, along with the crystal-clear turquoise waters, create the idyllic and postcard-worthy scenery that the Maldives is famous for.
While there may not be a single agreed-upon "best" beach in the Maldives, it's true that some beaches are often considered more beautiful or attractive than others due to their specific characteristics, such as the quality of the sand, the clarity of the water, the presence of coral reefs, and the tropical surroundings.
Take, for instance, Baglioni Resort, a luxury resort dotted with one of the best Maldives beaches. The resort is located on a paradisiacal natural island adorned with white powdery sand beaches fringed by countless coconut trees. The perfect picture of paradise.
A combination of natural elements that makes Baglioni Resort's one of the best Maldives beach.

In 2017, 2 Maldives beaches have been named amongst the World's 50 best beaches : Fulhadhoo ( in Baa Atoll ) and Dhigurah island ( in South Ari Atoll ) beaches were respectively ranked No. 22 and No. 34.
So, ultimately, the Maldives' reputation as having some of the world's most beautiful beaches is a true fact.
What makes a beautiful beach ?
There are several factors that make a beach beautiful and dreamy :
Soft, powdery white sand.
Crystal clear turquoise water.
Coconut trees and vegetation.
Scenic surroundings.
Warm weather and water.
Minimal Crowds.
The Maldives tick all the above list !
With thousands of kilometers of natural beaches, you've got plenty of choice.
When Size matters
Maldives sand quality varies according to the islands. Some beaches have really fine sand, white and soft as flour, without any big piece of coral to hurt our delicate feet.

Maldives sand exceptional grain fineness
The beauty of the Maldivian beaches lies in the combination of various elements, including the surrounding landscapes, the lagoon colors and last but so essential : the quality of their sand which should ideally be powdery and super fine.
Photo : My footprints 🙂 I love the feeling of walking in Maldives fine sand and look at my footprints… © Dreaming of Maldives
Dreaming of a Paradise Beach
Maldives Dreamy tropical landscapes
Some Maldives beaches look like a dream with their turquoise waters turquoise waters and coconut trees, they represent the vision of pure paradise. This type of beach embodies the quintessential true island paradise.
Photo : Cover of Dreaming of Maldives Photography Book. © Dreaming of Maldives

Why claiming one beach in the Maldives as the absolute "best" is a fiction
Claiming one beach in the Maldives as the absolute "best" is subjective and debatable. Beauty depends on what one person finds appealing and may differ from another person's preferences. While some prefer beaches with super turquoise lagoons and shallow waters with sandy floors for swimming, kitesurfing or windurfing, others might prefer a beach with a lagoon that has many corals for snorkeling.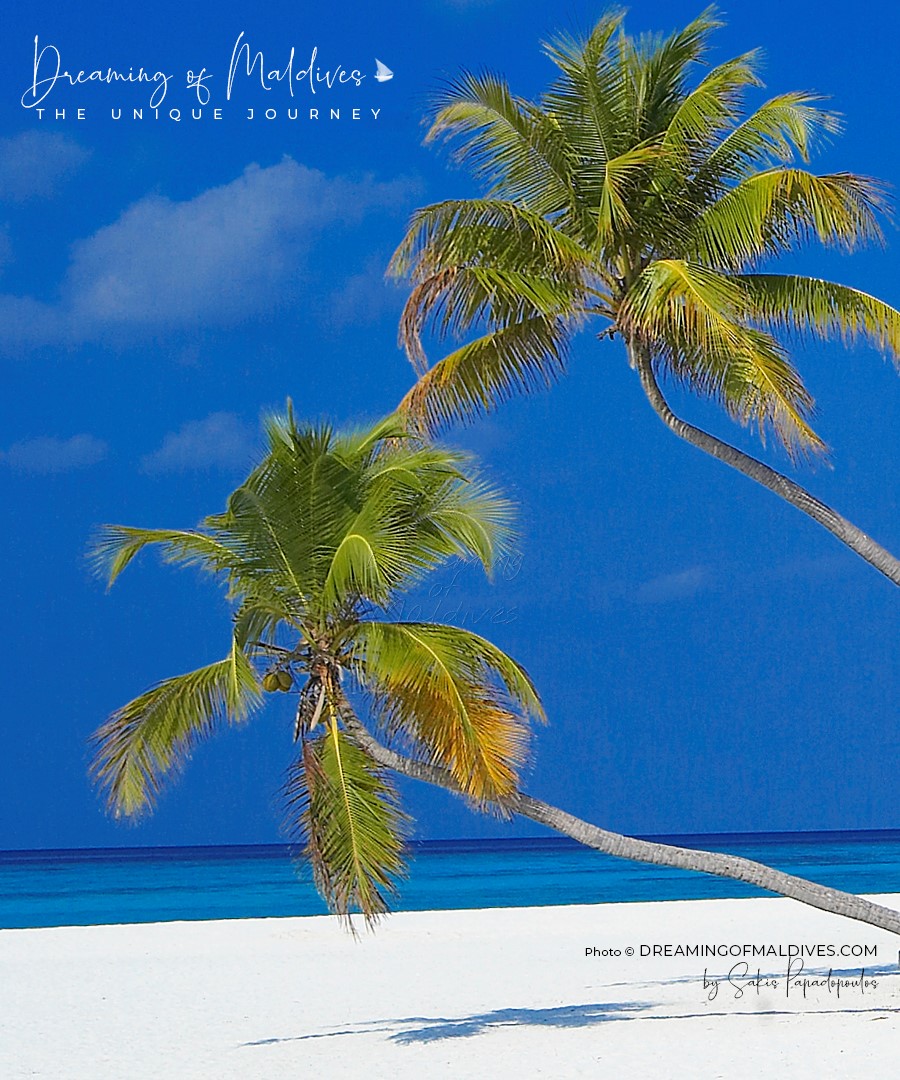 As a result, people often have their own favorites among the stunning beaches in the Maldives based on their individual tastes and priorities.
For us, for example, this island in South Male Atoll is the definition of a perfect beach…

Maldives sandy beaches : Natural VS Artificial Islands
Generally natural Maldivian islands often have fine coral sandy beaches because the sand is the result of natural processes, including wave action, fish poop ( see below ) and coral erosion over a long period of time. This long process results in finer grains.
On the other hand, artificial islands are typically created through dredging, which involves the removal of sand and sediment from the seabed or nearby areas to build up the island. As a result, the sand used in creating artificial islands tends to be coarser and may consist of larger grains. Some artificial islands builders may have attempted to create finer sandy beaches, but the initial material used is often coarser due to the dredging process.
As travelers, we often thrive on the idea of finding the "best" attractions when exploring a destination, which is fine !
However, when it comes to the Maldives and its thousands of picture-perfect beaches, the pursuit of a single winner seems futile.
Oh, and something else meanwhile you're still there : don't believe everything you read on the internet !
Discover more
10 Resorts With Some Of The Best Maldives Beaches
Follow us on Facebook, Youtube and Instagram
for more Maldives Dreams & Stories
Maldives TOP 10 Dreamy Resorts 2024
YOUR CHOICE. YOUR DREAM. YOUR VOICE