Where to snorkel and dive around Island Hideaway Maldives ?
By Dreaming of Maldives — May 08, 2012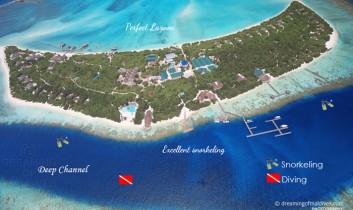 Diving in Haa Alifu Atoll is another experience from the ones that can be done in Central Maldives. There, no commercial diving activity or big groups of divers.
The Island has over 20 great untouched dive sites within a 5-60 minute range.
Main Dive Sites :
Aquarium
Dhonakulhi Channel
Heaven & Hell
Cathedral
Ihavandhoo Channel Thila
Snorkeling at Island Hideaway Maldives
The House Reef:
Dhonakulhi has its own house reef 10-30 metres away with amazing coral walls all along the East-side.
Beginners will stay inside the House reef for best safety and advanced will try the long walls outside from it.
PAY ATTENTION : Have a chat with the Dive Center before going to explore the outside walls! Currents can be dangerous.
Much more information on this "Blue" subject coming soon. Stay tuned !
Island Hideaway Maldives is selected as Maldives Resort of The Month
Discover the Resort Complete guide and review with Photos, Video, Diving Packages, menu and Price list, more details about the main diving spots and everything you need to know on our special page…
More information about Island Hideaway
About Author
A Comment ? A question ? Leave it here
Comments are posted from viewers like you and do not represent the views of Dreaming of Maldives.
All submitters agree not to submit inappropriate content.
We do not alter the substance of any posted comment but we reserve ourselves the right to reject any comment if we consider to be inappropriate : containing personal information (street addresses, phone numbers, etc.), obscenity, offensive or that advertise or promote a company or service.
By commenting here, you agree that you submit your comments in a spirit of respect and honesty for the others.
Let's keep Dreaming of Maldives nice and informative. Thank you !
Live us a message