Photo of the Day : Maldives, The Island Kingdom
By Dreaming of Maldives — April 29, 2012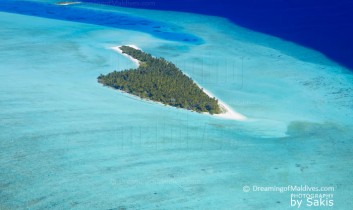 Did you know that the Maldivians named their country "The Island Kingdom" ?
Nowhere else than in Maldives may one find such a concentration and variety of coral islands. Paradisiacal and unique in the World, they are an invitation to Dream and their breathtaking landscapes make this dream a reality.
The archipelago fascinating beauty resides in a unique geography exclusively made of natural atolls, sandy islands and reefs, scattered as gems and stretching along 823 km (511 miles).
From North to South, the aerial landscape is an endless marvelling trip.
Each of the (around) 1200 Maldives islands is shaped in a unique way.
View the Photo Gallery "Maldives, One Photo per Day".
About Author
A Comment ? A question ? Leave it here
Comments are posted from viewers like you and do not represent the views of Dreaming of Maldives.
All submitters agree not to submit inappropriate content.
We do not alter the substance of any posted comment but we reserve ourselves the right to reject any comment if we consider to be inappropriate : containing personal information (street addresses, phone numbers, etc.), obscenity, offensive or that advertise or promote a company or service.
By commenting here, you agree that you submit your comments in a spirit of respect and honesty for the others.
Let's keep Dreaming of Maldives nice and informative. Thank you !
Live us a message