Dita Von Teese chose Maldives at Conrad Maldives Rangali Island for her holidays
By Dreaming of Maldives — October 05, 2011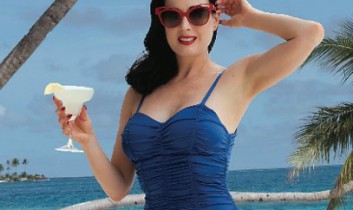 The sexiest Pin-Up on Earth and fabulous Burlesque Dancer and Star, Dita Von Teese just spent some dreamy holidays in the Maldives.
She stayed at Conrad Maldives Rangali Island where she enjoyed a full break for a few days.
She declared in her recent interview with the Magazine In Style that she spent time swimming, relaxing in a hammock, and reading.
Just doing nothing… in fact just like you and me (..at least in Maldives).
I was happy -and not surprised – that she covered herself entirely with a maximum SPF 50 Sunscreen.
… Dita swims with a parasol in one hand …I guess that's the price to pay to preserve her fantastic skin (I'll keep the tip in mind for my next holidays in Maldives).
She also confessed that the resort's Cocktail Margarita's were the best she ever had.
Dita Von Teese seems to love a lot the Maldives. She already spent her holidays at Kanuhura in 2009.
© Dreaming of Maldives
Source: Conrad Maldives Rangali / In Style Magazine
About Author
A Comment ? A question ? Leave it here
Comments are posted from viewers like you and do not represent the views of Dreaming of Maldives.
All submitters agree not to submit inappropriate content.
We do not alter the substance of any posted comment but we reserve ourselves the right to reject any comment if we consider to be inappropriate : containing personal information (street addresses, phone numbers, etc.), obscenity, offensive or that advertise or promote a company or service.
By commenting here, you agree that you submit your comments in a spirit of respect and honesty for the others.
Let's keep Dreaming of Maldives nice and informative. Thank you !
Live us a message