Archive for Hulhule Airport Hotel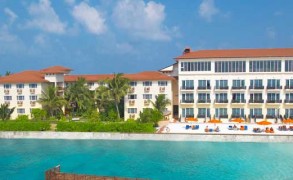 Hulhulé Island Hotel, Maldives was declared the winner of "Maldives' Leading Hotel" at the World Travel Awards 2009. The [...]
Read More →
Maldives weather forecast
30°C
Feels like 30°C
Mostly Cloudy
Today:
31°C / 27°C
| | | |
| --- | --- | --- |
| Tomorrow | Saturday | Sunday |
| | | |
| | | |
| 31° / 27° | 30° / 28° | 31° / 28° |
Except where otherwise noted, the images, videos, music and texts on this site are copyrighted material and are the property of Sakis Papadopoulos and Dreamingofmaldives.com.
Unauthorized use and/or duplication of this material without express and written permission from Sakis Papadopoulos and/or owners is strictly prohibited.
None of the site's material may be used for commercial purposes without prior written permission. Contact us by email for permissions and use.