An Exclusive Photo of Jumeirah Dhevanafushi Maldives : View from the "Ocean Pearls" Johara Restaurant Infinity Pool towards the main Island
By Dreaming of Maldives — November 20, 2011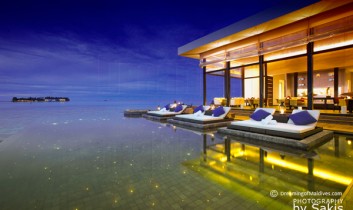 A few days ago we unveiled an exclusive aerial view of Jumeirah Dhevanafushi.
Today, we make you discover another view from the the newest Top Luxury Maldives Resort: A view from the "Ocean Pearls" Johara Restaurant Infinity Pool towards the main Island at dusk.
Located at 800 meters from the main Island and accessible only by boat, the Johara Restaurant features an amazing Carte prepared by Awarded Top Chefs. Open from breakfast to Diners, daily menus are Seafood orientated and served in a unique environment. The Johara restaurant was built over reefs in the middle of the Ocean.
Jumeirah Dhevanafushi is hidden in one of the Southermost Atoll of Maldives, Gaafu, and is one of the latest finest Resort of Maldives.
Stay tuned for more exclusive Photos of Jumeirah Dhevanafushi!
About Author
A Comment ? A question ? Leave it here
Comments are posted from viewers like you and do not represent the views of Dreaming of Maldives.
All submitters agree not to submit inappropriate content.
We do not alter the substance of any posted comment but we reserve ourselves the right to reject any comment if we consider to be inappropriate : containing personal information (street addresses, phone numbers, etc.), obscenity, offensive or that advertise or promote a company or service.
By commenting here, you agree that you submit your comments in a spirit of respect and honesty for the others.
Let's keep Dreaming of Maldives nice and informative. Thank you !
Live us a message